Daredevil acrobat Nik Wallenda gingerly crossed two wires, at one point blindfolded and without a safety harness or a net, strung between two Chicago skyscrapers on a Sunday evening in a derring-do high-wire act above the Windy City. Holding a pole, Wallenda cautiously moved across a wire that was 3/4-inch thick. With cheers and whistles coming from a crowd gathered below, the stunt was captured live on the Discovery Channel and streamed at SkyScraperLive.
It was the latest feat for Wallenda, who in June 2013 became the first person to walk across the Grand Canyon on a wire. Wallenda took on a 15-degree incline for the first part of the Chicago walk and then wore a blindfold during the second part of it. He trained at his home near Sarasota, Florida, on exact replicas of the two wires he crossed in Chicago.
By completing part two of the challenge, Discovery said Wallenda had performed the world's highest walk wearing a blindfold. Wallenda also broke the world record for the incline aspect, too, Reuters reported, citing a Guinness World Records' representative interviewed on the Discovery Channel.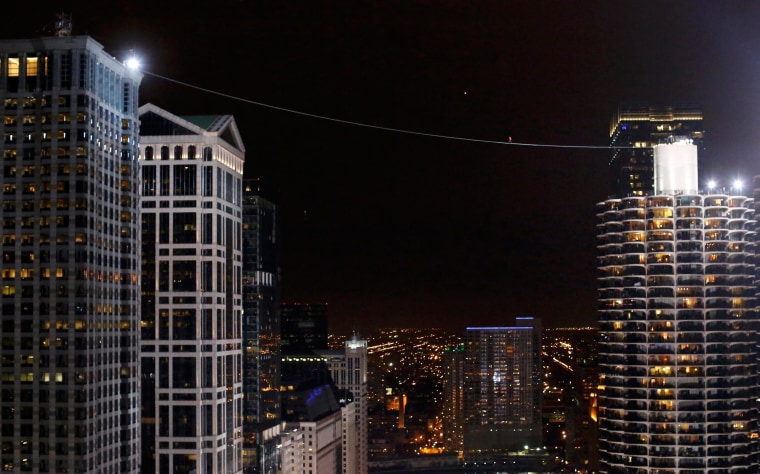 TODAY's Willie Geist and Natalie Morales and The Weather Channel's Jim Cantore hosted the skyscraper walk.
Weather conditions were sunny, 50 degrees, with winds at 2 mph.
The most difficult aspect would be the blindfold, Wallenda told TODAY on Friday.
"Taking away that most important sense of a wire walker — vision and focus — is very, very challenging," he said.
The walk wasn't broadcast live — there was a 10-second delay -- and if anything went wrong, Discovery had backup plans to ensure "nothing that is insensitive or inappropriate" would air, The New York Times reported.
Wallenda hails from a traveling circus family. He told the Times that the Chicago walk was dedicated to them, particularly his great-grandfather Karl Wallenda, who fell to his death during a promotion walk in Puerto Rico in March 1978.
IN-DEPTH
SOCIAL