A mother and eight children were killed when a fire ignited by an electric heater tore through a Kentucky home on Thursday morning, authorities said.
Nine of an 11-member family were found dead in the house fire that erupted in a Muhlenberg County home in the middle of the night, said Trooper Stuart Recke, Kentucky State Police public affairs officer.
Two parents and their nine children lived in the single-story home, Recke said.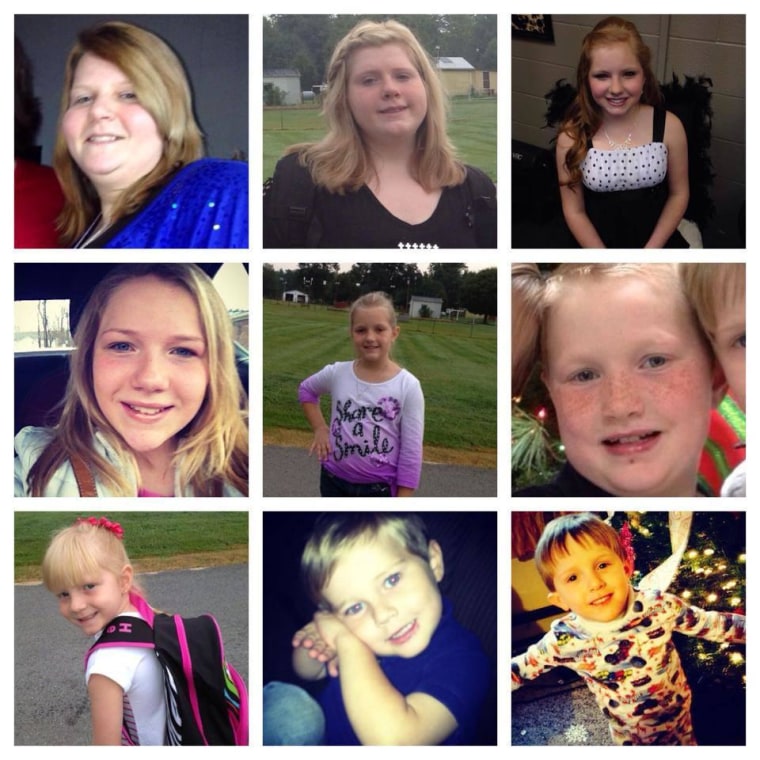 On Thursday afternoon, Kentucky State Police identified the mother as Larae Watson, 35, and the eight children killed: Madison, 15; Kaitlyn, 14; Morgan, 13; Emily, 9; Samuel, 8; Raegan, 6; Mark, 4 and Nathaniel, 4.
The father and another child escaped the fire and were flown to a Vanderbilt University Medical Center in Nashville about 120 miles away for treatment, Recke said.
Leslie Hill, a Vanderbilt Medical Center spokeswoman, said Chad Watson, 36, and Kylie Watson, 11, were both in critical but stable condition.
More than 12 hours after the fire, investigators determined that an electric baseboard heater ignited a combustible material accidentally left too close to the heat source, Recke said.
The temperature in Muhlenberg County dropped to 1 degree overnight, while the region is accustomed to 35 degree temperatures in January, according to Weatherbase.com.
"We normally don't have weather like that," said Laura Bennett, who lives two doors down from the devastated house. "They said when they was trying to put the fire out, the water was turning to ice," she added.
Bennett said the house had no more than three bedrooms and that the eleven family members were "piled up" in the limited space.
Harold McElvain, a former Muhlenberg County Sheriff who lives across the street, said the family was "a nice young family."
"Everybody loved the kids," McElvain said.
Bennett said that Samuel was playing at her house on Wednesday night with her 8-year-old daughter.
"He went home, and then 10 hours later he's gone."
"Everybody loved the kids."
A neighbor called the fire department around 2 a.m. on Thursday morning, Recke said, adding that firefighters have reported the house was "fully engulfed" when they arrive minutes later.
Crews put the fire out within an hour, Recke said. Still, "as I'm facing the house, the right side of the house is basically gone," he added.
Recke said no other property was damaged in the neighborhood, which is about 150 miles southwest of Louisville.
Senator Mitch McConnell, R-Ky., expressed his sympathies to the family and community from the senate floor on Thursday afternoon. "The entire Commonwealth stands beside Muhlenberg County right now, and we'll do whatever we can to help you recover from this horrific loss."