LOS ANGELES — On a recent Friday night in South Los Angeles, dozens of rival gang members sat around a table and shared pizza. Some broke off into smaller groups or stepped outside to smoke, but they all came back and listened to one another.
The war between Inglewood's Queen Street Bloods, who are predominantly black, and Florencia 13, a Latino gang, dates to the late 1980s. Many of those gathered at the meeting weren't born until a decade or more later, but they inherited a feud that remains very real to them.
Corralling these crews took years of persistence and patience, said Skipp Townsend, a gang intervention expert who hosts the weekly meetings. His goal was to bring peace to the streets of Inglewood, a largely minority, working-class city in the shadow of Los Angeles. He started by initiating talks between Queen Street and the Neighborhood Pirus, but Florencia 13 members remained skeptical.
"They were the last piece of the puzzle," Townsend said.
Bringing together rival gangs in one room would have been unimaginable a few years ago. After the 2019 shooting death of Grammy-winning rapper Nipsey Hussle, who advocated for unity despite his own affiliation with the Rollin' 60s Crips, appetite grew for putting aside old vendettas.
As Los Angeles mourned Hussle's death, gang intervention experts seized the opportunity to use his reputation as a peacemaker to build bridges between warring factions. Rival gangs like the Rollin' 40s and the Rollin' 60s came together for so-called peace talks in the weeks following Hussle's shooting.
"That was Nipsey," longtime friend Anthony Fagan said. "He's still just the best dude."
The rise of Hussle
As an activist, Hussle, born Ermias Joseph Asghedom, spoke openly about his past membership with the Rollin' 60s, a Crips street gang that formed in Los Angeles in 1976. On March 31 of last year, Hussle, 33, was gunned down outside his South Los Angeles store, Marathon Clothing, which was inside a strip mall that served as a gathering place for the gang.
Hussle, whose stage name was a play off of comedian Nipsey Russell, sold CDs out of his car as a fledgling rapper in that strip mall. With his rise in the hip-hop scene, he bought the property in 2017 and also opened a co-working space, Vector 90, nearby in his native Crenshaw neighborhood. In a 2018 interview with a Dallas radio station, Hussle described experiencing several "wake-up calls" that inspired him to become an entrepreneur and leave behind street life.
"You get close to feeling like you're going to throw away your freedom, your life, your opportunity," he said in the interview. "I knew that wasn't what I wanted."
On the day he died, Hussle was shot 10 times with rounds piercing his lungs and severing his spinal cord. Two others — an acquaintance and the man's nephew — were also wounded.
Two days later, police announced the arrest of a suspect, Eric Ronald Holder Jr., a 30-year-old aspiring rapper and suspected gang member. He was charged with one count of murder, two counts of attempted murder and one count of possession of a firearm by a felon. He pleaded not guilty and remains held on $6.5 million bail awaiting trial.
Prosecutors told a grand jury last May that Holder introduced himself to Hussle as the rapper was signing autographs outside of his clothing store and talking with fans. The men shook hands and their conversation turned to the topic of snitching, witnesses said, according to court documents.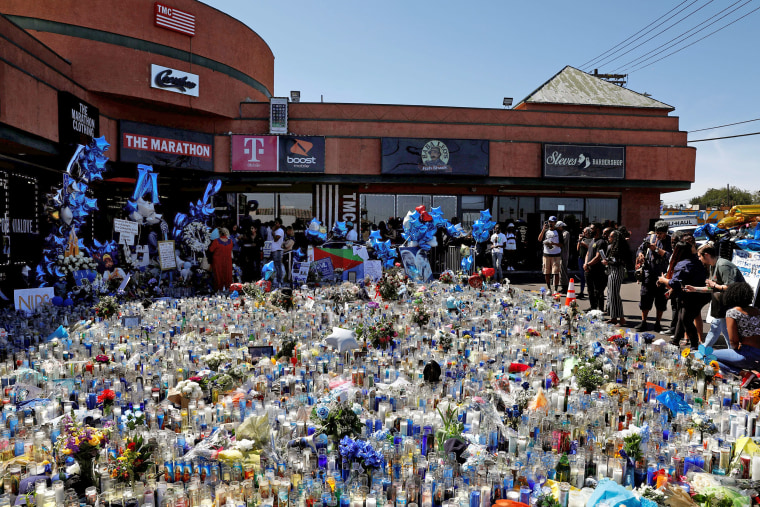 Police said the men actually had several conversations outside of the store that day, but Holder turned violent, confronting the rapper with a gun in each hand. The dispute was rooted in something personal, police added, and was not related to a shared gang affiliation with the Rollin' 60s.
Before his death, Hussle encouraged peace among gangs, according to police, and he performed with rival Bloods-affiliated rappers as a way to set an example. After his killing, gang members of different stripes — Bloods, Crips and others — marched in the hundreds to a memorial in his honor.
"That was certainly inspired by his death," Alex Alonso, a gang expert and professor of Chicano and Latino studies at California State University, Long Beach, said.
He added that while Hussle's killing didn't necessarily spawn peace talks, many of which were already on the table, "it certainly pushed the conversation in that direction, stronger and more firmly."
'Aren't enough people dead?'
Gang intervention has a long history in Los Angeles, a city known for its notorious street crews immortalized over the decades in music and culture. The celebrity status of gangs presents both a challenge and an opportunity for interventionists like Townsend. Younger generations idolize elders who drive flashy cars and wear expensive clothing. Townsend uses their influence to inspire something else: peace.
Townsend, 56, had been working toward this moment for a long time. A former Blood-turned-community advocate, he sat back in his jeans and black T-shirt at the recent meeting, and watched as several generations of gang members hashed out their differences.
"Aren't enough people dead, enough people shot?" Townsend asked.
Gang violence that gripped some of the poorest communities in the Los Angeles area has declined since the 1980s and early '90s, when a barrage of turf wars, drive-bys and gunfights were routine occurrences.
By the end of 1992 — one of the bloodiest years on record — gang-related violence across Los Angeles County topped 800 homicides for the first time, figures show.
In the early 2000s, police again were inundated by gang-fueled homicides, with the overall murder rate rising in the Los Angeles region, while other major cities, including New York, saw crime fall.
But violent crime has been on the decline over the past decade. Last year, the city recorded 253 homicides, the second lowest since 1966, when 226 homicides were reported, police data shows.
Total gang crime dropped about 6 percent from 2018 to 2019, police said. When comparing April through December 2019, the months after Hussle's death, to the same period in 2018, gang-related crime was down 9 percent.
Recent gang-related data from other cities in the region, including Inglewood and Compton, were not immediately made available by their respective police jurisdictions.
At a news conference on crime statistics earlier this year, Los Angeles Police Chief Michel Moore said gang violence spiked in the first quarter of 2019 before Hussle's death, but that the work of gang interventionists, faith leaders, community volunteers and others helped to reduce crime and the number of shooting victims to the lowest numbers in 21 years.
"We can interrupt the cycle of violence. We can interrupt the path to gang membership and gang engagement," Moore said. "And it's not just through enforcement."
'What Nipsey was about'
If Hussle's death was the spark warring gangs needed to come together, Townsend's ongoing work is the torch carrying them into the future. He's been doing outreach for more than a decade, but has seen increased participation from rival gangs over the last year.
At a February gang intervention, dozens of members from different Inglewood crews filed into the Kenyon Juvenile Justice Center near the Florence neighborhood of the city. They represented multiple generations of members from the Queen Street Bloods, Neighborhood Pirus and Florencia 13, the only Latino gang present that evening.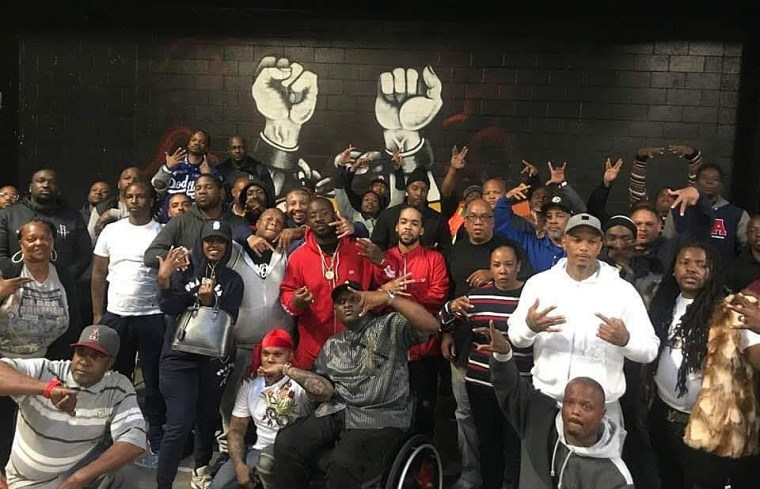 The former juvenile court building provided neutral territory for the three gangs and offered a warning to some of the youngest people there, some just freshmen in high school.
"I'm always looking for the guy who has nothing better to do," Townsend said. "There's always guys like me who help them find a job or buy them some ice cream or whatever we can do to keep them occupied."
The format of Townsend's weekly meeting is simple: opening comments, question and answer, snack break and then closing remarks. There is no goal other than to get rival gangs in the same room at the same time. Townsend considers the night a success if opposing crews put aside their differences long enough to share a snack.
"That's all they have to do," he said.
Queen Street founder Big Rat, who asked that his real name not be used, is a regular at Townsend's interventions. At 6-foot-2 with a booming voice, he gets people to listen when he talks. Now 52, he is a married father of three adult children and a grandfather to their young kids. He says he never used drugs, but he did sell them during his street days. Now, Big Rat maintains a legitimate six-figure salary.
Big Rat introduced Fagan, Hussle's friend, to Townsend several years ago after Fagan finished serving a seven-year prison sentence for robbery. Fagan now volunteers at an organization co-founded by Townsend, 2nd Call, which provides counseling, job training and life skills workshops to people re-entering society after serving prison time.
Fagan, Townsend and Big Rat represent two generations of former gang members who are using their experiences and shared wisdom to encourage a different lifestyle for younger members.
"A lot of young men act tough. They don't want to shake my hand," Big Rat said. "I force them. It's my job to show them how to act like men."
As a ranking elder, Big Rat kicked off Townsend's meeting by sharing a story of his own. One of his closest childhood friends, Rueben Estrada, also known as Little Bozo, was an original member of Florencia 13. Big Rat and Estrada attended the same schools, played on the same sports teams and slept over at each others' homes. That changed as the boys grew into men and Estrada became more and more entrenched with the Mexican mafia, which controls Florencia 13.
One day in the late 1980s, Estrada warned Big Rat that the mafia had zeroed in on Queen Street. Race wars between black and Latino gangs in other parts of Los Angeles had already erupted and now it was Inglewood's turn. The animosity was typical of the time, Big Rat said, as Inglewood's demographics shifted from predominantly African American to increasingly Latino families.
"I was heartbroken," Big Rat said of Estrada's announcement.
Their friendship was over. They only saw each other one more time before Estrada died several years ago, Big Rat said.
The stories kept coming that night. As the young men ate pizza and sipped on soda, older men talked about friends and family they lost to gang violence. When a teenage member of Florencia 13 showed his gunshot wound and said that he "knew what I signed up for," the older men bristled.
"You don't know," a man by the name of Sinbad responded.
Wearing a sharp purple suit, Sinbad described a wall in his home covered with obituaries. He has been adding to it for years, each new clip a reminder of lives ended too soon.
Since the February meeting, rivalries have remained relatively quiet in Inglewood, according to both Townsend and Big Rat. Part of that has to do with the coronavirus outbreak, which also forced community leaders to postpone any public event marking the one year since Hussle's death.
But even if South Los Angeles can't honor his legacy with a party or a memorial, they can continue to build bridges among each other.
"This is also what Nipsey was about," Townsend said.
Alicia Victoria Lozano reported from Los Angeles, and Erik Ortiz from New York.