BAYVILLE, N.J.— The New Jersey school district where 14-year-old Adriana Kuch was attacked before she died by suicide days later has a "culture of violence," according to members of the community.
Parents, teachers and students of Central Regional School District say administrators have a history of ignoring violence within the schools that dates back almost two decades.
Kuch was found dead in her Bayville home two days after a Feb. 1 attack at Central Regional High School. The attack was recorded, and the four students involved in the assault were suspended and charged, officials said.
At least four students told NBC News that administrators are dismissive when students come forward with bullying claims.
"There's been a lot of rage and anger. They didn't do anything," said sophomore Sarah Gibson, 15. "That's for everybody, not just Adriana. I, myself, have filed about seven bullying or harassment reports and nothing's been done."
Gibson said students can file a report or a complaint against bullying by going to their school's main office, assistant principal's office or guidance counselor and filling out a sheet of paper describing the incident with details.
"And they'll say, 'Alright give that to me and we'll take care of it,'" Gibson said. "The problem didn't stop. It's just for show pretty much."
The school district and the board of education did not immediately respond to requests for comment.
A 14-year-old freshman who attends the high school and was friends with Kuch since the fourth grade said bullying is an "every day occurrence" within the district and that he has been bullied himself at Central Regional, where he says he tries to lay low so he won't be targeted.
"A kid tried fighting me just because I looked at him. I don't really get involved," he said.
The administrators, he said, "just say it's not your business or that they've already gotten it taken care of."
"I'm disgusted," he added. "They should be doing everything they can."
What happened to Adriana Kuch at Central Regional High School was not an isolated incident, the students said.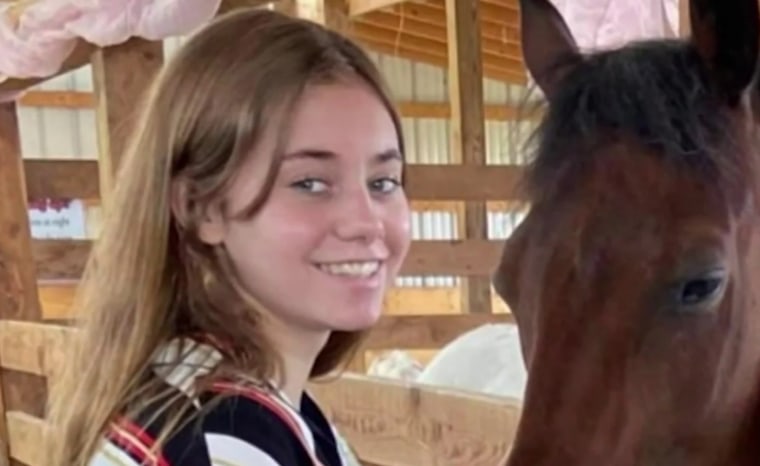 A girl who was the same age as Kuch at the time was also attacked in a hallway at the high school by three girls in January 2022, according to her parent, Racheal O'Dea.
O'Dea said her daughter had been receiving threats online and in person from the girls who attacked her prior to the incident, and told the school's principal and assistant principal about it in December 2021.
"She showed them the messages. She gave them the information and they did nothing," O'Dea told NBC News. "Then they went on Christmas break and in January the girls followed up on their promise and jumped her from behind."
Two girls assaulted O'Dea's daughter on Jan. 10, 2022, by punching her in the head, neck and back. Another girl recorded the assault, which was shared on social media, O'Dea said.
"She cried out for help just to be ignored. There are a lot of situations where you hear kids don't want to say anything about bullying in case there's any retaliation and here my daughter is, she was brave enough to reach out to people who are supposed to keep her safe and they failed her," O'Dea said.
The girls responsible for her daughter's attack were suspended for 10 days and faced no further punishment, O'Dea said. Her daughter, now 15, attends school at a different district.
In October 2022, O'Dea filed a lawsuit against the Central Regional School District, the board of education, the high school's principal and the assistant principal.
"This school has a culture of violence that's been ongoing for quite some time," O'Dea's attorney, Jonathan Ettman, said. "The school is clearly not taking students seriously when they report threats of violence and the violence continues, now it's led to a young girl taking her life."
Central Regional High School Principal Irene Marousis and Assistant Principal Darryl Heale declined to comment on the lawsuit, Kuch's case and claims that reports of violence have been ignored.
Daniel Keiser, who taught at the high school for over two decades before leaving in 2007, said the violence he's hearing about is nothing new.
"There were days where I would break up three fights before home room even started," Keiser wrote in a Facebook post published Saturday. "As a teacher there and a parent there who dealt with intense bullying, we would often plead with administration to get things under control and only one of them ever tried. They were notorious for brushing things under the carpet. So it seems they fostered a climate like this over many years."
The attack on Adriana Kuch at Central Regional High School garnered national attention after video of it was posted online.
On Saturday, just one day after funeral services were held for the teenager, the school district's superintendent, Triantafillos Parlapanides, resigned.
Parlapanides had suggested in interviews with news outlets, including the Daily Mail, that Kuch used drugs and that her father had refused the district's offers to help.
Danielle Ledesma, 17, said she was bullied but never reported it to the school because she felt nothing would be done about it.
Ledesma, a high school senior, didn't know Kuch, but said she was devastated to learn of her suicide.
"When I found out that someone from this school thought about that and acted upon it, it made me realize how much students think the same thing," she said.
"If everybody who had been bullied acted upon their thoughts, there would not be anybody in Bayville," she added. "Everybody would be gone."
Melissa Chan reported from Bayville, and Mirna Alsharif reported from New York City.