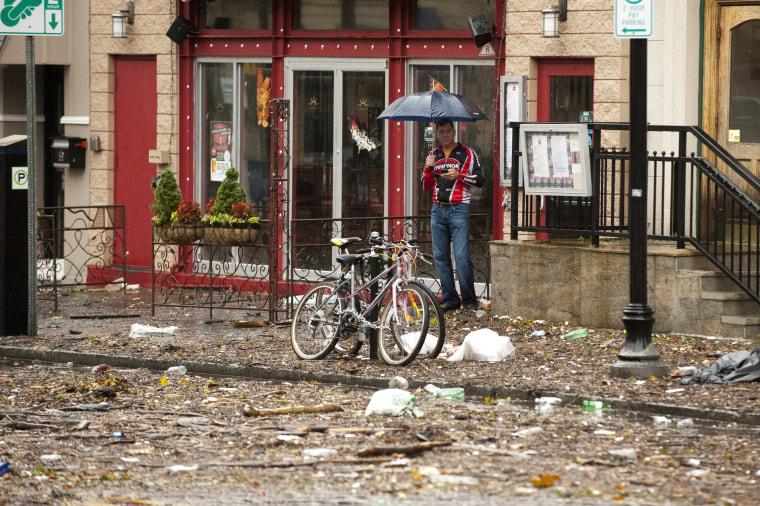 The city of Hoboken was treated the same as other communities like it who were seeking aid in the aftermath of Superstorm Sandy, the chief of New Jersey's storm recovery office said Monday — as those around Governor Chris Christie continued to push back against mounting allegations of political bullying and petty retributions.
Marc Ferzan, executive director of the Governor's Office of Recovery and Rebuilding, said most of the state's programs were aimed at getting people back into their homes after Sandy and specifically targeted individuals.
More than $1 billion of the $1.8 billion the state received from the U.S. Housing Department in late April was pegged for individuals, according to statements released by the state earlier this year.
"There is some suggestion out there that Hoboken has not received grant funding that other communities have. We've tried to have an objective process … that prioritizes the communities most in need, with the least financial resources," Ferzan said. "And I think we've accomplished that."
The Republican governor's office has been aggressively responding to allegations by Hoboken Mayor Dawn Zimmer, a Democrat, who told MSNBC on Saturday that two senior members of Christie's administration said the city would be starved of Sandy relief funds unless she approved a redevelopment project.
The city rejected the project, favored by Christie, in May of last year.
At the time, Zimmer said she was requesting $95 million in relief for her city in FEMA hazard mitigation grants.
Of that request, the city has so far received $142,000 to defray the cost of a lone back-up generator, plus an additional $200,000 in recovery grants.
"It's not fair for the governor to hold Sandy funds hostage for the city of Hoboken because he wants me to give back to one private developer," she said in the interview Saturday on "Up, with Steve Kornacki."
The developer, Rockefeller Group, denied any knowledge of such tactics and the state said it never happened.
Ferzan said Monday that $95 million requested by Hoboken was nearly 30 percent of the $300 million that it had available in FEMA hazard grants to give out – and it received a total of $14 billion worth of requests for that same pot of money from all of its 21 counties.
Hoboken had wanted the bulk of the $95 million to go towards buying land and flood prevention efforts.
A FEMA spokesman told NBC News late Monday that the state of New Jersey had received $290.9 million in HMGP aid, not including any buyouts in high-flood risk areas.
"There is not a tremendous amount of additional funding for things other than rebuilding and in fact the priority has been for the administration and will be programs for homeowners and renters that are far, far oversubscribed," Ferzan said.
The state ultimately used $200 million of the $300 million on buyouts in high-flood risk areas and to help defray the costs of homeowners who had to elevate their homes to comply with new FEMA guidelines for those living in flood zones.
"If you look at our recovery programs in totality, I'm scratching my head a little bit about any community that's getting the short end of the stick, other than to say that I understand we've got very limited resources at our disposal to date," Ferzan said.
The state also said Hoboken received $70 million in total aid, with Ferzan listing out each program they received funding under.
The city replied by sending out a categorical rejection, saying those monies came from sources that were not controlled by the state and they didn't go to the city but to individual residents, businesses, and in one case, New Jersey Transit.
Zimmer's allegations of pressure tactics from Christie's administration came on the heels of "Bridgegate" – a scandal that erupted on Jan. 8 when emails surfaced showing that Christie aides ordered lane closures on the George Washington Bridge in apparent retaliation for the mayor of Fort Lee, N.J., endorsing the governor's opponent in last year's election.
Christie, the early front-runner for the 2016 GOP presidential nomination, has denied any knowledge of the lane closures, and fired a top aide who sent one of the emails.
The state also came under fire right before the Sandy anniversary on Oct. 29 last year when officials disclosed that only $3 million out of one $600 million HUD rebuilding fund had been distributed to individual homeowners struggling to rebuild.
As of Monday, more than $430 million had been sent out – or was in the process of being sent out – to 4,303 homeowners from that fund.
The state's rebuilding website lists $1.6 million in funds disbursed to Hoboken, out of $4.76 million awarded, to affected homeowners and renters, as well as a small business grant
NBC News' Rich Gardella and Michael Isikoff contributed to this report.
 Still recovering from Sandy? Share your story with reporter Miranda Leitsinger at miranda.leitsinger@nbcuni.com