Same-sex marriages will begin Monday in New Jersey after the state Supreme Court ruled Friday that the state must begin granting same-sex marriage licenses, a rebuff to Gov. Chris Christie.
Christie, a Republican, favors civil unions, which New Jersey has offered since 2007, but he opposes same-sex marriage. The state had tried to delay the granting of marriage licenses pending an appeal of a ruling last month that found that it must allow same-sex couples to marry, saying not doing so deprived them of rights the U.S. Supreme Court guaranteed in June.
Christie had asked the New Jersey Supreme Court to freeze a state judge's ruling legalizing same-sex marriage until it heard the case in January and made a final decision, but the court, in a unanimous ruling, found that the state had "not shown a reasonable probability it will succeed on the merits."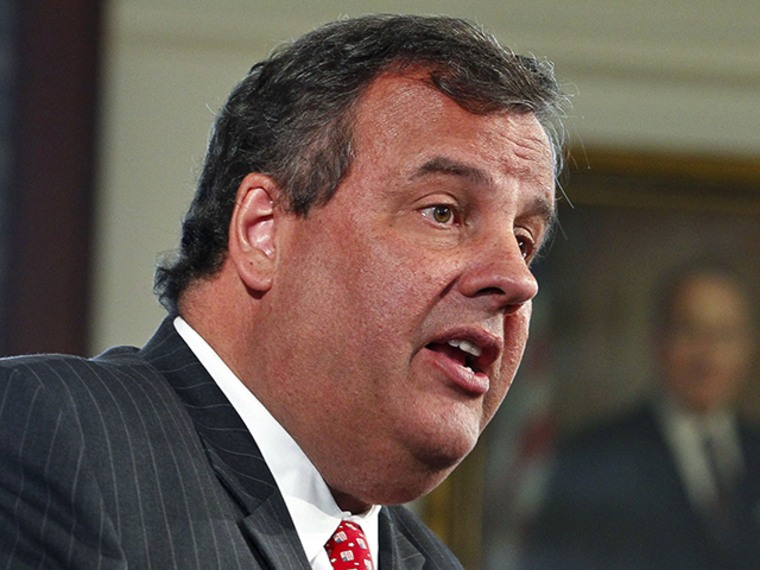 In a statement Friday afternoon, Christie's office said that while he disagrees with the ruling, "the Supreme Court has made its determination" and directed the state Health Department to comply. 
New Jersey will become the 14th state to recognize same-sex marriage, in addition to the District of Columbia.
"The long wait in New Jersey is finally over — the door is open for love, commitment and equality under the law! This is a huge victory for New Jersey's same-sex couples and their families," Hayley Gorenberg, deputy legal director of Lambda Legal, which filed a brief on behalf of six same-sex couples who sought the right to marry, said in a statement.
The National Organization for Marriage, a nonprofit activist group that has funded most legal challenges to same-sex marriage, called the order "extremely disappointing."
"The definition of marriage is something that should be decided by the people of New Jersey themselves, not by any judge or court," Brian Brown, the group's president, said in a statement. "New Jerseyans should have the right to vote on this issue just as voters in nearly three dozen other states have done. ... 
"All in all, today's ruling is another sad chapter in watching our courts usurp the rights of voters to determine issues like this for themselves," he said.
Mercer County Superior Court Judge Mary Jacobson ruled Sept. 27 in Trenton in favor of sames-sex couples who had challenged the civil union law, saying it restricted federal benefits given to heterosexual married couples. 
With its unanimous ruling among all seven judges, the Supreme Court hinted Friday that it would strike down the ban when it takes up the issue in January.
"The state has advanced a number of arguments, but none of them overcome this reality: Same-sex couples who cannot marry are not treated equally under the law today," the court ruled. "The harm to them is real, not abstract or speculative."
A few New Jersey towns had already started accepting applications for marriage licenses in anticipation of the ruling, NBC New York reported.
Watch the top videos on NBCNews.com
Democratic Sen.-elect Cory Booker, the former mayor of Newark, not only welcomed the order but offered to help same-sex couples tie the knot.
"For more than seven years, Mayor Booker has refused all requests to officiate New Jersey marriages because gay couples have been denied that equal right," Booker's office said in a statement. "After today's wonderful news, Mayor Booker is excited to marry both straight and gay couples in City Hall on Monday morning beginning at 12:01 a.m."
The state Supreme Court first ruled in 2006 that same-sex couples were entitled to the same rights and benefits as heterosexual couples get, which led the Legislature to create civil unions in 2007.
The six same-sex couples who challenged the civil union law earlier this year argued that the U.S. Supreme Court changed federal and state laws when it stuck down the Defense of Marriage Act, saying the federal government must recognize same-sex marriages in the states where they are legal.
M. Alex Johnson of NBC News, Reuters and The Associated Press contributed to this report.
Related: