No criminal charges will be brought against a Memphis police officer who was fired for his involvement in the traffic stop that led to the death of Tyre Nichols, the Shelby County, Tennessee, district attorney said Tuesday. 
Nichols, 29, who was Black, was brutally assaulted after he was pulled over Jan. 7 for alleged reckless driving, and he died three days later. Shelby County DA Steve Mulroy explained in an update Tuesday why criminal charges against former Officer Preston Hemphill were not warranted. 
Hemphill was at the scene of the traffic stop but was never present at the later scene where Nichols was seen on video being punched and struck with a baton, Mulroy said.
"By no means do we endorse the conduct of Officer Hemphill at that first traffic stop," Mulroy said. "But we do not believe that criminal charges are appropriate."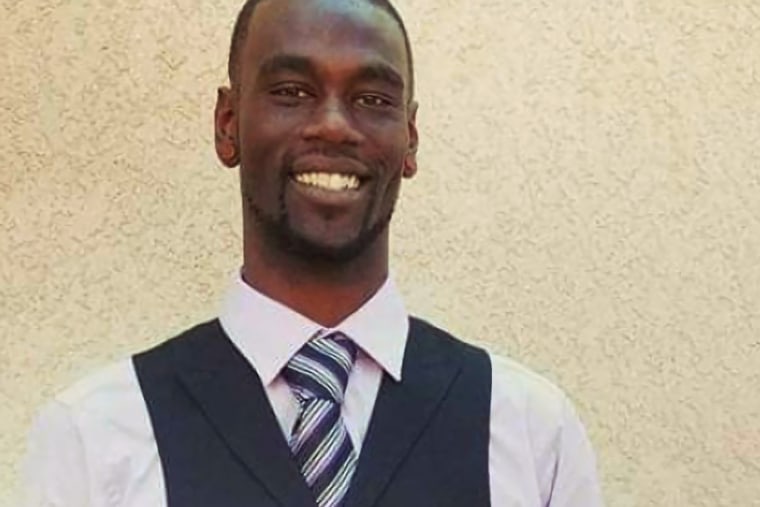 He added that officials reviewed hours of body camera video and conducted hours of interviews with Hemphill, who fired a stun gun at Nichols as he was running away from the initial traffic stop.
Hemphill was fired for several violations, including using a Taser, police said in February.
Mulroy said Tuesday that in reviews and analysis of body camera video, Hemphill appeared to be trying to deploy the stun gun "because he saw Nichols was not fleeing towards the neighborhood but was in fact heading towards an open car door of a police cruiser."
"That had to bear weight on our evaluation of his decision," he said.
Mulroy said his office consulted with the family and attorney Ben Crump, who said they supported the decision not to press charges.
He read a statement from Crump on behalf of Nichols' family that said: "We understand that this individual has been fully cooperating with the investigation and has promised to provide substantial cooperation going forward. In light of this, we are supportive of no charges for this individual.
"It is our deepest hope and expectation that justice will be served fully and that all who had a role to play in this senseless tragedy will be held accountable," the statement said. 
A police spokesperson could not be reached Tuesday for the department's reaction to the DA's decision.
Lee Gerald, an attorney for Hemphill, said the announcement "didn't come as a surprise to us."
"As we prepared a defense for what we thought might be pending charges, in our investigation we discovered evidence that Officer Hemphill did not violate Tennessee or federal law," he said. "In fact, the evidence we discovered and presented to the DA's trial team was that Officer Hemphill at the first scene actually on more than one occasion attempted to de-escalate the confrontation."
Hemphill will continue to cooperate and "maintain his oath to enforce the laws of Tennessee and the U.S. Constitution," Gerald said. However, it was unclear whether he plans to seek reinstatement as an officer.
Mulroy also said Tuesday that Nichols' autopsy is almost complete.
"We expect that it will confirm that Mr. Nichols died as a result of the injuries sustained during the beating," he said.
Videos of the police stop and the beating shocked and horrified people across the country. FBI Director Christopher Wray said he was "appalled," and President Joe Biden said he was outraged and called the video horrific.
Five Memphis police officers were fired and charged with second-degree murder and other counts. 
The officers — Tadarrius Bean, Demetrius Haley, Emmitt Martin III, Desmond Mills Jr. and Justin Smith — pleaded not guilty in February.
Four of them cannot work as law enforcement officers again in Tennessee. The Peace Officer Standards & Training Commission voted to decertify Haley, Martin and Smith at a meeting in March. It also approved Mills' decision to surrender his certification.
Bean, Hemphill and Dewayne Smith have not yet had decertification hearings in front of the commission. Smith, the supervising lieutenant who arrived on the scene after the beating, retired instead of being fired.
Smith and a seventh police employee who was not publicly named after having been relieved of duty have not been charged.