Hercules and Leo, the research chimpanzees whom an animal rights group went to court to set free, will stay put because chimps aren't "legal persons," a New York judge ruled Thursday.
The Nonhuman Rights Project, a non-profit activist group in Coral Springs, Florida, sued on behalf of the 8-year-old chimps in March, arguing that they're autonomous, intelligent creatures and that holding them at the State University of New York at Stony Brook is illegal imprisonment. It said Thursday it would appeal the ruling.
In a ruling filed Thursday in Manhattan, New York State Supreme Court Justice Barbara Jaffe turned down the group's request to approve a writ of habeas corpus — the legal mechanism under which people are freed from unlawful detention. But she indicated that she sympathized with Hercules, Leo and their supporters.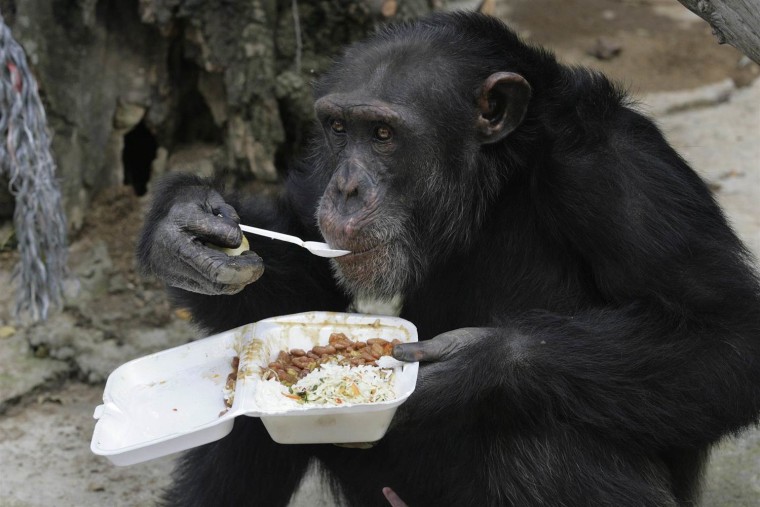 Jaffe called campaigns to extend rights to chimpanzees "understandable," noting that humans and chimps share 99 percent of their DNA. She even predicted that "some day [such campaigns] may even succeed," because the status of "legal person" doesn't necessarily equal "human being."
Corporations, for example, are often protected by what she called the "legal fiction of personhood."
But for now, she said, she has to follow precedent set in a case from December, when another New York judge upheld the longstanding principle that "legal persons" have duties and responsibilities to go along with rights — duties and responsibilities that chimps can't perform.
Related: Read Judge Barbara Jaffe's Full Ruling (PDF)
Therefore, "animals, including chimpanzees and other highly intelligent mammals, are considered property under the law," Jaffe wrote.
Steve Wise, president of the Nonhuman Rights Project, called Jaffe's decision "thoughtful and comprehensive" but said the group quickly appeal to a higher court not bound by the December ruling.
The state attorney general's office, which represented the university and the state, had no comment.