MIAMI — Witnesses said it sounded like a bang or an explosion.
A 950-ton pedestrian walkway near a Florida university collapsed on a sunny Thursday afternoon, crushing cars and killing at least four people, according to officials.
"All of the sudden we hear a loud bang," Jose Mejia, who was having coffee with city officials and police when the bridge near Florida International University's campus gave way, told MSNBC.
"And I looked to one of the command staff and I say, 'Oh my God!' then they looked at me and they say 'the bridge' — I say, 'no, it can't be!'" Mejia said. "And one of them runs to grab their radio and sure enough, it's the bridge. And at that point we all ran and it was just a horrible scene."
Cars were crushed, he said. Authorities said later that eight vehicles were trapped under the collapsed bridge.
"There was a young gentleman in a red Honda, and unfortunately there was nothing I could do, but he stuck his hand out and at that point he, he passed away, he expired," Mejia said.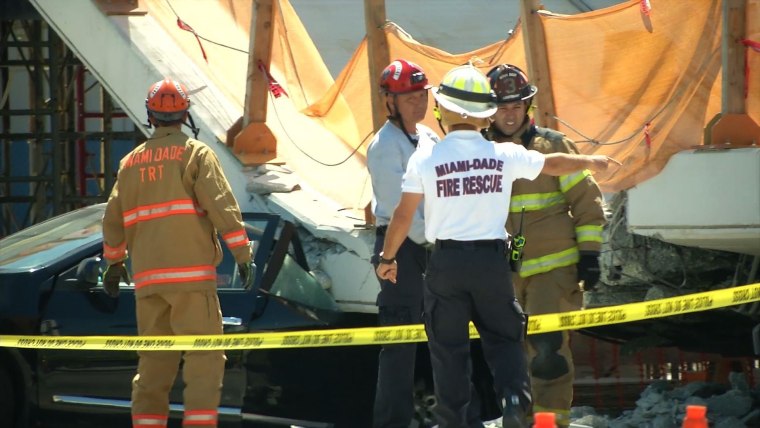 Another witness described the sound of the collapse as like "an explosion."
"It was right behind us, and you know, it could have been us under that bridge," Giovanni Hernandez, who driven under the bridge minutes before the collapse, told MSNBC. "It's something that they're building, and it's not built correctly yet. Why would you continue building something when there's traffic moving under you?" he said.
Authorities said calls about the bridge collapse came in at around 1:30 p.m. First responders found eight vehicles trapped under the bridge, and as of Thursday afternoon eight people had been transported to hospitals, Miami-Dade Fire Rescue Division Chief Paul Estopinan told reporters.
Over 100 firefighters, including specialized teams, were working in the area of the bridge to find survivors, he said.
Steven Ippoliti, 47, who works in the forecast office on FIU's campus, said that he was driving about a quarter-mile away from the bridge and was in traffic when the bridge collapsed. "I watched it come down in a second," he said.
"It didn't even take seconds. It was there and then it was just down," Ippoliti said in a phone interview. "It kind of just left you in awe — like did that really just happen?" He said the north side collapsed first and "one side went down and the other kind of went down with it."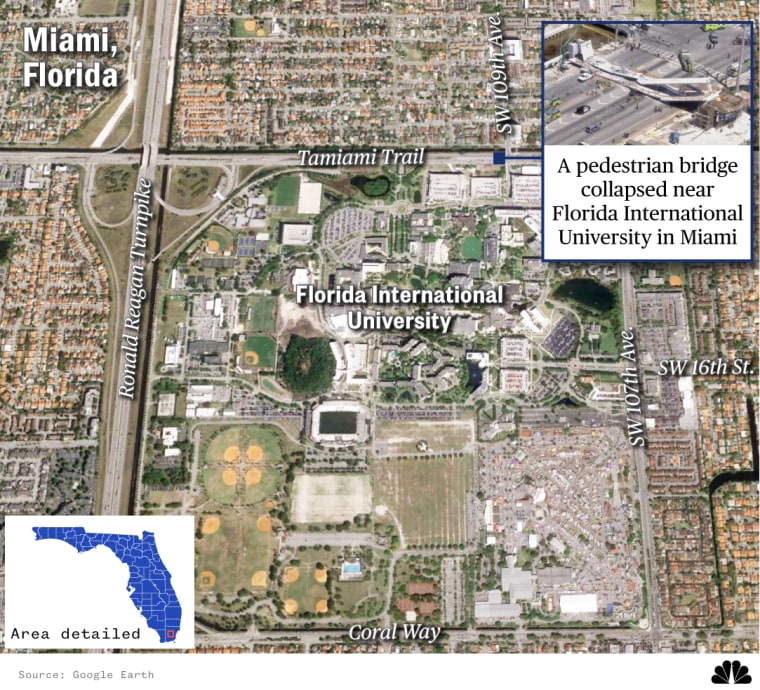 Suzie Bermudez was at the intersection stopped at a traffic light when the bridge collapsed on the other side of the road. "I was the first car. If the light would have changed I was three seconds away from being under the bridge," she said.
"I looked forward and all of a sudden I saw the bridge collapse," she told NBC News.
"I'm very grateful to be alive, thank God," Bermudez said.
The bridge was scheduled to open early next year and was designed to withstand hurricane-force winds. The bridge was built across the seven-lane Tamiami Trail, connecting the FIU campus to the town of Sweetwater, where the university estimates some 4,000 students live.
Brandon Lee, a student at FIU told MSNBC that was on the phone with his father when "suddenly I saw the whole ground shake." He said his roommate came in and said "the bridge just collapsed." The walkway to get to the pedestrian bridge was not in place, the student said.
The National Transportation Safety Board said it was sending a team to investigate the collapse.
Mercy Dominguez, 52, of Miami, told NBC News that she drives near the pedestrian bridge twice a day, and "I've been thinking how beautiful it's going to be once the bridge is up."
"I drove under it twice this morning while I was taking my son to school," she said.
Vanessa Vassall, who is in the PhD program at FIU, was crossing the street when the bridge collapsed and described the terror of watching the structure come down, and the debris falling on a black car. A woman in pink scrubs was screaming for someone to help a person in the back of her car, she said. "It sounded like an earthquake," Vassall said.
"I feel bad even saying that I'm grateful to survive," she said. "No one thinks sitting at an intersection that that's the last day."
Gabe Gutierrez and Kalhan Rosenblatt reported from Miami. Phil Helsel reported from Los Angeles.