NASHVILLE, Tenn. -- They are in the United States without documentation, and they are tired of hiding.
Over the past few weeks, a group of more than 30 housekeepers, day laborers, students and immigration activists has been making its way across the country in a ragtag caravan, chanting "no papers, no fear" and proudly declaring "I'm undocumented" in public gatherings.
The riders do not have the legal documents to be in the U.S., a point they want everyone they meet to know. They are on the bus tour, dubbed the "undocubus," to highlight their plight and to challenge their anti-immigrant foes in the ongoing national debate on immigration. 
"We want to live in equality like everyone else, and that's why we have taken this risk. We have confronted fear of potentially being arrested, but we believe that it is worth fighting," said El Salvadorean Jose Mangandi, a day laborer living in Los Angeles who is raising his 3-year-old son on his own after his wife was deported. "We have customs, we have cultures. We want to share this with this country, and those who criticize us and who hate us, we invite you to get to know us." 
Mangandi was one of the group's members who spoke at a press conference Thursday in a Nashville park across from the public library, where they had just finished hearing a talk on Civil Rights movement protests, such as the local lunch counter sit-ins that led to desegregation. 
Their tour, which began in Arizona, has made stops in Colorado, New Mexico, Texas, Louisiana, Mississippi and Tennessee. Along the way, the riders have met Civil Rights-era activists, some of them have been arrested during protests, and they've held talks with immigrant groups to exchange ideas on how to prevent deportation.
"I think it's important to create dialogue and when I say, 'I'm undocumented,' I'm also welcoming others to say their stories, too, and (to) not be afraid," said Isela Mares, a 29-year-old Mexican living in Phoenix, who noted she was just becoming comfortable using the term "undocumented." "I feel that it's our responsibility … to let the people know what we are going through so that they also, you know, find that connection."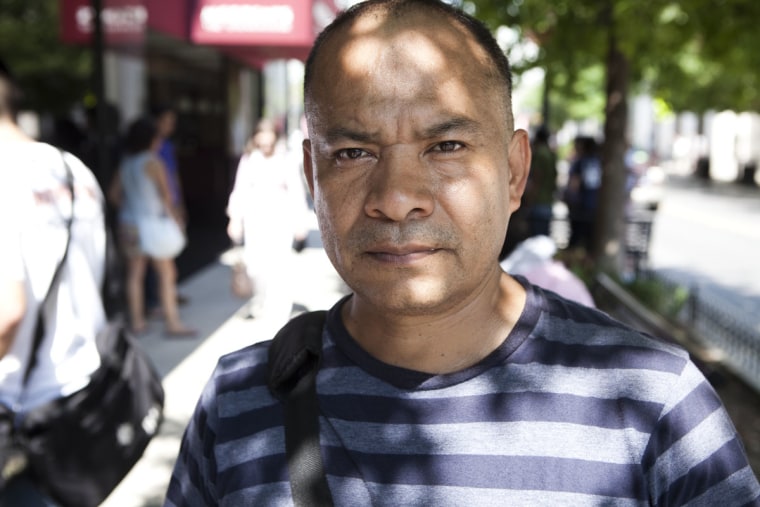 Though their flagship bus painted with the words, "No papers, no fear," on it in Spanish and English broke down in New Orleans, they've carried on with vans and a minibus. They hope the bus will soon re-join the trip.
Organizers came up with the concept of a bus tour in the spring. It was born out of the notions that "undocumented people can speak for themselves" and "undocumented people should be able to choose their own risks," said Tania Unzueta Carrasco, 28, an organizer with the Immigrant Youth Justice League helping to handle press relations on the trip.
"I think that's … a big change for a lot of us. I think for a long time immigrant rights organizations had been very protective of undocumented immigrants, just the whole idea of … 'I will get arrested for you, I will take the risk for you,'" she said. "For a lot of us who are undocumented, it's like, 'I don't want you to do anything for me … I want to be able to … choose for myself what I'm doing.'" 
The group has their opponents, though they haven't been turning out in large numbers. One woman showed up at a Nashville event wearing an anti-immigration t-shirt, but she kept her distance, participants say. 
Undocumented immigrants confront author of strict immigration laws
  Dreamers can apply for deferred action - now what?
Arizona governor's ban on licenses for undocumented likely headed to court
  Chasing a 'dream': Immigrant youth seek legal status
Young undocumented immigrants line up for chance to legally stay, work in US
"They're illegal immigrants advertising the fact and ICE (Immigration and Customs Enforcement) needs to pull them over and detain them," said Mark Krikorian, executive director of the Center of Immigration Studies, a think tank that supports tighter immigration controls. "I mean, it's as simple as that. … you can't arrest every illegal immigrant but it seems to me advertising your illegality ought to be reason enough for you to be detained and removed from the country as a priority and the fact that they're not is outrageous."
The riders met with lawyers before they left to learn what the potential consequences of an arrest could be. For some, it could mean deportation. Eleazar Castellanos, who already was forced to leave the U.S. once before, shortly after he came here 16 years ago, thinks he would be forced out again.
On the group's journey to Nashville from Memphis late Wednesday, Castellanos said he had been trying to find work as day laborer since losing his job putting in countertops years back. At times, he hasn't even had enough money to get gas to look for work or to put food on the table, he said as he wiped away tears. 
Castellanos hid these struggles from his wife and 22-year-old daughter until four days before the trip, which was also the first time he told them he was going to be on the "undocubus." They were shocked to learn of his decision, but eventually decided it was the right thing to do, despite the risks.
"I don't care, because anyway, every time I'm exposing myself (while) looking for work, and anytime the police can stop me or the immigration and they can deport me," he said. "So in case that happens to me I want it to be for something good … I'm not afraid anymore. If I know my rights probably I have the chance to fight back and let the people know to come out of the shadows and not be afraid."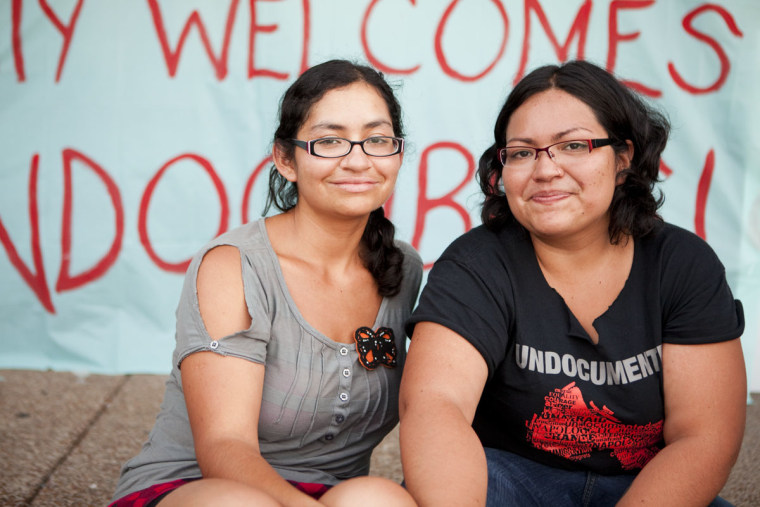 When asked about the "undocubus" and whether the riders could be deported, Barbara Gonzalez, press secretary for U.S. Immigration and Customs Enforcement, sent the following statement via email: 
"ICE is focused on smart, effective immigration enforcement that prioritizes the removal of criminal aliens, recent border crossers and egregious immigration law violators, such as those who have been previously removed from the United States."
Nine of the riders are applying for the government's new "deferred action" policy, under which certain young immigrants in the country without documents can get a two-year work permit and a reprieve from deportation. While some are grateful for the initiative, seen as a bid by the president to provide some relief since the Dream Act -- immigration reform legislation -- stalled in Congress, others said it didn't go far enough.
Their ride ends in Charlotte, N.C., at the Democratic National Convention, where they intend to convey this message.
"I think it's important for people within the undocumented community to find some kind of technique that can have some success in increasing the pressure on the political process and on Obama and on the Democrats," said Gary Gerstle, a professor of American history and an expert in social movements at Vanderbilt University in Nashville. "I think in order for more to happen there has to be more of an immigrant rights movement and there has to be more of a human rights movement in the U.S., and in thinking about how that might happen, I think the 'undocubus' is innovative and has a chance of making a difference and it fits within a broader history of non-violent peaceful protest."
Though there are more experienced activists in the group, a number of them are for the first time putting themselves out on the front line.
One of them is Maria Cruz Ramirez, who brought her three children to the U.S. for better economic and education opportunities in 2001. Life has been difficult since the tighter immigration law in Arizona was passed, she said, with her husband narrowly evading an immigration raid in Phoenix.
After she saw her youngest daughter and her son get arrested protesting earlier this year, she decided she needed to act. 
"They stood up for themselves and fought for their own rights and dignity," she said, at times wiping away tears. "I'm fighting for them and everyone else ... for the mothers who don't want to or can't or don't know how to support their children. I want to represent all of those mothers and those young people."
Many spoke of their journey on the bus as creating a family. They share hugs and laughs, dance while some in the group play congas, and play sports together. They clap and cheer after the declarations of their legal status. 
"Sometimes, I feel a little nostalgic when I'm alone. But when I'm with the group, I laugh and my whole attitude changes ... because the group gives support and love," Mangandi said after the press conference. "We know the bus is our house and what we share there is the family we have made."
Correction: An earlier version of this story incorrectly identified the gender of Maria Cruz Ramirez's children who were arrested at a protest. It was her youngest daughter and her son, not two daughters.
More content from NBCNews.com: