RALEIGH, N.C. — Federal judges on Monday rejected a request by North Carolina voters who sued over General Assembly district boundaries to hold special elections next March in new districts once lines are redrawn to eliminate illegal racial gerrymandering.
The unanimous order by the three-judge panel means the next legislative elections won't occur until November 2018, as regularly scheduled. But the judges did tell Republican lawmakers who control the legislature that they'll have to approve new House and Senate boundaries by this September — at least two months earlier than GOP leaders sought.
The three judges ordered lawmakers to draw the new maps by Sept. 1 but wrote that they would extend the deadline to Sept. 15 if lawmakers make enough progress on new boundaries in the next few weeks. Such movement would include disclosing remedial plans and creating a method by which the public and other legislators can make comments and present evidence.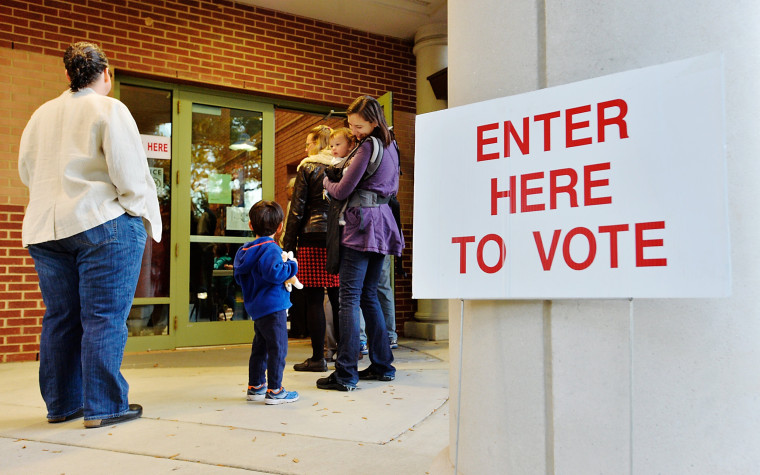 The panel ruled in August 2016 that 28 state House and Senate districts were illegally drawn based on racial considerations. After Republicans took the case to the U.S. Supreme Court, the justices upheld the lower court decision to throw out those boundaries. Democrats hope the new boundaries could help them erode the GOP's veto-proof majorities in both legislative chambers.
The three judges wrote they would explain their decision against a special election in a forthcoming opinion. Lawyers for GOP legislative leaders have said holding one would be complicated for election workers and would overlap with the November 2018 election schedule.
Although the GOP's lawyers also argued they needed until this November to redraw maps, the judges disagreed.
"Legislative defendants have offered no evidence to support their contention that they need 3½ more months to remedy the constitutional violations identified by this court almost a year ago, nor have they offered any evidence that they have not begun to evaluate what the revised districts might look like," the order said.
Still, in oral arguments last week in Greensboro federal court, two of the judges expressed concerns that North Carolina legislative leaders had taken few steps to draw new election maps.
The panel reaffirmed those worries Monday, writing that it appears "the General Assembly does not appreciate the need to move promptly to cure the unconstitutional racial gerrymanders" in plans first approved in 2011.
Attorneys for the voters had wanted maps drawn within two weeks — in line with what state courts order in redistricting matters. But that was a little too soon, the judges wrote, and setting the Sept. 1 deadline still gives lawmakers time to hold public hearings while moving the process along.
A group representing the voters seeking a special election focused in a release Monday night on the accelerated schedule to draw new boundaries.
"This prompt redrawing will allow North Carolinians to at least rest assured, knowing which districts they will be living in come the November 2018 elections, and that the federal court will be reviewing the remedial plans closely to ensure they are legal," said Allison Riggs, an attorney at the Southern Coalition for Social Justice.
Legislative leaders didn't immediately respond to emails and a text late Monday seeking comment on the order, written by U.S. District Judges Catherine Eagles and Thomas Schroeder, along with Judge Jim Wynn of the 4th Circuit Court of Appeals.
Related: Opinion: Supreme Court Recognizes That With Gerrymandering, Not all Votes Are Equal
Lawyers for more than two dozen voters successfully got the House and Senate districts thrown out, arguing that Republican mapmakers needlessly packed too many black voters into them, making the surrounding districts more white and Republican. The boundaries have helped the GOP expand their majorities and push a right-leaning agenda.
Republican lawmakers have said they'll have to alter two-thirds of the General Assembly's 170 districts while fixing the 28 cited.
Democrats need to capture three House seats or six Senate seats currently held by Republicans to eliminate the GOP's veto-proof majorities and give Democratic Gov. Roy Cooper more leverage. But without a special election, the chance won't come for more than 15 months.