A year and a half after the city emerged from the largest municipal bankruptcy in U.S. history, Detroit 2.0 is still beset by crippling bugs in the system.
Restaurants, hotels, offices and housing are going up at a rapid pace in Detroit — part of a post-bankruptcy resurgence that makes Detroit potentially one of the hottest investment markets in the country, the nonprofit Brookings Institution said last week.
And yet, despite the revival fueled by what Brookings called historic cooperation among nonprofits, business and government, Detroit is still struggling to provide some of the most basic services to its residents.
As early as Tuesday, the city's Department of Water and Sewerage is prepared to begin shutting off the water to as many as 23,000 commercial and residential customers who've defaulted on their payments — despite a broad water assistance program designed to help distressed customers work out payment plans, the agency told NBC News.
Hundreds of people lined up Saturday for a Water Assistance Fair at a water service center, and the rush to pay bills continued on Monday.
"We're doing what we can to help people," Linda Clark, a spokeswoman for the water department, told The Detroit News on Sunday. "The last thing we want to do is cut off people's service."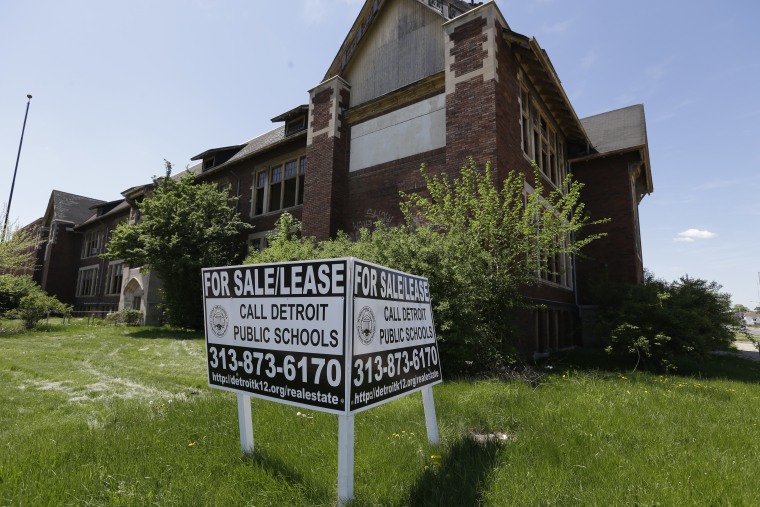 Meanwhile, amid a bribery scandal that has led to corruption charges against 14 employees, the school system is running out of money and will have to stop paying teachers and staff on June 30, according to a school system memo obtained by the teachers union.
The Detroit Federation of Teachers, which called an emergency meeting Sunday afternoon after local NBC affiliate WDIV reported details of the memo, urged a district-wide teacher "sickout" on Monday. The station reported that 87 of the district's roughly 100 schools were closed Monday.
"Enough is enough," union president Ivy Bailey said. "The truth is we can no longer take the district's word at face value"
The school system confirmed the dire straits in a statement Saturday night, saying there will be "no funds available for the district to conduct summer school or provide the year-round special education services that a number of our students rely on."
While the Legislature recently approved almost $50 million in supplemental funding for city schools, it said, "without the passage of the more comprehensive $715 million education reform package that is now being considered by the Michigan House of Representatives, there will be no funds available to pay DPS employees."
Detroit Mayor Mike Duggan blamed poor oversight by a state-appointed emergency manager.
"Eight years of emergency management that has had eight years of deficits, eight straight years of enrollment declines, eight straight years of achievement declines," Duggan told the audience at an NAACP Freedom Fund dinner Sunday night, WDIV reported.
The emergency manager, former bankruptcy judge Stephen Rhodes, said he expected state lawmakers to send the district money to continue paying teachers.
"They will only not get a paycheck if the Legislature doesn't act," Rhodes told WDIV. "I'm confident that the Legislature will act."
The Brookings program last week found that Detroit has a lot to be thankful for, however, citing "private and public sector investments downtown and across its neighborhoods, leading to "revived neighborhoods, new businesses, a downtown innovation district, the M-1 RAIL transit corridor and a spirit of creativity and entrepreneurialism."
"We've got 5,000 residential units in this city either under construction now or in planning," Duggan crowed in what was called a "victory lap" through Washington, D.C., last month.
"More importantly, people who were moving out to the suburbs, they've decided to stay. I never in my lifetime thought I would see a time when, from southwest Detroit to the west side of Detroit to the east side of Detroit, property values would be coming back," Duggan said.
And yet, little of the new prosperity is trickling down to the city's poorest residents.
Most of the residential customers who've defaulted on their water bills are among a segment of the population that makes metropolitan Detroit home to the highest rate of concentrated poverty in all of the 25 biggest U.S. cities, according to a separate Brookings report in March.
Almost 50 percent of the metro area's black population qualifies as poverty-stricken, the report found — contributing an overall poverty rate of 32 percent.
"So many people in our society live paycheck to paycheck, and when things are going well, that works," Donna Cielma, director of early childhood and school-based services, a nonprofit education support group in southwest Detroit, told WDIV when the Brookings report was published.
"But it takes one thing to stop that [check-to-check] system from working," Cielma said. "And that could be you."