The man suspected of being the so-called NorCal Rapist made his first court appearance on Monday in the sexual assaults of at least 10 women in crimes that began more than two decades ago.
Roy Charles Waller, 58, an employee at the University of California-Berkeley who lives in Benicia, California, was arrested Thursday morning as he arrived for work. He could be sentenced to life in prison if he's convicted of all 12 counts of forcible sexual assault.
Waller, who appeared in Sacramento County Superior Court inside a locked cage, was assigned a public defender and entered no plea pending another hearing on Oct. 30.
Authorities said police identified Waller through the public genealogy website GEDMatch, which also was used to help identify the suspect in the so-called Golden State Killer murders and rapes in California from 1974 to 1986.
That suspect, Joseph James DeAngelo, 72, a retired officer for the police departments of two small California cities, Exeter and Auburn, during the 1970s, was arrested in April.
Waller is charged in connection with two victims in Sacramento County, but he faces potential charges from five other counties, where sexual assaults that Sacramento Police Chief Daniel Hahn called "horrific" occurred over 15 years ending in 2006. Authorities know of at least 10 victims, officials said.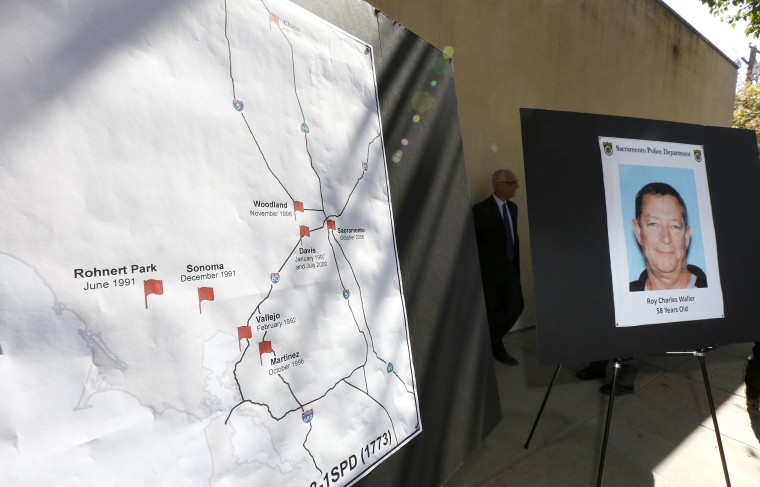 Police and university officials said none of the assaults are believed to have occurred on the UC Berkeley campus, where Waller worked as a safety specialist in the Environment, Health and Safety Department. The university said he has been placed on investigative leave.
The sexual assaults occurred in Sonoma, Solano, Contra Costa, Yolo, Butte and Sacramento counties, beginning in 1991 in Rohnert Park, authorities said.
Authorities said the NorCal Rapist would break into his victims' homes at night — sometimes when they were asleep — overpower them and ransack their homes. He would sometimes kidnap them and force them to take money out of ATMs, authorities alleged.
Prosecutors in the other counties where investigators believe same serial rapist struck will be reviewing their information for possible charges.