A Norfolk Southern train derailed Thursday in Calhoun County, Alabama, hours before company CEO Alan Shaw faced lawmakers to answer questions about a Feb. 3 derailment that led to a toxic chemical spill in East Palestine, Ohio.
The train was traveling from Atlanta to Meridian, Mississippi, when it derailed at around 6:45 a.m. in the Quad Cities area of White Plains, officials said.
There were no reports of injuries and no reports of a hazardous leak after approximately 30 cars derailed, the Calhoun County Emergency Management Agency said in a news release.
"Norfolk Southern has responded and is working closely with us," an agency spokesperson said in a statement. "Norfolk Southern has their cleanup crew on site and there is no estimation on how long it will take."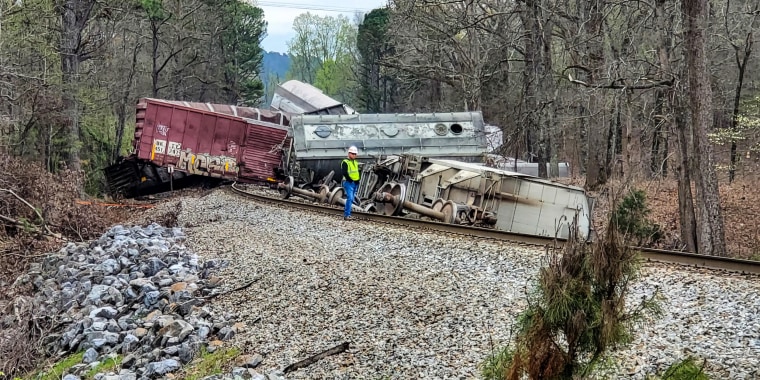 It's not clear what caused the derailment. 
Connor Spielmaker, a spokesperson for Norfolk Southern, said the train was mostly mixed freight and that two of the cars had previously carried hazardous materials, most likely a solution used in water treatment. At the time of the derailment, those two cars were empty.
"There is no risk at all to the public," he said at a Thursday afternoon news conference.
This is the third derailment of the company's trains since last month. When asked about the frequency of the accidents, Spielmaker told reporters that Norfolk Southern is looking into what happened and is "figuring out how we can become even safer."
"Derailments are a very loose term," he said. "Derailment could mean as little as one wheel off the track. So as far as an increase, decrease, I can't really get into that." 
Over the weekend, 28 cars derailed in Springfield, Ohio.
Officials said the 212-car train was headed to Birmingham, Alabama, from Bellevue, Ohio, when it derailed at around 5 p.m. Saturday. Kraig Barner, Norfolk Southern's general manager of operations, said that none of the derailed cars were carrying hazardous material and there were no reports of injuries. He said the train was previously carrying diesel exhaust fluid and an additive commonly used in wastewater treatment. 
One of the cars that derailed contained plastic pellets that spilled out onto the soil. Ohio Environmental Protection Agency Director Anne Vogel said the pellets are not hazardous.
The National Transportation Safety Board launched a special investigation of Norfolk Southern Railway's organization and safety culture following a series of derailments and other "significant accidents."
The announcement came just hours after the railroad said a conductor had been fatally struck at an Ohio steel facility.
During last month's catastrophe in East Palestine, Ohio, a 9,300-foot train carrying dangerous chemicals derailed.
A report by the board said that a defect detector built into the railway transmitted an alarm message to the train's crew after it recorded that the temperature of a wheel bearing on the 23rd car was 253 degrees hotter than the air temperature. Anything over 170 degrees requires the engineer to stop the train, according to the railroad company's policies.
The engineer hit the brakes, but before the train came to a halt, the 23rd car derailed, taking other cars with it, and an automatic emergency brake kicked in.
Five toxic chemicals were identified around the site of the East Palestine crash: butyl acrylate; isobutylene; ethylene glycol and ethylhexyl acrylate; and vinyl chloride, a known carcinogen. Since the derailment, residents have been diagnosed with ailments associated with chemical exposure and rail workers at the site have fallen ill.
A number of lawsuits have been filed against the company.
Norfolk Southern CEO Alan Shaw testified Thursday in a hearing of the Senate Environment and Public Works Committee. He said that he was "deeply sorry" for what happened in East Palestine and is "determined to make it right."
"We will clean the site safely, thoroughly and with urgency," he said. "You have my personal commitment."
CORRECTION (March 9, 2023, 3:31 p.m. ET): A previous version of this article misspelled the first name of the Ohio Environmental Protection Agency director. She is Anne Vogel, not Ann. A previous version of this article also misspelled the first name of a spokesperson for Norfolk Southern. He is Connor Spielmaker, not Conner.