BURGAW, N.C. — More than a day after Florence's eye passed through southeastern North Carolina, a slower, and potentially more destructive threat emerged: pounding rains and a storm surge that pushed rivers over their banks, overflowing into small inland towns.
In the agricultural town of Burgaw, about 26 miles north of Wilmington, the swollen Northeast Cape Fear River and various creeks connected to it poured into streets and slipped into homes. Authorities began swift-water boat rescues before dawn, and the activity picked up as water continued to rise.
Many of the state highways leading out of town were also disappearing under water.
The operations were made more perilous by fallen trees and power lines; officials didn't expect power to be restored for weeks. There were around 658,000 power outages in North Carolina as of 11:15 p.m. ET, according to the state Department of Public Safety.
Florence was downgraded to a tropical depression early Sunday, but the National Hurricane Center said "flash flooding and major river flooding will continue over a significant portion of the Carolinas."
At least eleven people were killed after Hurricane Florence made landfall on North Carolina's coast on Friday and in the storm's aftermath in that state. At least three people died in South Carolina, and officials said the deaths were storm related.
Rescued families were delivered to shelters, where approximately 20,000 people across the state were housed on Saturday.
---
Here's the latest on Tropical Depression Florence:
Three people were killed in Duplin County, North Carolina, in separate incidents after their vehicles washed away in high waters, according to Duplin County Sheriff Blake Wallace. Two died in Horry County, South Carolina, of carbon monoxide poisoning amid the storm, officials said.
The total dead from the storm in North and South Carolina was at least 11 as of 12 a.m. ET Sunday.
There were around 658,000 power outages in North Carolina as of 11:15 p.m. ET, according to the North Carolina Department of Public Safety.
A little more than 14 inches of rain fell on Wilmington, North Carolina, as of 6 p.m. Saturday, according to preliminary reports from the National Weather Service.
As of Sunday at 5 a.m. ET, the center of the depression was southwest of Columbia in South Carolina and was moving west at around 8 mph.
The U.S. Coast Guard and others rescued 20 to 30 people in River Hills, a subdivision near Jacksonville, North Carolina.
---
Burgaw Mayor Pete Cowan warned that the local hospital was not accessible; it had already been evacuated. "We're asking people, please stay off the streets unless it is an absolute emergency," he said. Cowan said that as of 9 p.m. there had been 20 water rescues.
Cowan said he worried that the floods would destroy many of the crops that drive the local agricultural economy.
Steve Goldstein, the National Oceanic and Atmospheric Administration liaison to FEMA headquarters, said on Saturday that the storm would "produce catastrophic flooding for some time," adding that many rivers would still experience catastrophic flooding from the storm and that 3- to 5-foot storm surges were still possible along the coast. Areas further inland through southwest Virginia could see as much as 15 inches of rainfall.
By mid-afternoon Saturday, about 20 rescue operations had taken place in communities near the Northeast Cape Fear River and one of its tributaries, the Black River, said Tammy Proctor, spokeswoman for Pender County Emergency Management.
Some parts of Burgaw commonly flood during heavy rains, and officials went to those parts before Florence's arrival to tell residents there to evacuate. The swift-water rescues on Saturday morning were mostly of people who hadn't heeded those orders, said Burgaw Fire Capt. Nick Smith.
Many people may have mistakenly believed that they were in the clear after the worst of Florence's winds passed, Smith said, but the back end of the storm is lingering longer than expected.
"Usually we'd be cleaning roads and done by now," Smith said. "But we're still in the throes of it."
On Saturday morning, Gov. Roy Cooper echoed Smith, saying that residents faced "walls of water" along the coast and rivers.
"Know that the water is rising fast everywhere, even in places that don't typically flood," Cooper said. "This system is unloading epic amounts of rainfall. Many people who think the storm has missed them have yet to see its threat."
Tom Watson watched floodwaters creep toward his home on the south edge of Burgaw, where he rode out the storm with his wife and adult daughter, who fled from Wilmington to be with them as Florence approached. Over the course of two hours on Saturday morning, the water had risen 4 inches, he said.
"If it rises any higher, I'll break out the jon boat and go somewhere," said Watson, 62, a retired building inspector. "But right now we'll wait and see if the water gets up to that point."
Under a car port on Route 117 South in Burgaw, Kevin Everett's family cooked pancakes and bacon on a charcoal grill. They didn't have power or running water, and were trying to make the best of things.
During most serious storms, floodwaters filled the roadside drainage ditch then receded. But on Saturday morning, the water kept coming, swallowing Everett's front yard and threatening his 1978 Ford F100 custom pickup.
Everett, 43, didn't plan to evacuate, but he had seven family members to think about, including a young grandson.
"I'll grow concerned if the water starts getting close to my truck. Then maybe I'll take my family to closest shelter," he said.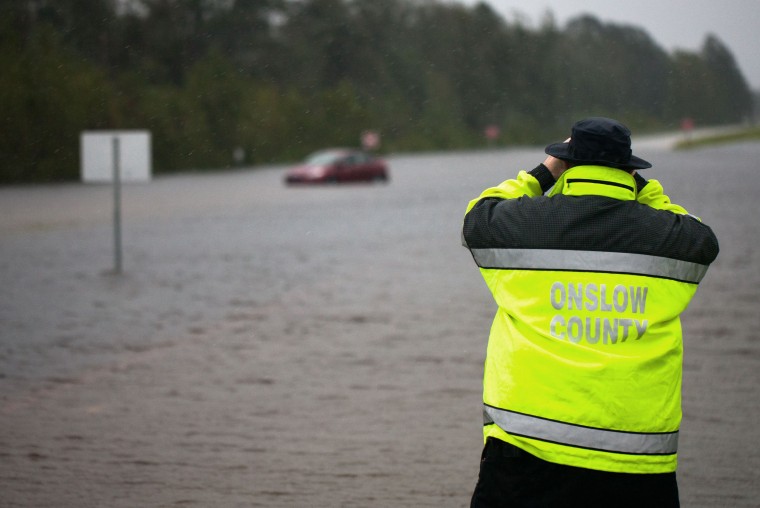 But for now, "we're going to try to ride it out as long as we can," he said.
William Woodburn and his family stood on their porch in bare feet, watching the rain. Florence had torn a piece of their roof off, and now water was leaking in and approaching from the yard.
"It's been a little hairy at times," Woodburn, 45, said.
Woodburn hadn't considered fleeing — yet.
"I don't even know if we can get out of Pender County right now," Woodburn said. "If we do, we'll just try to head to higher ground, even if we have to stay in a van."
Asked if he was getting nervous, he said: "I'm not worried because there's a point where fear has to face the God I know and its bigger than anything in this world."
In other parts of the state, those who decided to stay behind and ride out the storm needed rescuing as the storm stalled.
Early Saturday, approximately 20 people were rescued near Marine Corps Base Camp Lejeune, in Jacksonville, North Carolina, by military officials and delivered to the Piney Green Volunteer Fire Department before being transferred to Onslow County shelters.
Roger Cozine, 62, who lives in Jacksonville, tried to stay in his home as long as possible, but said rising floodwaters forced him to flee to a relatives house.
"I rode out the storm as much as I could," Cozine said. "I woke up at 6 a.m., and the water was coming into the house."
Cozine packed his belongings and went up the street to a relative's house, but said if the water continues rising at the current rate, they will have to evacuate.
"These are terrible times and now all I can do is just pray not only for me but for everybody around me," he said.
Jon Schuppe reported from Burgaw, North Carolina. Kalhan Rosenblatt reported from New York.