North Carolina asked the U.S. Supreme Court Tuesday to put a hold on last month's federal appeals court ruling that struck down one of the nation's toughest voter ID laws.
The state said "in order to avoid voter confusion" it should be allowed to enforce several parts of its law that had been in effect before a federal appeals court declared them invalid.
In a blistering decision in July, the Fourth Circuit Court of Appeals said the North Carolina legislature explicitly set out to discover what kind of accommodations minority voters use most often and then to roll back or eliminate them, targeting African Americans "with almost surgical precision."
But in asking the Supreme Court to put a hold on that ruling, the state said "North Carolina should not be forced to scramble mere months before the general election to rejigger settled election plans at the Fourth Circuit's command."
Related: Voting Fight Shifts to Local Level In North Carolina
Specifically, the state asked the Supreme Court to let it continue to enforce its voter ID law, which was in effect during this year's primary, and also to limit early voting to 10 days instead of 17 as the state originally did, and to bar pre-registration by 16 year olds.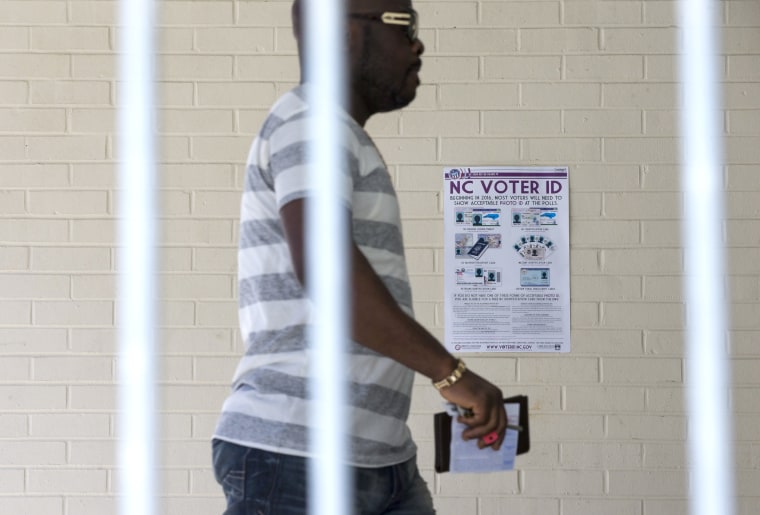 The state did not seek to put a hold on other parts of the Fourth Circuit ruling, which means same-day registration will be allowed, and votes will be counted if they are cast in the wrong precinct.
In the past, the Supreme Court has been responsive to arguments from the states that last-minute changes in voting procedures are confusing. But in this case, North Carolina may have weakened its ability to rely on that claim, because the state waited 17 days to challenge the appeals court ruling.
Related: Appeals Court Rejects Strict North Carolina Voting Law
Notably absent from the legal documents filed with the Supreme Court was North Carolina's attorney general, who has said he will not defend the law. Instead, the state retained three private law firms to file the emergency motion.
North Carolina Gov. Pat McCrory said in a statement that his state's voter ID law "has been cited as a model and other states are using similar laws without challenges".
"Allowing the Fourth Circuit's ruling to stand creates confusion among voters and poll workers and it disregards our successful rollout of Voter ID in the 2016 primary elections," McCrory said in a statement. "The Fourth Circuit's ruling is just plain wrong and we cannot allow it to stand. We are confident that the Supreme Court will uphold our state's law and reverse the Fourth Circuit."