A melded version of the universal symbols for men's and women's restrooms has taken on new significance in North Carolina, where some private business owners are displaying it to show their opposition to a state law restricting transgender use of public bathrooms.
The symbol was trademarked in 2014 by Avery Dickerson, a transgender man, for use as a logo for his gender-neutral clothing company DE•CON•STRUCT.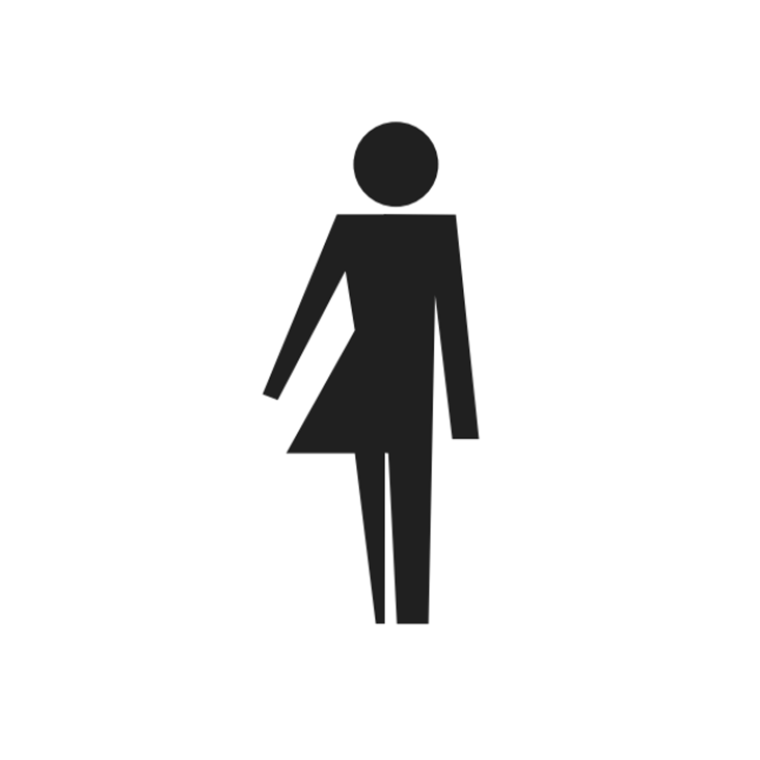 Dickerson, a North Carolina native, said he first designed the figure in 2014 in support of a friend who was transitioning from female to male, and then decided it was the perfect emblem for his fledgling apparel brand. He had no idea it would come to serve an additional purpose.
But the image is now linked to the debate over a North Carolina law requiring transgender people to use bathrooms and locker rooms assigned to the gender on their birth certificate — rather than the one that aligns with their gender identity — in government buildings and state schools.
Under the law, private business owners can decide independently whether or not to allow transgender people to use facilities based on the gender they identify with. And some businesses are using Dickerson's symbol to make clear that they don't conform to the state rules and have "safe bathrooms" available for transgender people.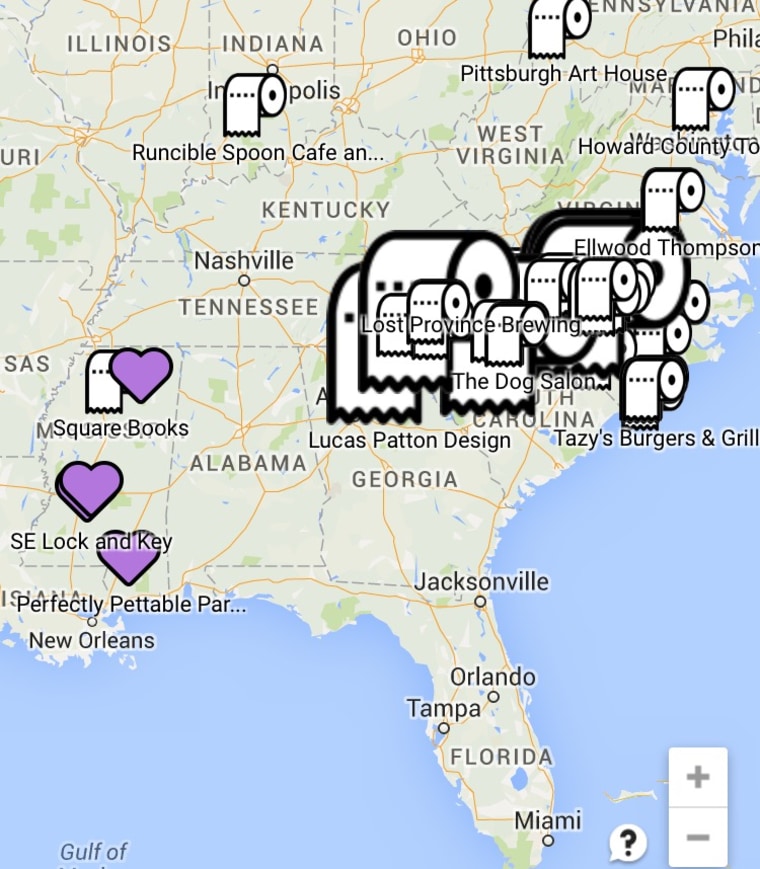 Dickerson, 24, has helped publicize such establishments.
After the law was passed in March, he and some friends noticed that many businesses were using hashtags on social media to indicate that they didn't support the measure. They were inspired to create a map using another universal symbol — a toilet paper roll — to show which businesses were offering "safe bathrooms" so that social media followers "could see and maybe have somewhere close to them to … feel safe," Dickerson said.
As the map has grown, listed businesses have begun snatching up the signs bearing the logo of Dickerson's company, more than doubling sales from the 10 he soldin the year before the "bathroom law" was passed in March.
The businesses "are using them as representation of the inclusive environment they wish to encompass as a company or space," Dickerson told NBC News.
The sign lets transgender people know that they can use the bathroom of their choice at a particular establishment — but it also serves to simplify a subject that many people have trouble understanding, Dickerson said.
Related: North Carolina Starts to See Economic Damage From Anti-Bias Law
"Folks who may not know what gender neutral, non-binary, gender non-conforming, gender queer, gender fluid, etc., stand for, see the logo and can at least recognize it for what it is — a representation of more than one gender, no specific gender or as a spectrum," Dickerson said.
He says that understanding is critical to overcoming fear of the unknown, which he thinks fueled the birth of the North Carolina's law.
And that law has become a lightning rod in the debate over transgender rights.
Under the pressure of a Justice Department deadline to scrap the law by Monday or lose out on federal funding, North Carolina Gov. Pat McCrory filed a lawsuit this week against the federal government, saying that the Obama administration's claim that the law violates civil rights is "baseless and blatant overreach."
McCrory and proponents of the law argue that the bathroom bill serves as a protection of privacy, and the Justice Department can't dictate whether or not it's implemented because "transgender status is not a protected class."
The Justice Department counter-sued North Carolina, arguing that the law "stigmatizes and singles out transgender employees, results in their isolation and exclusion, and perpetuates a sense that they are not worthy of equal treatment and respect."
The issue could get more heated after the federal government on Friday informed public schools across the country by letter that they should allow transgender students to use bathrooms and locker rooms consistent with their gender identity. The sweeping guidance does not have the force of law but warns that schools that don't comply could face lawsuits or lose federal aid.
On Monday, U.S. Attorney General Loretta Lynch compared the debate over transgender rights to other points in history when states resisted broader social change.
"It was not so very long ago that states, including North Carolina, had signs above restrooms, water fountains and on public accommodations keeping people out based upon a distinction without a difference. We have moved beyond those dark days, but not without pain and suffering and an ongoing fight to keep moving forward. Let us write a different story this time," Lynch said.
Dickerson said the statement resonated with him deeply.
"This is a case of history repeating itself, and until we can all see each other as equal humans, we need to fight for our rights," he said. "And that's what we're doing: fighting."