A North Carolina lawmaker was taking flak Thursday for posting on Facebook that President Lincoln was "tyrant" just like Adolf Hitler.
State Rep. Larry Pittman made the comparison while responding to critics Wednesday who were blasting him for pushing a bill that would have restored North Carolina's ban on same-sex marriage in defiance of the U.S. Supreme Court.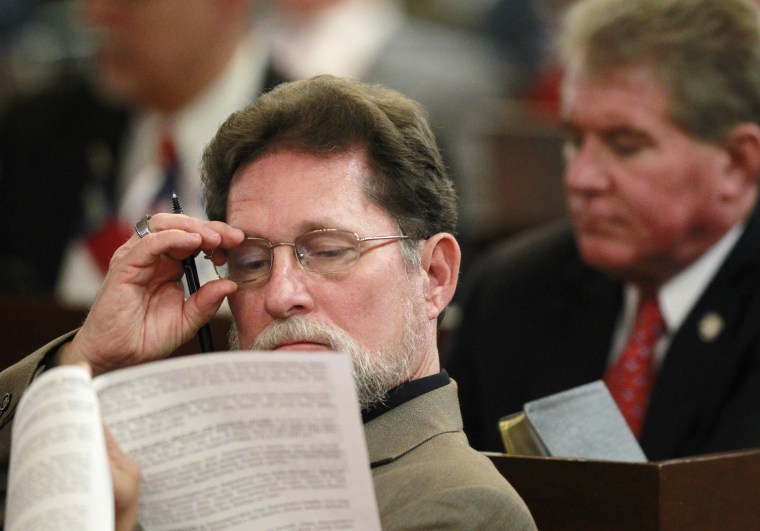 It was a commenter's crack that he should "get over it" that set off Pittman, who is a Republican, a preacher — and apparently still smarting over the South's loss in the Civil War more than a century-and-a-half ago.
"And if Hitler had won, should the world just get over it? Lincoln was the same sort (of) tyrant, and personally responsible for the deaths of over 800,000 Americans in a war that was unnecessary and unconstitutional," Pittman wrote.
(The death toll was closer to 620,000, according to the Civil War Trust.)
The exchange on Pittman's campaign Facebook page first appeared in a story by the Raleigh News & Observer.
And while it appears to have been scrubbed from Pittman's page Thursday there were still plenty of people piling on and calling him a "warm pile of garbage" and worse.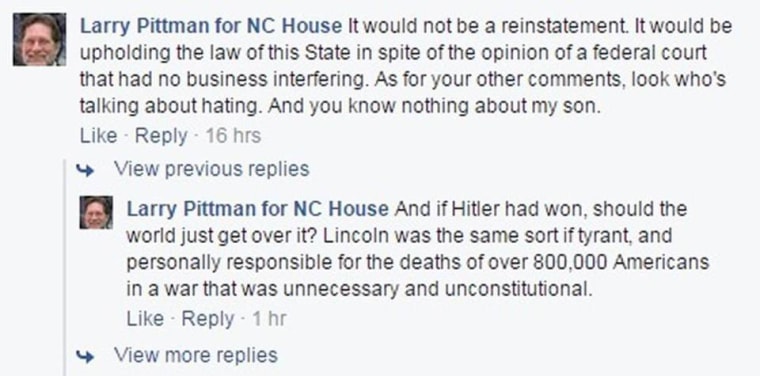 Pittman, who is from the Charlotte suburb of Concord, did not return calls for comment to both his office and home and did not respond to an email. Neither did House Speaker Tim Moore, who is also a Republican.
The Facebook fracas came after Moore on Wednesday effectively killed Pittman's bill, which says the Supreme Court ruling in 2015 that legalized gay marriage "is null and void in the State of North Carolina."
"There are strong constitutional concerns with this legislation given that the U.S. Supreme Court has firmly ruled on the issue, therefore House Bill 780 will be referred to the House Rules Committee and will not be heard," Moore said in a statement.
Pittman made his Hitler crack a day after White House spokesman Sean Spicer had to apologize for saying the Nazi leader "didn't even sink to using chemical weapons" against his own people like Syrian strongman Bashar Al-Assad."