North Carolina sheriff's deputies were justified in fatally shooting a Black man during an attempted arrest last month and no charges will be filed against law enforcement, prosecutors said Tuesday.
Andrew Brown Jr., 42, was killed while behind the wheel of his car on April 21 in Elizabeth City as Pasquotank County sheriff's deputies were serving a warrant for his arreston felony drug charges.
District Attorney Andrew Womble said Brown's shooting death, "while tragic," was "justified due to his actions."
"No officers will be criminally charged," Womble said. "The officers' actions were consistent with their training and fully supported under law."
Deputies had wanted to arrest Brown the night before but he didn't return to his home in a residential neighborhood in Elizabeth City, which is about 35 miles south of Norfolk, Virginia, according to the prosecutor.
And deputies, in the moments they confronted Brown, had reason to believe his car could be used as a deadly weapon, Womble said.
"The deputies faced both actual and apparent danger as perceived by them on the scene," Womble said. "This apparent threat was reinforced by Brown's dangerous and felonious use of a deadly weapon. As tragic as this incident is with the loss of life, the deputies on scene were nonetheless justified in defending themselves from death or great bodily injury."
Brown's family said in statement that Womble did nothing but "whitewash" the facts of the case.
"Andrew Brown Jr., his grieving family, and this community deserve answers," according to the family statement.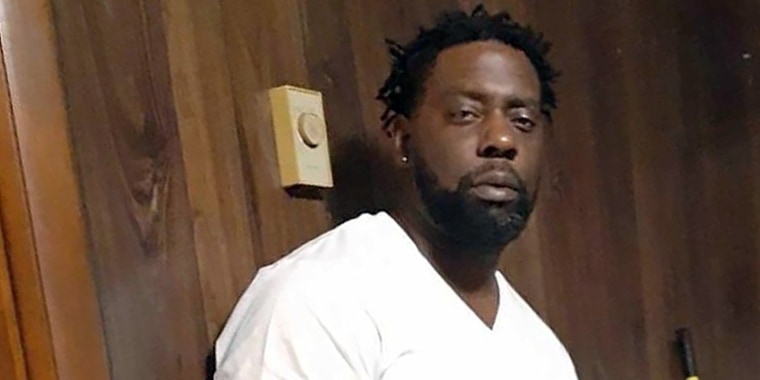 "And they received anything but from D.A. Womble's attempt to whitewash this unjustified killing," the statement said. "To say this shooting was justified, despite the known facts, is both an insult and a slap in the face to Andrew's family, the Elizabeth City community, and to rational people everywhere."
Womble cited case law that grants police wide discretion in using deadly force against a fleeing suspect.
"Once a threat is perceived … and the officers fire the first shot, if the first shot is justified, the last shot is justified until the threat is extinguished," Womble said.
But Duke University School of Law professor Jim Coleman challenged Womble's claim that deputies were being threatened when Brown was fatally shot in the back of the head.
"But the question is, when is that threat extinguished?" said Coleman, who teaches criminal law. "It's very clear what was going on: He was trying to escape; he was not trying to ram his car into officers."
Throughout his lengthy presentation, Womble said sheriff's Sgt. Joel Lunsford could have been killed as Brown narrowly missed him early in the confrontation. Brown could have also been a threat to other law enforcement officers, parked in two unmarked cars a short distance away, Womble added.
But Coleman insisted that once Brown missed Lunsford, the suspect didn't need to be killed.
"The people firing from the side and behind, they were never in danger," Coleman said. "The idea that they were doing this to protect the guy whose hand was on the car, that couldn't have been their thinking. It happened so fast and he had cleared the car by then."
University of North Carolina School of Law professor Carissa Hessick stopped short of second-guessing Womble for not charging deputies but said their actions on April 21 would've been a fair issue for jurors to consider.
"The question that's very unclear to me is when exactly the district attorney believes that the threat ended? Why does he think the threat was continuing, as all of those shots were fired?" said Hessick, who teaches criminal law and is director of the UNC School of Law's Prosecutors and Politics Project.
"It's a judgment about what's appropriate and what's not appropriate, and I don't know what a jury would say," Hessick said. "He made his own decision about what was reasonable, but there's a certain amount of subjectivity in those sorts of decisions. And if we cut juries out of this, then the only people whose decisions matter are just the people who end up being prosecutors."
An autopsy commissioned by Brown's family found he was shot five times, once in the back of the head.
That report added to the findings of a state death certificate that showed he was shot five times and that Brown's immediate cause of death was a "penetrating gunshot wound of the head."
Sheriff Tommy Wooten has identified three of his deputies who opened fire at Brown that day: Investigator Daniel Meads, Deputy Robert Morgan and Cpl. Aaron Lewellyn.
The deputies fired 14 shots that day, nine from a pair of Glock 17 pistols and five from an AR-15 rifle, Womble said.
Wooten on Tuesday said the three deputies who opened fire on Brown would keep their jobs. But they and others in his department would face internal discipline for actions taken on April 21, according to the sheriff.
Two deputies at the scene failed to turn on their body cameras during the confrontation, and the arrest team failed to have emergency medical services nearby, though Brown would have still died from the gunshots he suffered, according to Wooten.
"While the DA concluded that no criminal law was violated, this was a terrible and tragic outcome and we could do better," Wooten said in a taped statement. "This should not have happened this way at all. While the deputies did not break the law, we all wish things could have gone different, much differently."
Further frustrating Brown's family is that body-worn camera footage of the incident has not been released to the public.
Such law enforcement video in North Carolina isn't classified as a public record, as it is in many states, which typically offer a defined, simple path for such footage to be publicly released.
But that's not the case in North Carolina, which requires a judge's order to allow such footage to be released.
While the footage hasn't been formally made available to the public, Womble on Tuesday showed clips from several bodycam videos to reporters at the Pasquotank County Public Safety Complex in Elizabeth City.
The Brown family called for the videos to made public and for the Justice Department to intervene.
"We demand that the court release the full video and State Bureau of Investigation report that will help shed some much needed daylight on this case and bring a small measure of justice to this family and this community," the Brown family said in its statement Tuesday afternoon. "Because we certainly got neither transparency nor justice today. We request that the Federal Department of Justice intervene immediately."
Deputies were seeking to arrest Brown for allegedly selling cocaine and fentanyl-laced heroin to an undercover detective on March 17 and 29, according to Womble.
A plastic bag with an "off-white, rock-like substance" was found in Brown's mouth at his autopsy, Womble said.
"The substance was consistent with crystal meth and was the size of a 50-cent piece and too large to swallow," the prosecutor added.
Womble made his decision not to press charges against the deputies based on findings from the North Carolina State Bureau of Investigation.
The state agency said in a statement that its role was to be an "impartial fact-finder" and would not make any public statements "to agree or disagree with any prosecutor's decision."