After he signed a controversial new "anti-discrimination" law last month curbing LGBT protections, North Carolina Gov. Pat McCrory said he wasn't worried about employers following through on threats to leave the state.
But the economic backlash has continued in potentially damaging ways.
A handful of companies have said in recent days that they would either pull, reconsider or avoid projects in North Carolina — moves that separate them from a much larger field of firms, including many of the state's biggest employers, who have signed a letter of opposition to the law.
A similar movement helped turn the tide against a bill in Georgia that would have made it easier for businesses to deny services to gay couples.
But in North Carolina, lawmakers have showed no sign of backing down.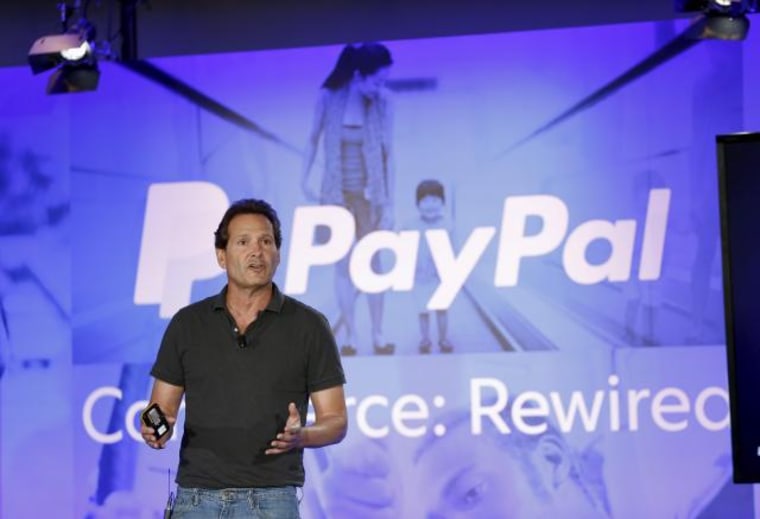 PayPal
On March 18, PayPal announced plans to build a $3.6 million global operations center in Charlotte and hire 400 people to work there. Five days later, the state legislature held a special one-day session to head off a Charlotte city ordinance extending anti-discrimination protections to lesbians, gays, bisexuals and transgender people — including the freedom to use the bathroom of their chosen gender. The rushed vote, and McCrory's late-night signature, essentially nullified that measure and prevented any other efforts to pass LGBT protections.
On Tuesday, CEO Dan Schulman said the company was scrapping its plans. He said in a statement that the new law "perpetuates discrimination" and violated the company's "values and principles." He also pledged to work with the state's LGBT community to press for the new law to be repealed.
North Carolina lured PayPal with $2.7 million in economic development grants, but the state estimated that the facility's payroll alone would have generated more than $20 million a year.
Google Ventures
Last week, the CEO of Google's venture capital arm notified his partners that he did not want to invest in projects in North Carolina "until the voters fix this," Re/code reported.
The decision didn't have any immediate impact, since Google Ventures has yet to back any North Carolina startups. But the state is home to a huge technology and research industry, including a bumper crop of entrepreneurial companies, and could have benefited from the firm's support. Startups raised $1.2 billion in investment funding in 2015, three-quarters of which came from outside the state, according to North Carolina's Council for Economic Development.
Braeburn Pharmaceuticals
Two days before the new law passed, the Princeton, New Jersey-based drug company, which specializes in medications that treat drug addiction, announced that it would build a manufacturing and research facility in Durham County, saying it would create 52 new jobs as part of a $20 million investment in the area. After the law passed, the company said it might change its mind.
"Building a manufacturing and research facility is a business necessity to ensure we fulfill our commitment to patients; we are reevaluating our options based on the recent, unjust legislation," the company said in a statement.
Red Ventures
The South Carolina marketing and technology company had plans to expand its Charlotte operations building out its offices at the city's University Research Park and double its local workforce to about 1,000. The company was enticed by a package of tax breaks. CEO Ric Elias said he hoped to add thousands of jobs in the future. But now that could vanish.
In an open letter to McCrory posted Tuesday to Twitter, Elias, a North Carolina resident and former McCrory supporter, said the law "does not reflect the values of our people, our state or our democratic process." He said the law forced him to "seriously reconsider adding more jobs in a state that tolerates discrimination." he also said he was joining the fight to get the law repealed.