This is the basic math in the life of North Carolina kindergarten teacher Kristin Beller: one master's degree, plus 14 years of experience, plus 10-hour workdays, plus a sometimes six-day workweek equals $51,000 in annual salary.
That does not include the money she makes on the side as a tutor. Nor does it take into account the hundreds of dollars of her own money Beller said she has shelled out to make sure her students at Joyner Elementary School in Raleigh have new books to read.
On Wednesday, Beller and thousands of other teachers from across the Tar Heel State skipped school, donned red T-shirts, and marched through North Carolina's capital demanding a raise — along with more state funding for education — from lawmakers who they say have been shortchanging public schools for years.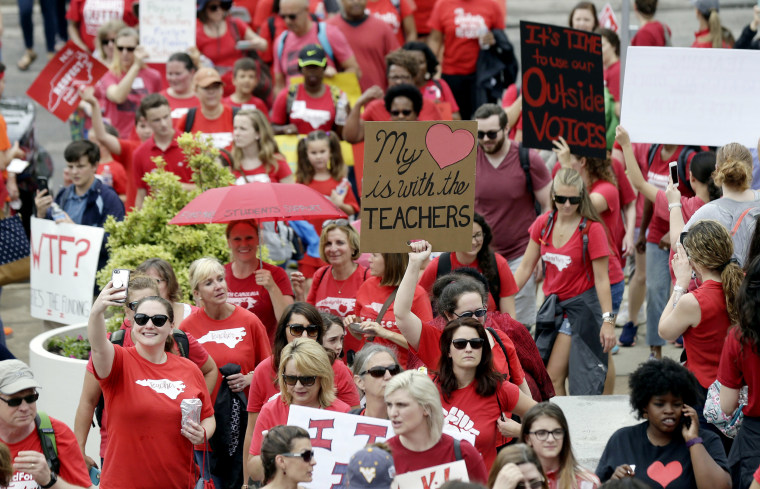 They got a shout-out of support from North Carolina Gov. Roy Cooper, a Democrat.
With so many teachers absent from class, dozens of school districts across the state closed Wednesday.
"We have suffered through a decade of cuts," Beller said before the rally, "so this will be a sign of strength, a sign of power, a sign that North Carolina fully believes in public schools."
Beller and her fellow teachers are part of a wave that has crashed through red states in recent months demanding more money from Republican-led legislatures.
It was set off earlier this year by West Virginia teachers who won a 5 percent pay raise after a nine-day strike. And it spread to Arizona, Oklahoma and Kentucky, where frustrated teachers walked out of their classrooms and flexed their political muscles to get the attention of lawmakers.
"We have not had a textbook adoption in 15 years," said Mark Jewell, president of the North Carolina Association of Educators, a professional group for the state's teachers. "We have school districts deciding whether or not to pay the light bill or buy toilet paper. We have classrooms ... that are 35 students and higher in some instances. This is not normal. This is not the North Carolina way."
The teachers' group, of which Beller is a member, laid out its "Respect Public Education" priorities on its website.
Among other things, the group wants the state to boost per-pupil spending — and the amount of money it pays its members — to meet the national average.
"In North Carolina, per-pupil spending is $2,400 behind the national average and average teacher pay is about $9,600 behind the national average, both in the bottom tier of states," the group contends. "When accounting for inflation, our students and educators lag even further behind."
North Carolina ranks 37th in the nation for teacher pay and 39th in per-pupil spending, according to the National Education Association.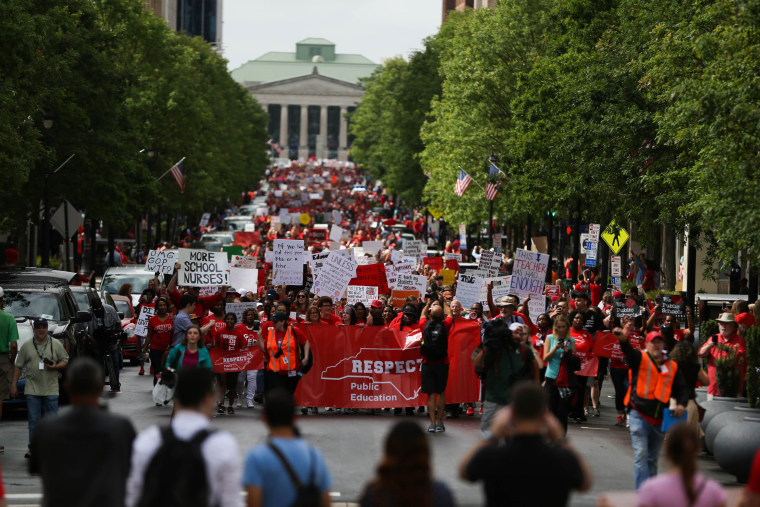 A spokesman for House Speaker Tim Moore, a Republican, said that North Carolina has led the nation in teacher wage growth for the last two years.
"We are climbing up the rankings because Republican leaders are providing five teacher pay raises in a row since 2014," Joseph Kyzer, the spokesman, wrote in an email to NBC News before the rally. "Our state dropped in these rankings due to poor management of the state's finances by our Democrat predecessors — teacher pay was cut, teachers were furloughed, and the salary schedule was frozen under Democrat control. But the state is back on track today with the fastest rising teacher pay in the country under Republican leadership."
Beller's salary is about the current state average, which climbed above $50,000 for the first time this year, state records show.
"When I entered the profession, I was making $28,000 a year," Beller said. "But this isn't just about more money for teachers. They have the money to pay us more. It's about stopping the systematic dismantling of our public school system."
Beller raised the issue of charter schools, which she said have stripped funds from the state's public schools. A paper co-authored by a Duke University professor last year found that charter schools are reducing the funding available for Durham's public schools by $500 and $700 per student, The News & Observer reported.
Joyner Elementary, where Beller teaches, is in Wake County, the epicenter of the Research Triangle, which has one of the highest tax bases in the state. Just 25 percent of the students at Joyner live below the poverty level, "so we get a lot of parental support," Beller said. "But I still find myself buying books for our reading programs and using my own money."
Schools serving students from poorer families need even more support, she said.
"Two years ago, I was at a school where 78 percent of the students were living below the poverty level," Beller said. "There were not a lot of parents who could pitch in and help us buy basic things like pens and paper, things the state should be supplying schools anyway."