In the weeks leading up to the 2018 midterm election, Native American groups in North Dakota scrambled to help thousands of tribal citizens obtain a proper identification card if they wanted to lawfully vote.
That requirement, which activists said amounted to a form of voter suppression, had been challenged in the courts.
On Thursday, North Dakota officials announced a proposed settlement agreement with two of the tribes involved in a lawsuit, addressing many of the lingering concerns that the state is enabling "mass disenfranchisement" of tribal members.
"This settlement, if finalized, will make it easier for Native Americans to vote," Tim Purdon, a lawyer for the Spirit Lake and Standing Rock Sioux tribes, said Friday.
To vote in the last election, tribal members had to obtain either a new state-issued or tribal ID showing their street address. That affected an estimated 5,000 tribal citizens with IDs showing a post office box instead — used more commonly than home addresses.
Some of those tribal residents live in rural areas with no proper street signage or obvious address.
North Dakota doesn't require residents to register before voting, and since 2004, voters have had to provide their IDs at the polls. State officials said the home address rule was meant to combat potential voter fraud.
Under the proposed agreement, Purdon said, the burden would be on the state to assign and verify street addresses ahead of an election. Tribal citizens who don't know their home address would be allowed to identify where they live using a map, and state and county officials would then work with the tribe to determine the proper address for the voter.
The secretary of state would also coordinate with the governor's office and the state Department of Transportation to bring the agency to each reservation 30 days leading up to an election and issue free non-driver IDs.
Tribal members had previously complained that those sites were too far away, making it logistically harder to obtain an ID.
In addition, the state would reimburse tribal governments up to a certain amount per election for administrative costs associated with having to issue IDs and addresses.
Purdon said Spirit Lake's and Standing Rock Sioux's tribal councils must still approve the settlement before a federal consent decree can make the agreement binding. Purdon, who said his firm has taken on the case pro bono, said the tribes were "pleased" and that Spirit Lake members had attended the mediation talks.
Neither tribe immediately responded to requests for comment about when they will consider the settlement.
The proposed agreement comes after a federal judge on Monday rejected the state's request to dismiss the tribes' lawsuit, with the case headed for trial in the coming months.
The office of Secretary of State Al Jaeger, the state's top election official, said Thursday that the goal now is to "ensure that Native Americans who are qualified electors will be able to vote in 2020 and beyond."
The announcement follows Jaeger's office saying last week that it would give tribal officials the authority to verify so-called set-aside ballots, which allows those without proper ID to cast a vote.
Native American voting rights groups expressed support for the announced changes.
"I'm very happy over how things have ended up," said OJ Semans Sr., the co-executive director of Four Directions, which coordinated a get-out-the-vote campaign in 2018. "I'm just sorry we had to go through all of the emotions to prove the state was wrong."
The fight began when individual members of the Turtle Mountain Band of Chippewa Indians said they were disenfranchised in 2014 and filed a lawsuit in 2016 claiming the state's strict voter ID laws were unconstitutional.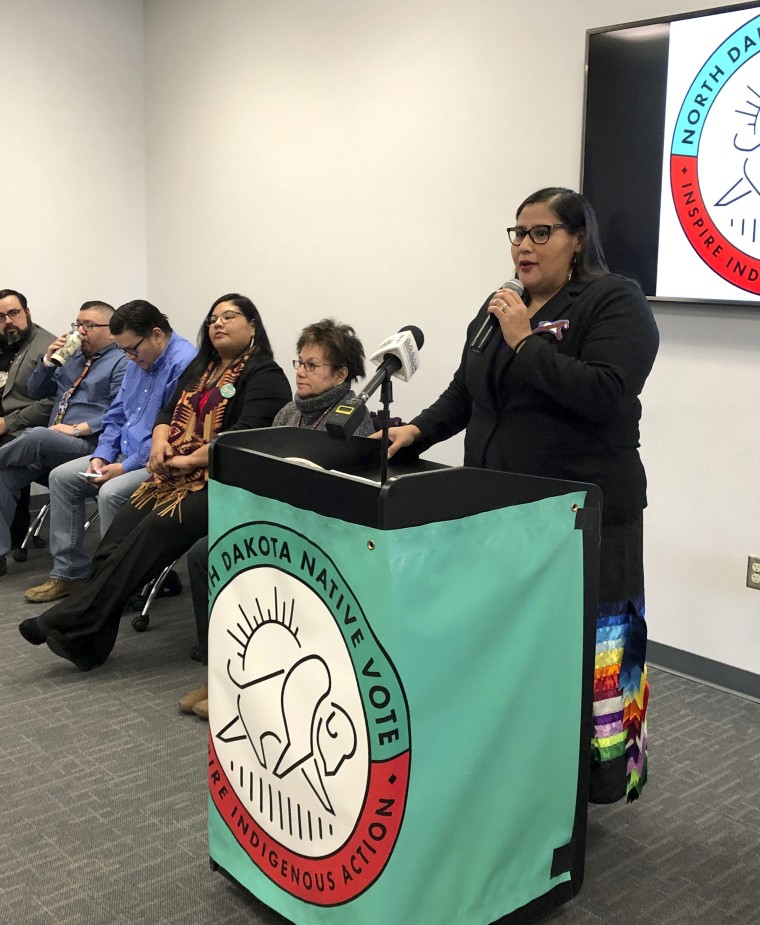 In September 2018, a federal appeals court sided with the state and overruled a district court judge who said that post office boxes were acceptable. The U.S. Supreme Court, responding to an emergency appeal, voted 6-2 to allow the appeals court's ruling to stand.
The plaintiffs, however, did find support from Justice Ruth Bader Ginsburg, who wrote in the dissent that "the risk of voter confusion appears severe here."
The Spirit Lake and Standing Rock Sioux tribe, along with six other individual plaintiffs, filed their lawsuit against the state in 2019.
The 2018 election was particularly high stakes in North Dakota, where Democratic Sen. Heidi Heitkamp's seat in Congress was in jeopardy and she had won her seat in 2012 by fewer than 3,000 votes. Heitkamp lost the 2018 race to her Republican challenger, Kevin Cramer.
Although Native Americans make up just over 5 percent of North Dakota's 750,000 residents, congressional elections can easily turn on a few thousand votes, voting rights activists say.
The group North Dakota Native Vote, which has launched a voter awareness drive ahead of the state's presidential preference caucuses on March 10, said the settlement agreement will "alleviate the burden of unnecessary voter identification requirements."
But Nicole Donaghy, the nonprofit's executive director, said there remains a need to help tribal members who don't live on reservations and for the state to ensure that poll workers are aware about the changes so that no one is mistakenly turned away.