BISMARCK, N.D. — A December oil pipeline spill in western North Dakota might have been three times larger than first estimated and among the biggest in state history, a state environmental expert said Friday.
About 530,000 gallons of oil is now believed to have spilled from the Belle Fourche Pipeline that was likely ruptured by a slumping hillside about 16 miles northwest of Belfield in Billings County, Health Department environmental scientist Bill Seuss said. The earlier estimate was about 176,000 gallons.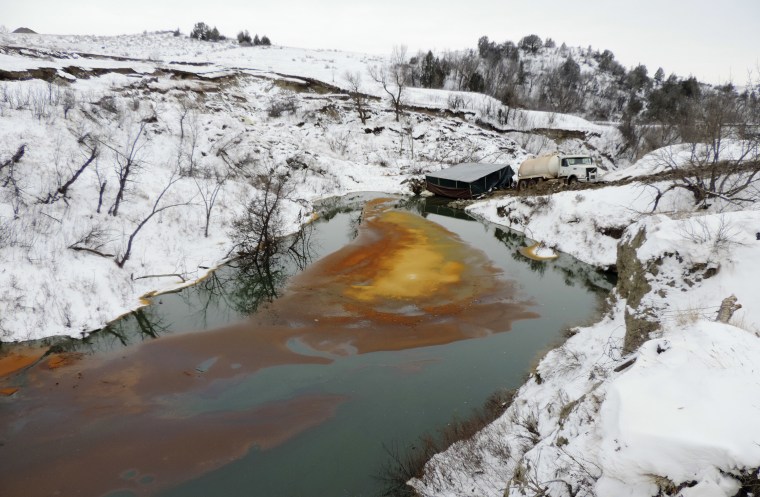 No decision has been made on any fines against Wyoming-based True Cos., which operates the pipeline. The company says it is committed to cleaning up the spill and that the job is about 80 percent done.
"There's no timeline for completion, spokeswoman Wendy Owen said. "We will be there until it is" done.
Related: Figures Show Most Americans Oppose Drilling on Federal Lands
A company's efforts to clean up after an oil spill are a large factor in how much of a fine is levied, according to Seuss.
"We tend to hold off on those. It's kind of a motivator," he said.
The largest oil pipeline spill in North Dakota was 840,000 gallons, in a wheat field near Tioga in September 2013.
In the December spill, an unknown amount of oil flowed into Ash Coulee Creek, which feeds into the Little Missouri River, a tributary of the Missouri River. Seuss said no oil made it into those rivers or into any drinking water source, but that the focus is on cleaning up the creek before spring grazing season, since cattle drink from the waterway.
Related: Dakota Protesters Say Belle Fourche Oil Spill 'Validates Struggle'
There have been no confirmed cases of livestock or wildlife deaths related to the spill. One rancher reported some cattle deaths but refused to allow the state veterinarian to do a necropsy, according to Seuss. Cleanup crews also found a dead beaver, but it's not known what caused the death.
The pipeline had been leaking since being restarted Dec. 1 following routine maintenance, Seuss said. A landowner discovered the spill on Dec. 5.
There is still oil seeping out of the hillside but it's being contained. Soil remediation work could take "a year or more," Seuss said.