A Sioux tribe and other protesters demonstrating against a planned North Dakota oil pipeline on Friday vowed to continue their fight against the project, a day after authorities arrested more than 140 people in clashes that police said involved firebombs being lobbed at officers.
The clashes Thursday occurred after hundreds of law enforcement officers moved in to evict demonstrators from a camp on private land, and involved police using pepper spray and firing bean bag rounds, authorities said.
"They still have miles of construction to happen and that is miles of construction yet to be stopped," Dallas Goldtooth, 33, an activist from the Indigenous Environmental Network, told Reuters by phone Friday. "There are still windows of opportunity to disrupt construction."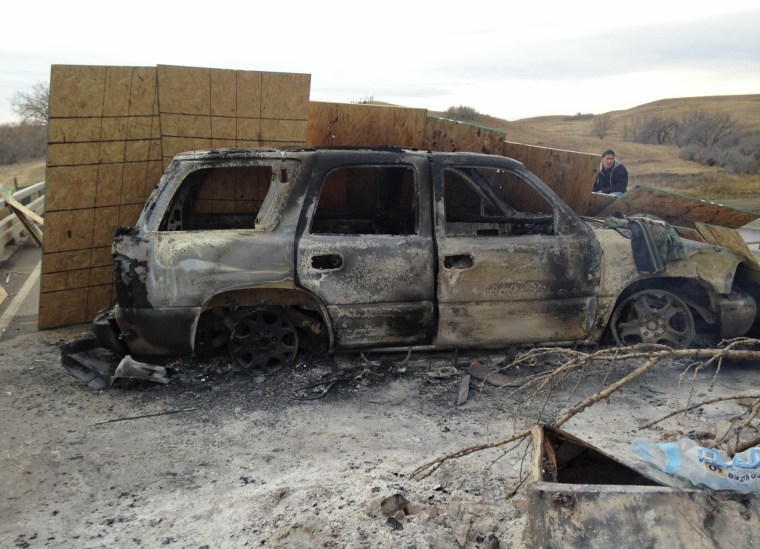 North Dakota Highway Patrol Lt. Tom Iverson on Friday defended the police response, which involved police in riot gear and armored vehicles.
He said protesters in the new "north camp" 30 miles south of Mandan were on property owned by the pipeline company and blocking a highway, and refused to leave — at one point blocking the highway with a vehicle up on logs that had several protesters chained together beneath it.
Hundreds of protesters have demonstrated against the controversial Dakota Access pipeline for weeks. The Standing Rock Sioux Tribe says the project threatens to destroy their sacred and ancestral lands, and a spill could contaminate the reservation's water supply.
"Dakota Access has a lawful right to work and a group of people were illegally camping on this area," Iverson said. "I don't know what they expected law enforcement to do. If somebody is trespassing elsewhere in somebody's yard, in somebody's house, they expect law enforcement to show up."
Standing Rock Sioux Tribe Chairman Dave Archambault II on Thursday said the tribe does not condone violence and urged their supporters "to remain in peace and prayer."
But he criticized "militarized law enforcement agencies" for the use of force and called on the state government to oversee police activity, and said "we won't step down from this fight."
"We have repeatedly seen a disproportionate response from law enforcement to water protectors' nonviolent exercise of their constitutional rights," Archambault said in a statement. "Today we have witnessed people praying in peace, yet attacked with pepper spray, rubber bullets, sound concussion cannons."
Iverson said law enforcement officers used pepper spray, taser stun guns, and sponge and bean-bag rounds.
At one point during the clashes Thursday a woman being arrested fired three shots from a .38-caliber revolver "narrowly missing a sheriff's deputy," North Dakota Department of Emergency Services spokeswoman Cecily Fong said.
Authorities on Friday allowed tribal authorities to remove about a dozen teepees from the camp, The Associated press reported. Police continued Friday to hold a line blocking the Backwater Bridge, which was closed after it was damaged by fires set by demonstrators, the Morton County Sheriff's Department said.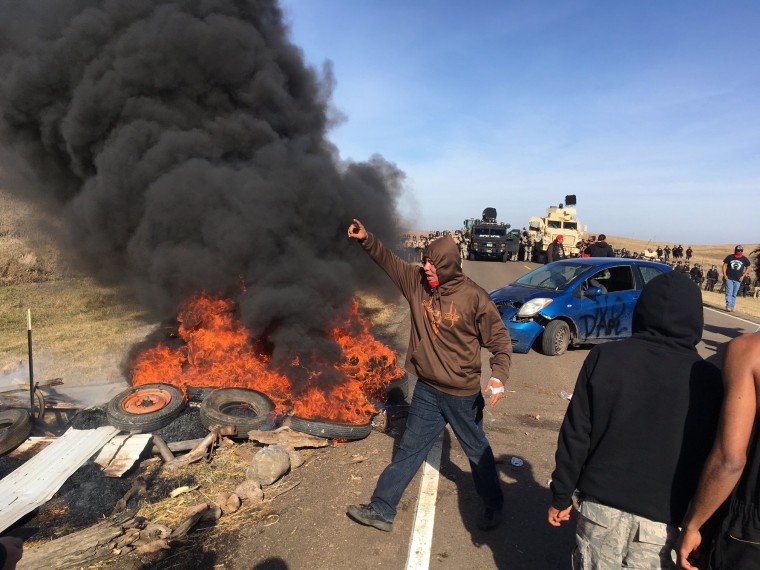 Around 70 vehicles were towed away, Iverson said. Protesters have also established a "south camp" where they are permitted. Multiple vehicles and Dakota Access construction vehicles were set on fire, he said.
Iverson said authorities moved into the area after the north encampment swelled in size over the last several days and after demonstrators blocked the road. "We came into this area not with the intent of making arrests. We wanted them to simply vacate the area," Iverson said. "They escalated it, we needed to react to it."
The $3.7 billion pipeline would transport 470,000 barrels of oil across four states. The pipeline would come within a half mile of the Standing Rock Sioux reservation, which straddles the North and South Dakota border.
The Department of Justice said Thursday that it is in communication with state and local law enforcement officials and tribal representatives.
After a federal judge denied the tribe's request to stop the project, the Obama administration announced the U.S. Army Corps of Engineers would review prior environmental decisions, and no construction would be allowed on lands the Corps controls bordering or under Lake Oahe.