North Korea slammed President Donald Trump Saturday accusing him of being a "destroyer" and having "begged" for nuclear war during his first trip to Asia.
"Trump, during his visit, laid bare his true nature as destroyer of world peace and stability and begged for a nuclear war on the Korean peninsula," a North Korean foreign ministry spokesman said in a statement carried by the state news agency KCNA.
The North Korean spokesman added that nothing would deter Pyongyang from pursuing its nuclear weapons program.
The backlash came days after Trump warned North Korea not to underestimate the United States during a speech to South Korea's National Assembly on Wednesday.
"The regime has interpreted America's past restraint as weakness," Trump said as he wrapped up the South Korean leg of his Asia tour. "This would be a fatal miscalculation. This is a very different administration than the United States has had in the past.
"I say to the North: Do not underestimate us, and do not try us," he warned North Korea's leader Kim Jong Un.
Related: Trump Warns North Korea: 'Do Not Try Us'
Trump called on quick action from world powers to stop supporting North Korea through trade. He also addressed Kim directly, urging him to abandon his regime's weapons and accept the United States' offer of a "path to a better future."
KCNA released the statement as Trump flew to Hanoi, Vietnam, where he is due to attend a state banquet.
A senior U.S. official and a retired U.S. military official briefed on policy told NBC News this week that Trump was engaged in brinkmanship with North Korea to show strength and encourage the regime's backers to use their leverage over Pyongyang.
But critics say the strategy is unlikely to persuade the Kim regime to abandon its nuclear arsenal and that it also carries the risk of triggering the deadliest conflict since World War II.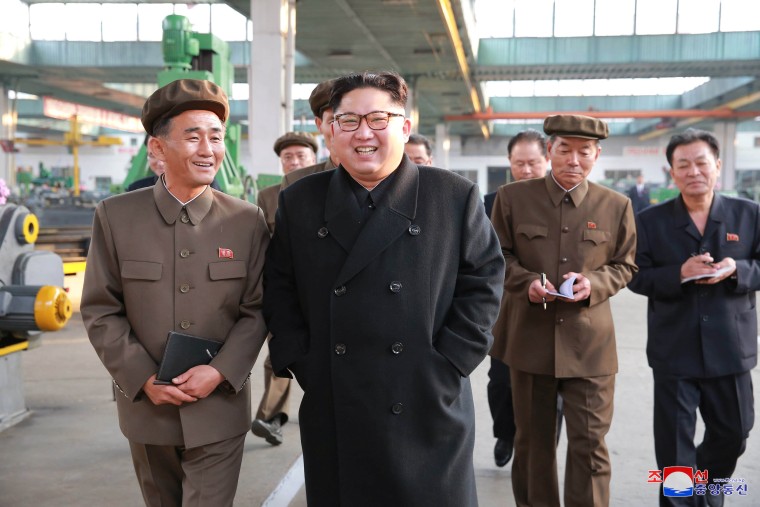 The president has previously threatened to unleash "fire and fury" on North Korea and warned that he may be forced to "totally destroy" the rogue state.
Pyongyang's foreign minister in September stated that Trump had "declared war" on his country and that Kim's regime would consider shooting down American bombers. The White House later described the notion that the U.S. had declared war "absurd."