The North Miami cop who shot an unarmed man trying to calm a patient with autism hit him accidentally, police union officials said, and the officer believed he was saving that man's life.
The shooting of behavior therapist Charles Kinsey on Monday was caught on a witness's cellphone video and went viral Thursday. It also sparked outrage nationwide as an apparent example of excessive policing against an unarmed black man.
Kinsey, before he was shot in the leg, could be seen lying on the pavement with his hands in the air. He told police that he was unarmed and that the man sitting beside him was autistic and holding a toy truck — not a gun as a 911 caller had claimed.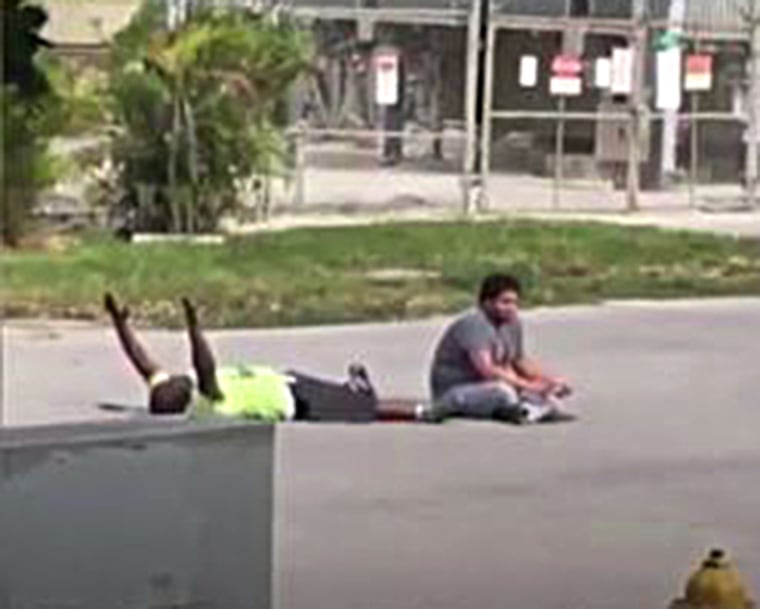 The officer was identified Friday by city officials as Jonathan Aledda, a four-year member of the North Miami force and also on the SWAT team.
John Rivera, president of the Police Benevolent Association in Dade County, told reporters Thursday that the officer who fired thought Kinsey's life was in danger.
"It appeared to the officers that the white male was trying to do harm to Mr. Kinsey," Rivera said. "In fearing for Mr. Kinsey's life, the officer discharged his firearm trying to save Mr. Kinsey's life and he missed."
Kinsey, who works at the MacTown Panther Group Homes, said the man with autism ran away, and he was attempting to help him when the police encounter unfolded. Police were responding to a call about a possible suicidal man with a gun.
Aledda, 30, who was described as Hispanic, was placed on administrative leave pending an investigation. He could face charges depending on the outcome.
"I took this job to save lives and help people," the officer said in a statement released Thursday by the union. "I did what I had to do in a split second to accomplish that and hate to hear others paint me as something I'm not."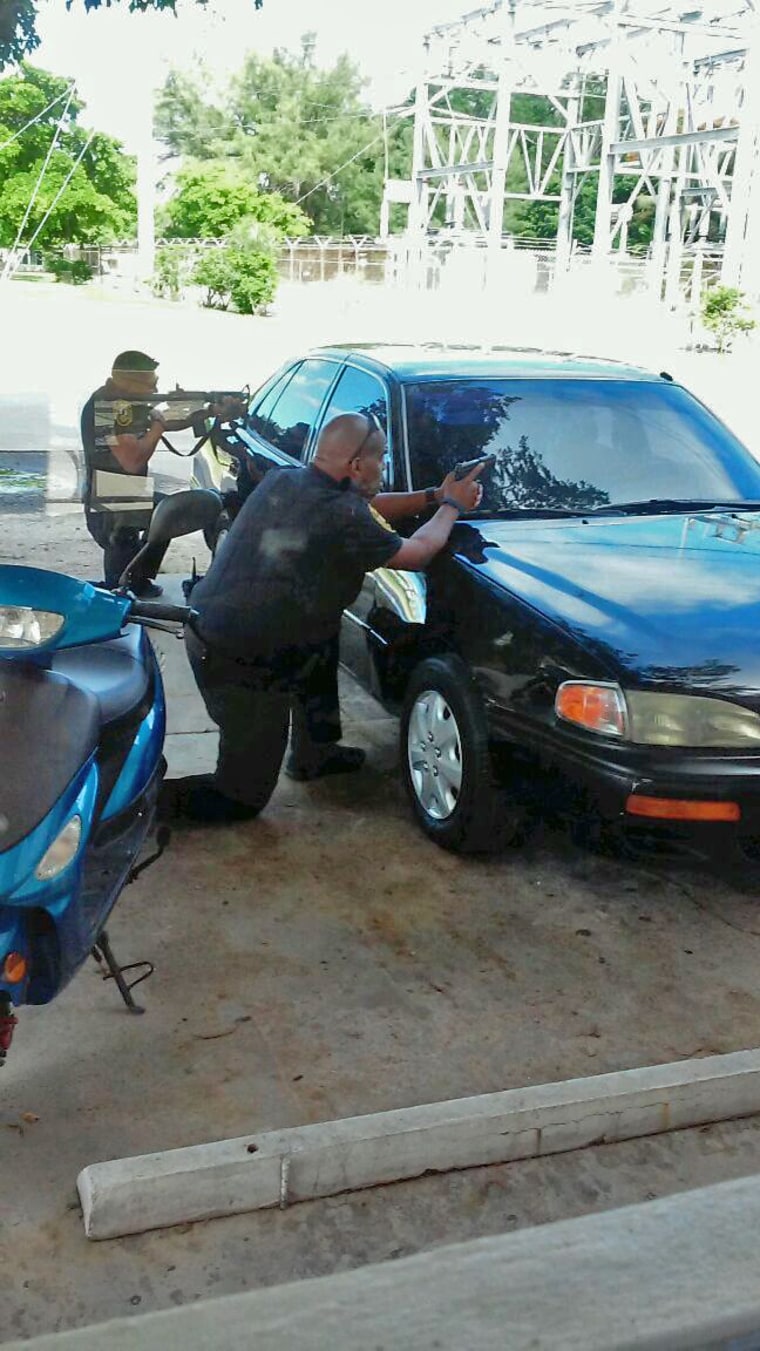 Kinsey, 47, said in an earlier interview with a local FOX affiliate that when he asked the officer why he opened fire, he said he didn't know.
Kinsey's attorney, Hilton Napoleon, said his client also heard another officer ask the same question.
"The shooting officer said he didn't know why he shot him," Napoleon said, according to NBC Miami.
He also questioned why Kinsey was handcuffed after he was shot.
City officials expressed outrage at a news conference Friday but said an investigation was necessary to determine what happened. They added that a police commander, Emile Hollant, had given conflicting statements to an investigator in relation to the incident, but did not provide details. He has been suspended without pay.
"This investigation will be done thoroughly and it will be done right," said North Miami Councilman Scott Galvin. "It will be done with transparency and there will not be cover-ups."
North Miami Police Chief Gary Eugene on Thursday did not detail who was involved or how many shots were fired. He confirmed that no gun was found.
"At my request, as of yesterday, the Florida Department of Law Enforcement is taking over this investigation," he said. "The State Attorney's Office is also looking at the case."
Attorney General Loretta Lynch also said Thursday that the Justice Department was familiar with the incident and was working with local officials to gather more information.
Protesters descended on the North Miami Police Department headquarters on Thursday night to voice their anger about the shooting. They said they didn't agree with the reason why the officer fired his weapon.
"I think it's a bogus explanation. I think it's not acceptable," protester Ade Abisogun told NBC Miami.
Kinsey was released Thursday from the hospital. He earlier told the local station that he remains mystified over being shot.
"I was really more worried about him than myself," Kinsey said of the patient. "I was thinking as long as I have my hands up … they're not going to shoot me. This is what I'm thinking, they're not going to shoot me. Wow, was I wrong."