A North Miami police officer who shot an unarmed caregiver of a man with severe autism in 2016 was found guilty of a misdemeanor Monday.
Officer Jonathan Aledda was found not guilty on two felony counts of attempted manslaughter, but the jury found him guilty on one misdemeanor count of culpable negligence, according to Miami-Dade State Attorney Katherine Fernandez Rundle.
Aledda shot behavioral therapist Charles Kinsey in the leg — even after the therapist laid down on the ground, threw his hands in the air and tried to explain to officers that he and the man he was caring for were unarmed.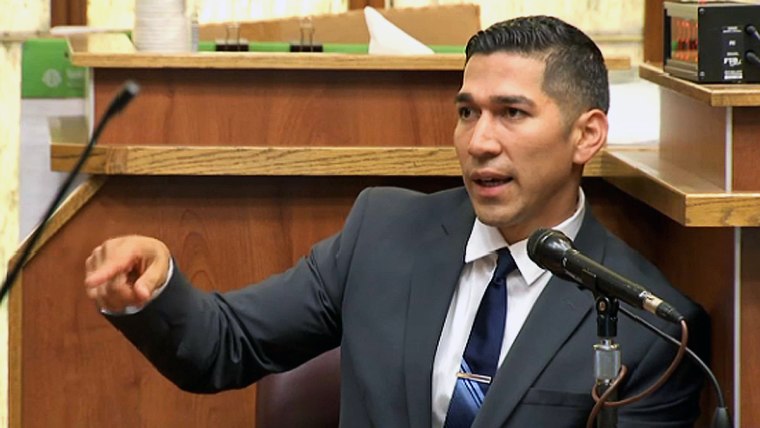 The state attorney said the guilty verdict showed that the shooting was not an accident, but a crime.
"Since July 18, 2016, our community has been traumatized by North Miami Police Officer Jonathan Aledda's shooting of mental health therapist Charles Kinsey. Tonight, a jury decided that the shooting was not an error or an accident but the crime of culpable negligence," Rundle said in a statement.
Kinsey was assisting Arnaldo Rios-Soto, who had wandered from MacTown Panther Group Homes, when police responded to a 911 call about a suicidal man with a gun. Rios-Soto was unarmed but clutching a silver toy truck.
The moments leading up to the shooting were captured on a cellphone video that went viral and sparked widespread outrage as an apparent example of excessive police force against an unarmed black man.
Aledda, a then four-year member of the North Miami police force and a SWAT team member, said he thought Kinsey's life was in danger and was trying to shoot Rios-Soto but missed.
He pleaded not guilty to the criminal charges, and his first trial was declared a mistrial in March after a jury found him not guilty of culpable negligence but remained hung on other counts.
Aledda's attorney, Douglas Hartman, told NBC Miami that he was "disappointed" with the verdict in the second trial.
"We thought he should have never been charged to begin with," Hartman said.
Kinsey, who said he was handcuffed and left on the road for 20 minutes until paramedics arrived, is suing the city. At least two officers who said they were demoted or fired after they criticized the response to the scene and a subsequent internal report on the shooting have also sued the city.
The incident also led to calls for police to receive better training in dealing with people who have mental disabilities. During the incident, officers pegged Rios-Soto to the ground, handcuffed him and detained him in a police car for nearly four hours, his lawyer said at the time.
"Police should take an active role and visit group homes, schools and community centers in their cities and towns and meet their residents who live with significant disabilities so they are never perceived as threats by just merely existing," Rios-Soto's attorney, Matthew Dietz, told NBC News Tuesday.
He thanked Rundle for "for standing up and holding police accountable for the safety of Arnaldo Rios-Soto and Charles Kinsey."
"The jury saw that Arnaldo was a human being — a man with autism and an intellectual disability who lived in a local group home who was playing with a toy truck," Dietz said.