A Northeastern University student from Iran was denied entry into the U.S. because he allegedly has familial connections to individuals "intricately involved" in a U.S. designated terrorist organization, according to federal law enforcement officials briefed on the matter.
Mohammad Shahab Dehghani Hossein Abadi, 24, was a student at Northeastern University en route to the U.S. for the spring semester when he was detained at Boston's Logan International Airport on Sunday, according to court documents and his attorneys.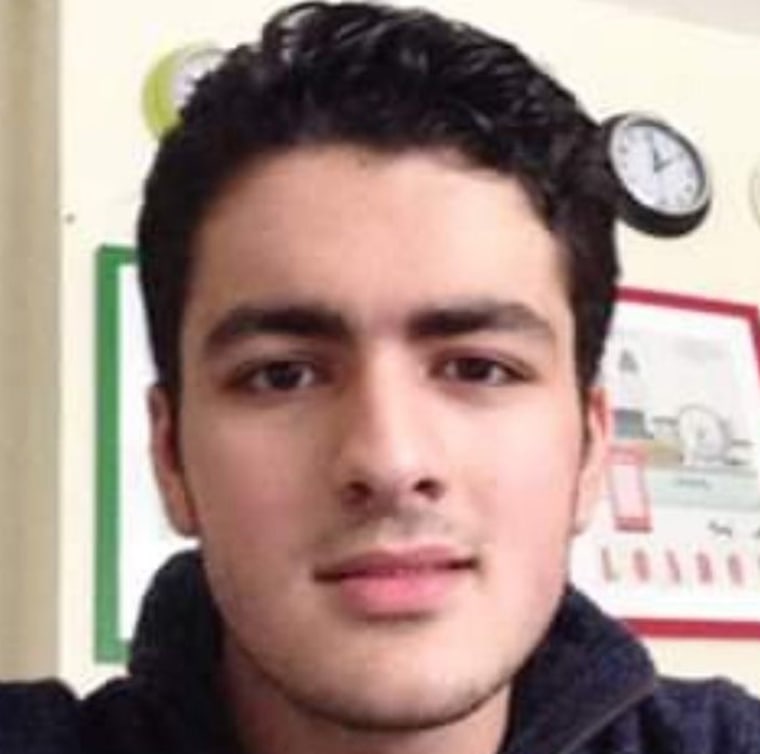 Federal law enforcement officials briefed on the matter say that in some cases, and in this case in particular, students are denied entry into the U.S. if they have familial connections to individuals "intricately involved" in a U.S. designated terrorist organization. Law enforcement officials did not cite any alleged connections between U.S.-designated terrorist organizations and Dehghani himself.
The law enforcement officials say that these denials of entry are rare and that the denials are based on their due diligence and are "for the safety of the public."
Alireza Miryousefi, a spokesperson for Iran's mission to the U.N., told NBC News the move was "another case in a bigoted U.S. administration's pattern, beginning with the Muslim ban, of harassing ordinary Iranian citizens and denying them their rights, whether they hold valid visas, residency or even citizenship. "
"It also proves the fact that the Administration's hypocritical claim that it stands with the Iranian people is a sheer lie," Miryousefi said.
Attorney Kerry Doyle told NBC News that lawyers became aware of his situation and "were unable to get any answers" regarding his specific case from Customs and Border Protection and filed a complaint on Monday seeking a stay on his removal.
In court documents, the student's attorneys say he was admitted to start in the 2018-19 academic year, applied for a student visa in 2018 and was issued a student visa about a week ago.
He was then detained on Sunday and refused admittance to the U.S., according to the documents and his attorneys.
Carol Rose, executive director of the American Civil Liberties Union of Massachusetts, said Dehghani underwent months of security clearances and was granted a visa before his arrival Sunday.
Late Monday, U.S. District Judge Allison Burroughs ordered that his removal be stayed for 48 hours or until further order of the court, according to court records.
Rose and Doyle said attorneys later learned he had already been removed from the U.S. Doyle said they were "shocked" by the decision and were exploring legal options and were looking to hold CBP "accountable." She went on to say that the claim that Dehghani had "familial connections" is a "completely outrageous, spurious claim."
In a hearing Tuesday morning, Judge Richard Stearns dismissed the case as moot because the student had already been removed from the U.S.
A spokesperson for CBP said the agency can't discuss specific cases because of privacy laws but said, "CBP officers are charged with enforcing not only immigration and customs laws, but they also enforce over 400 laws for 40 other agencies and have stopped thousands of violators of U.S. law."
"Applicants must demonstrate they are admissible into the U.S. by overcoming all grounds of inadmissibility including health-related grounds, criminality, security reasons, public charge, labor certification, illegal entrants and immigration violations, documentation requirements, and miscellaneous grounds," the spokesperson said in a statement.
Northeastern University said in a statement it was aware a student "who is an Iranian citizen has been denied entry to the United States."
"Northeastern welcomes thousands of international students and supports them with an array of resources," the university said. "We have been in touch with federal officials to learn more about this case and to provide our student with the appropriate assistance to facilitate a successful return to Northeastern."
On Monday night, a crowd of demonstrators gathered at the Boston airport to protest the incident.