FORT BRAGG, California — Northern California, known for its rugged coastline and ancient redwood forests, boasts an abundance of natural gifts that make this part of the country unique, both on land and in the ocean, where a plethora of sea life attracts divers from around the world.
One of the Pacific's most renowned features in this part of the country are the lush kelp beds brimming with marine life.
But since 2014, the bull kelp forests have been decimated, around 90 percent devoured and eaten clean by an invasion of purple sea urchins mowing their way through the kelp and leaving behind what is known as an "urchin barren."
The purple sea urchin is native to the region, but a perfect storm of warming waters and a disease that killed off starfish, its predator, led to an explosion in its population. The urchins' seemingly insatiable appetite has prevented the kelp beds from fully regrowing.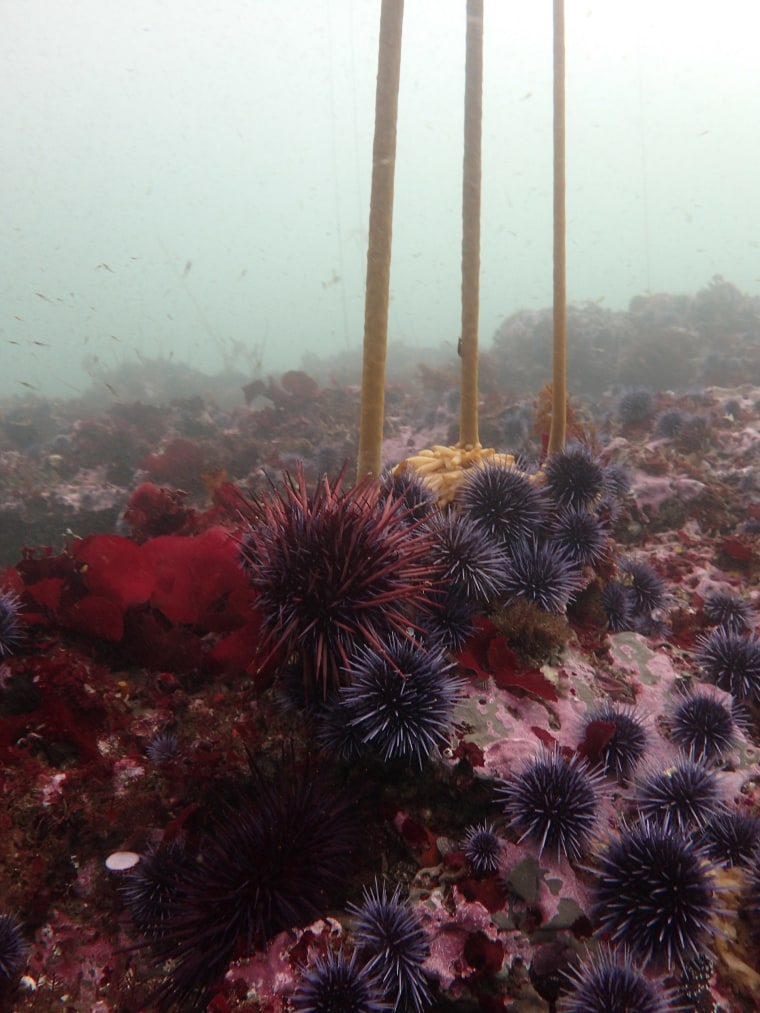 The effect has been devastating to local divers as they've watched their livelihoods and the environment they love wither away.
On a sunny Saturday morning, a group of divers gathered and geared up to descend into the waters in an ongoing effort to tackle the ever-burgeoning purple urchin population.
Joshua Russo has been spearheading the volunteer effort to remove purple urchins, working with the California Department of Fish and Wildlife, the Noyo Center for Marine Science and Reef Check California, to try to mitigate their numbers.
He organizes periodic events for recreational divers, who go into the urchin barrens and remove as many purple sea urchins as they can.
"People have been wanting to do something about this since it first started," Russo said. "We can finally get in the water and do something as divers, people who care so much about the ocean and what's in it."
The divers must have a California fishing license and can remove only up to 40 gallons of urchins a day.
Unlike red urchins, whose insides are consumed as uni in sushi restaurants, the purple variety are in a state of starvation and produce very little edible parts. Instead, they are composted or used as bait to attract fish for photography and fishing, though some people still search through numerous purple urchin shells for small amounts of edible uni.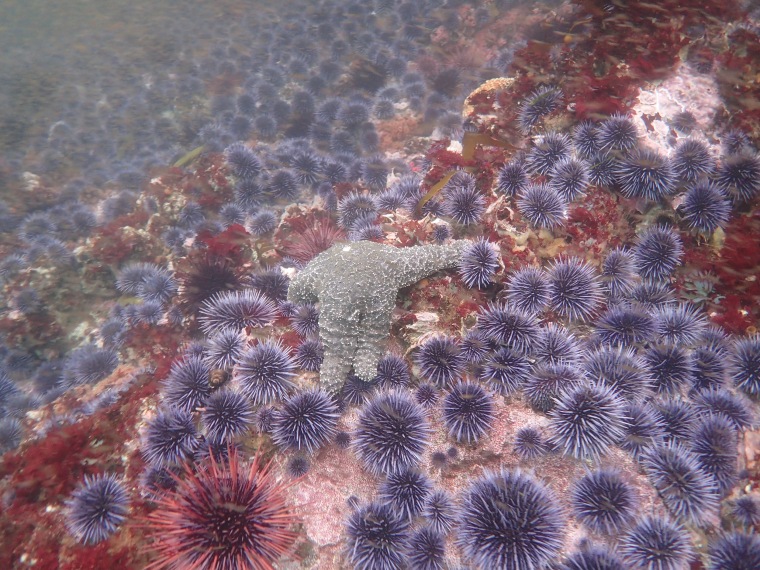 Progress comes slowly. The ultimate hope is to remove enough purple urchins that the kelp can grow back in small patches and proliferate once again along the coast. The underwater plant is the foundation of the near-shore ecosystem, providing a home and food for many species of fish, crustaceans and other marine life.
"With a loss of kelp, you're going to have a very, very profound impact on an ecosystem," said Tristin McHugh, Reef Check California's north coast regional manager. "It's like losing your redwoods. What would happen if you saw 90 percent of your redwoods drop dead right now?"
For McHugh and many others, the biggest problem is awareness. Most people don't even realize what sort of a catastrophe is happening below the sea surface.
"This is the fight of our generation," she said. "If we can't set ourselves up right now, there's going to be nothing for our kids further down the line."