A massive wildfire in Northern California has grown to become the second-largest in state history as it and hundreds of other blazes have now scorched nearly one million acres.
The LNU Lightning Complex Fire that is burning across five counties — Napa, Sonoma, Lake, Yolo and Solano — has spread to more than 341,000 acres, officials said Sunday. It was 17 percent contained.
"This entire LNU Complex is now the second-largest wildland fire in state history," said Sean Kavanaugh, incident commander with the California Department of Forestry and Fire Protection. The largest wildfire was the Mendocino Complex that burned more than 459,000 acres in 2018.
The LNU Complex blaze, named for Cal Fire's Sonoma-Lake-Napa Unit, has destroyed 845 structures and damaged 231 more.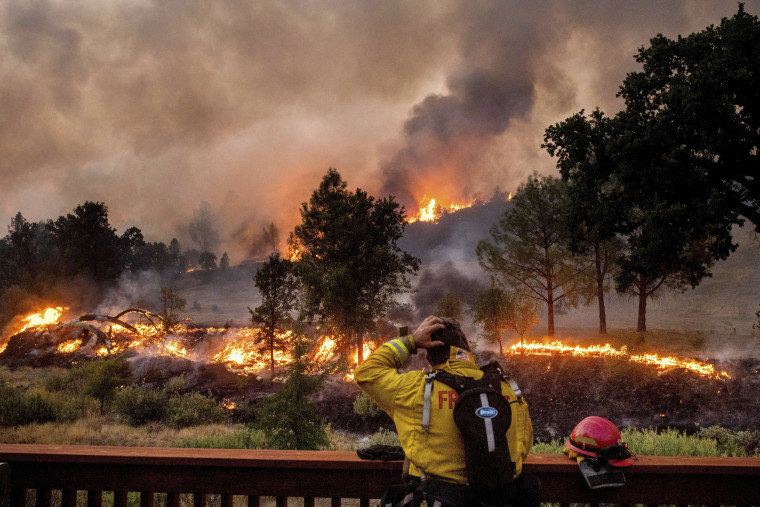 On Saturday afternoon, President Donald Trump declared the state was being impacted by a major disaster, a move that makes federal funds available to fire victims in seven counties.
"Thank you to the President for your partnership and granting this urgent Major Disaster Declaration," Gov. Gavin Newsom said in a statement. "California is battling two of the largest fires in our history and has seen nearly 600 new fires in the last week caused by dry lightning strikes."
Many of the fires raging in the state were sparked by a large number of lightning strikes as California is in the grip of a heatwave.
"In 1987, for the entire year, there was around 11,000 lightning-strike fires," Cal Fire spokesman Jeremy Rahn said at the news conference Saturday. "As of now, it's over 12,000."
More than 100 of the lightning strikes occurred Friday.
The National Weather Service issued a fire weather warning Saturday for areas from the northern Monterey Bay to the Point Reyes National Seashore north of San Francisco. Lighting could impact those communities Sunday into Monday, the NWS said in an alert.
"Lightning will likely spark new fires across the region, including remote areas," it said.
The state now has more than 585 wildfires, which have burned nearly a million acres, Rahn said.
On Friday, Cal Fire Assistant Deputy Director Daniel Berlant said that the fires had scorched more than 771,000 acres, which he said is "roughly the size of the state of Rhode Island."
Over 13,700 firefighters are battling nearly two dozen major fires or complexes.
The National Guard was activated and will provide helicopter support and a dozen 20-person crews, Rahn said.
The LNU Lightning Complex Fire has claimed the lives of at least four people, including three in Napa County that were found in a residence Wednesday and recovered Thursday. The fourth death was in Solano County, according to Cal Fire.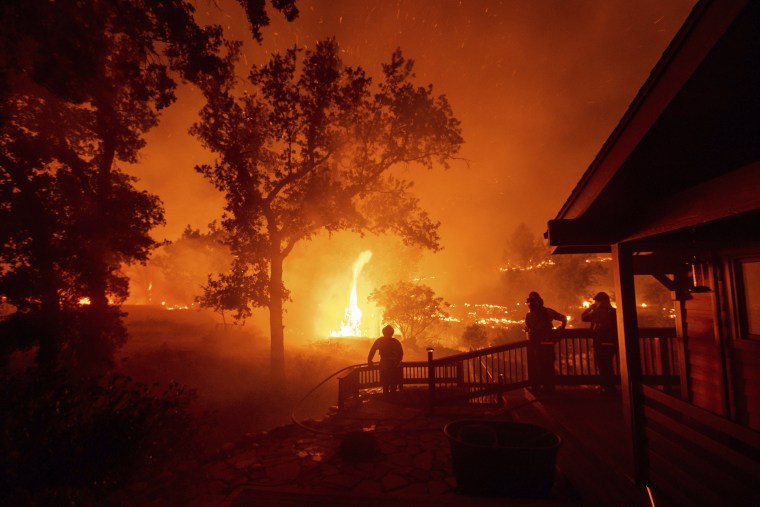 In addition, a Pacific Gas & Utility worker died while clearing infrastructure around a fire complex to make it safe for first responders, Cal Fire said in a statement Thursday. Cal Fire spokeswoman Heather Williams said Friday that it would be up to local authorities to connect the death to the LNU fire.
Another person, a helicopter pilot, died after he crashed Wednesday morning while conducting water drops, officials said. That death was connected to the Hills Fire in Fresno County.
The SCU Lightning Complex Fire, named for Cal Fire's Santa Clara Unit in Santa Clara County, had burned 339,968 acres as of Sunday and was 10 percent contained, state fire officials said.
Officials said Saturday the 67,000-acre CZU Lightning Complex Fire, named for Cal Fire's Santa Cruz Unit, earlier in the week caused extensive damage to California's oldest state park, Big Basin Redwoods State Park.
"The fire damaged the park's headquarters, historic core and campgrounds," California State Parks said in a statement.
It was one of more than two dozen state parks closed as a result of the fires.
More than 115,000 Californians have been evacuated, Cal Fire Incident Commander Nick Truax said at a news conference Friday.
The Santa Cruz County Sheriff's Office said seven suspects have been arrested on suspicion of looting fire-impacted areas.