The head coach of Northwestern University's football team has been fired following an investigation into allegations of hazing among members of the team, the school's president announced Monday.
Coach Pat Fitzgerald was suspended last week for two weeks without pay, but Michael Schill, the president of the school, in Evanston, Illinois, said in a note to the institution's community that he had re-evaluated that decision.
The disciplinary moves were made to address Fitzgerald's "failure to know and prevent significant hazing in the football program," Schill said.
Results of the school's investigation, launched roughly six months ago, remained confidential, he said.
"Over the last 72 hours, I have spent a great deal of time in thought and in discussions with people who love our University," Schill said. "Ultimately, the decision to originally suspend Coach Fitzgerald was mine and mine alone, as is the decision to part ways with him."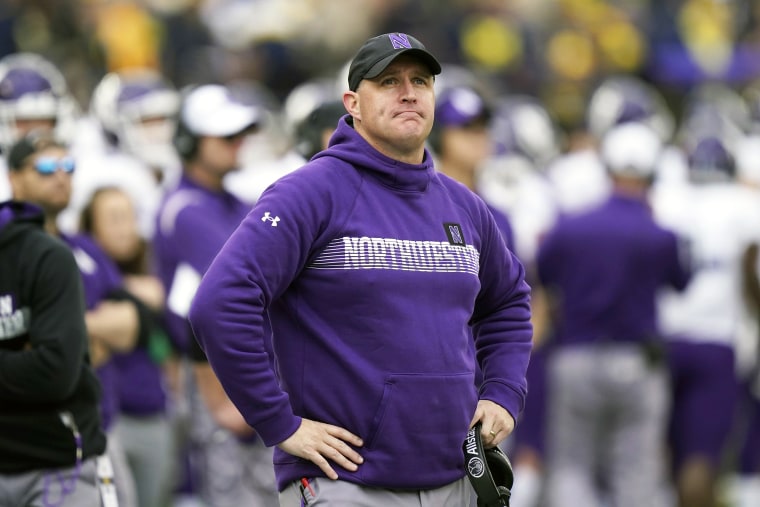 The investigation, led by lawyer Maggie Hickey, concluded there was not sufficient evidence to say coaches knew about ongoing hazing, but it also said coaches had opportunities to find out.
A report in the student newspaper, The Daily Northwestern, subsequently detailed allegations from a former player who described hazing and sexual abuse vividly.
Schill said Monday that Fitzgerald, as part of his job as a leader who shaped team culture, should have known about the alleged hazing.
"The hazing we investigated was widespread and clearly not a secret within the program, providing Coach Fitzgerald with the opportunity to learn what was happening," he said.