Two Kentucky neighbors are dueling over who was at fault when one of them blasted the other's drone out of the sky — leading to an arrest and felony charges.
The shooter, William "Willie" Merideth, 47, told NBC News on Saturday that he was simply trying to keep his family safe when he used a shotgun on the drone July 26 in rural Bullitt County, south of Louisville.
While drone owner David Boggs, 40, claims he was not specifically flying it above Merideth's property, his neighbor says otherwise.
"I have a right as an American citizen to defend my property," Merideth said. "I think — no, I know — that I was completely justified in protecting my family."
Related: $75K Reward to Catch Pilots Who Flew Drones Over California Wildfires
Ambiguous guidance from the FAA regarding civilian drone use doesn't quite clarify which neighbor has the stronger argument.
But as drone use becomes more prevalent, the case is testing the limits of citizens' rights when it comes to where the technology is permitted — and whether or not they're an invasion of privacy.
Merideth said his children were in the backyard and spotted the unmanned aerial robot zipping in the sky.
"I went outside and saw the drone flying above the tree line around the neighbor's yard," Merideth said.
When the drone turned and flew back over his property, Merideth admits to grabbing his shotgun and firing into the air, sending the $2,500 camera-equipped machinery to the ground.
"I had no way of knowing (if) it was a predator looking at my children," he added.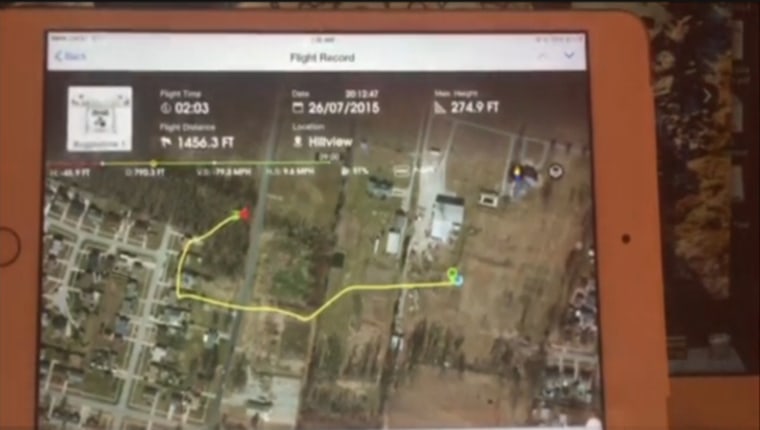 FAA guidelines recommend flying below 400 feet off the ground, but not "near people or stadiums." It's unclear how close is too close.
Related: FAA Proposes Rules for Routine Commercial Use of Drones
But Boggs disputes he was doing anything malicious.
He told NBC News that he and his friends were practicing flying the drone when another friend and neighbor texted him, challenging Boggs to fly it over his home.
He went for it. But somewhere along the way, he heard four or five gunshots, he recalled.
He said he found the drone at a nearby public park — not in Merideth's backyard.
"We got in vehicles and went over… and Willie was on the porch in the front yard jumping up and down — like he was celebrating," Boggs said.
Related: Drone on Demand: Company Provides Unmanned Aircraft Pilots
Boggs said he confronted Meredith, whom he calls the "drone slayer," and told him to replace it. But the situation escalated when Meredith pulled a gun on him and his friends. Boggs said he then called police.
Meredith doesn't deny it: "They all started towards me. I informed them that I was armed and that I would defend my property."
Police arrived at Merideth's home, and Boggs caught his arrest on video.
Merideth was charged with first-degree endangerment for shooting into the air and criminal mischief. His wife, Janet, posted a $2,500 bond, and Merideth is due in court in September.