The day after a federal appellate court in San Francisco ruled against President Trump's immigration ban, a judge on the other end of the country appeared to approach a similar conclusion.
U.S. District Judge Leonie Brinkema, sitting in Virginia, told government lawyers Friday they'd failed to show proof of any specific terrorism threats that made the order necessary.
She cited a document filed by several former national security officials — mostly Democrats — that said they were "unaware of any specific threat that would justify" the temporary ban on visitors from seven majority-Muslim countries. Trump's order instead "undermines the national security of the United States," they said.
Related: Trump Travel Ban Makes America Less Safe: Ex-Top Security, State Officials
The former officials filed the same "joint declaration" in the San Francisco case, in which a three-judge panel on Thursday refused Trump's request to reinstate the ban, which has been put on hold amid a flurry of legal challenges.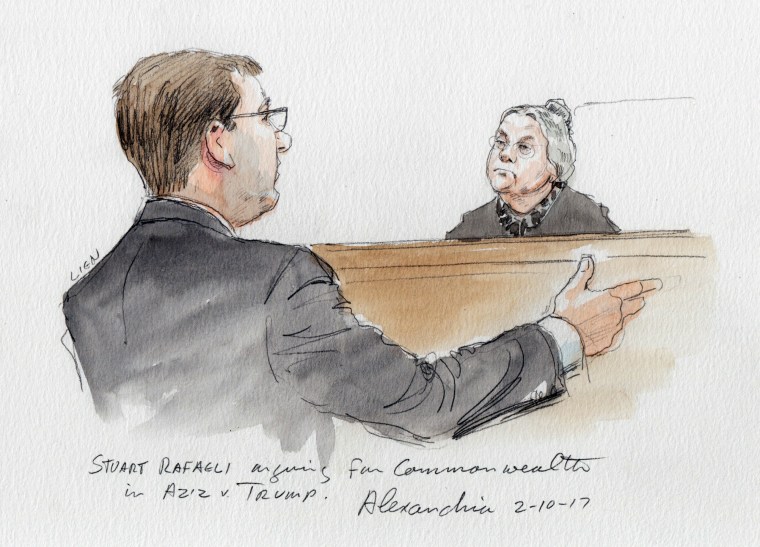 "I don't have a scintilla of evidence that counters this argument," Brinkema told the Trump administration lawyers in Virginia.
Related: Yemeni Brothers at Center of Immigration Lawsuit Finally Allowed to Enter U.S.
The Virginia case began as a challenge on behalf of two Yemeni brothers, lawful permanent residents of the United States, who said they were detained while on their way back to America and forced to sign forms they didn't understand that canceled their green cards. They ended up in Ethiopia.
The government ultimately allowed the brothers to return to the United States. But the state of Virginia joined the challenge, and is now the main litigant. Lawyers representing the state cite the ban's impact on its colleges, universities, students, professors and researchers. Attorneys general from 17 other states have filed briefs in support of Virginia.
Related: Appeals Court Refuses to Reinstate Trump Travel Order
Trump has said the travel ban order is necessary to protect Americans from terrorism. Critics have called it a "Muslim ban," which Trump has denied. The ban caused chaos at airports, with green card holders, students and professors among those reporting they were detained or turned away.
The ban, which Trump signed as an executive order Jan. 27, is facing challenges in two dozen or so cases pending in courthouses around the country. Trump has vowed to keep fighting, an effort that could culminate at the U.S. Supreme Court.
Brinkema did not make a ruling in the Virginia case on Friday; she said that would come "as soon as possible." But the hearing appeared to show that she was leaning in a similar direction as the West Coast judges.
In that case, lawyers representing Washington state said public universities and the economy were being harmed by the order; they challenged Trump's constitutional authority to impose the ban. A judge in Seattle ruled in favor of Washington, and the Justice Department appealed.
On Thursday, the Ninth Circuit Court appellate judges, sitting in San Francisco, upheld the Seattle judge's ruling. It dismissed the government's arguments that presidential decisions about immigration policy related to national security were unreviewable.