If it's beginning to feel like protests are happening every day of the week, that's because they are.
The first two months of 2017 have been jammed with one protest march after another, and for many newly-christened activists, the hours in between are spent calling elected officials and obsessively reading news updates.
This week is no different. Thursday's "Day Without An Immigrant" saw rallies and marches nationwide, followed by Friday's "General Strike" in over 100 cities.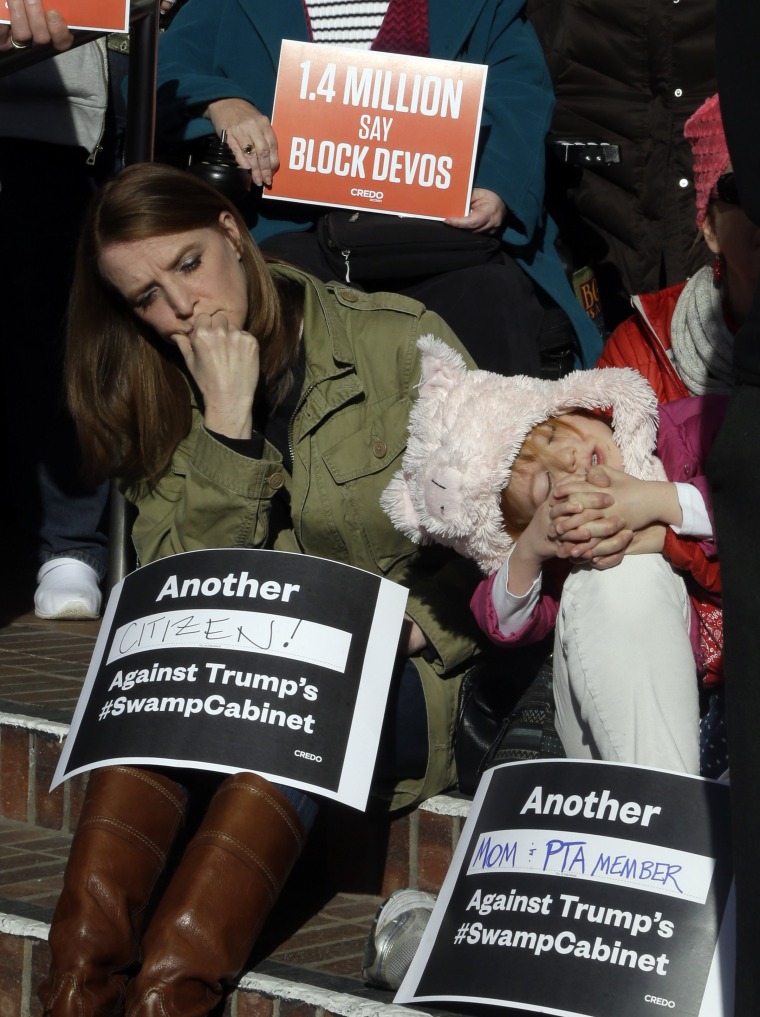 On Saturday, President Trump's Florida campaign rally was met with protests, and thousands attended a Muslim solidarity rally on Sunday in New York.
Monday may be a federal holiday, but activists aren't taking a break: streets will be filled with "Not My President's Day" protesters around the country.
"Not My President's Day" rallies are taking place in at least 25 cities. Over 20,000 people responded to the Los Angeles protest's Facebook event, and a statement on the page explains opposition to the Trump administration.
"Donald Trump stands against the progress we have worked hard to enact. He does not represent our interests," reads the statement. "On February 20th, we will honor previous presidents by exercising our constitutional right to assemble and peacefully protest everything Donald Trump stands for."
Related: 'Day Without Latinos': Thousands Protest Immigration Crackdown in Wisconsin
With five straight days of protests, and countless more planned for weeks to come, the possibility of burnout among activists seems inevitable.
It's called "Resistance Fatigue," and its trendiness can be credited to Google engineer Yonatan Zunger, who surmised in a January Medium essay that tiring Americans out was the motivation behind Trump's nonstop battery of executive orders.
"It wouldn't surprise me if the goal is to create 'resistance fatigue,' to get Americans to the point where they're more likely to say 'Oh, another protest? Don't you guys ever stop?' relatively quickly," wrote Zunger.
Related: #DayWithoutImmigrants: One-Day Strike Closes Businesses Around Country
But the protests have not stopped, yet: In fact, they appear to be increasing.
And that's got some movement leaders concerned about whether protesters are getting enough sleep, among other things.
Linda Sarsour, Executive Director of the Arab American Association of New York and one of four national organizers of the January 21 Women's March, told NBC News that self-care is a necessary part of activism.
"This work is exhausting," said Sarsour, "And in order for us to maintain the momentum we must step in for one another. I am trying to practice what I preach, but under this administration it's proving difficult to take care of our physical and emotional well being."
"But we must," Sarsour added, "Because this is not a sprint, it's a marathon."
Sarsour has taken to Twitter of late to remind her 173,000 followers to take care of themselves and "EAT, DRINK WATER."
Also on Twitter, the feminist blog Femsplain launched a new "self care focused community" called Aloe, which fills its followers' feeds with soothing reminders "to breathe deeply," photos of plants and kittens, and surveys that ask whether they've had any water to drink in the past two hours.
Femsplain founder Amber Discko launched Aloe the day before the Women's March, and after spending the better part of a year working on Hillary Clinton's campaign.
"It's important to be vocal/supportive of those on the front lines and to challenge this administration," Discko told NBC News, "Which is why now more than ever we need to make taking care of ourselves a priority."
Constant engagement with political organizing and protest comes at a price — a certain high level of driving passion is required to keep up with the drudgery of making phone calls, making protest signs, signing endless online petitions, and marching in the street.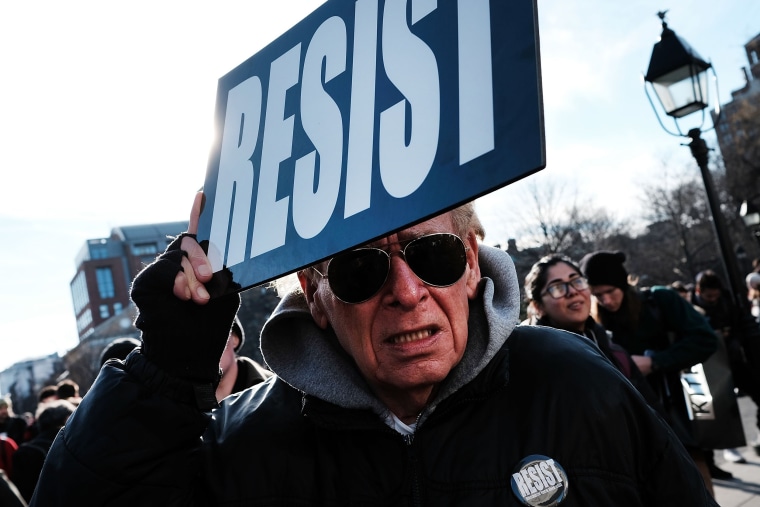 Emotions run high during periods of frequent civil disobedience, and those emotions can take a toll — not to mention the physical stress of being twice as busy as usual.
Candace Nadine Breen, a minister who occasionally speaks for RAINN (Rape, Abuse, and Incest National Network), warned that the new intensity of civic participation is bound to take a toll if people don't pace themselves.
"You eat, drink, and live the news and what's going with the latest Trump thing. Every day there's so much going on. It can be consuming," Breen told NBC News.
Related: Widespread Anti-Trump Protests Take Place Across Mexico
Being the mother of two young children has brought Breen challenges now faced by parents around the nation, many of whom bring their kids along to weekend and holiday protests. Breen allowed her 8-year-old daughter to attend the Women's March with her "because she wanted to go," but in general, she tries to limit exposing her daughter and 5-year-old son to political crises.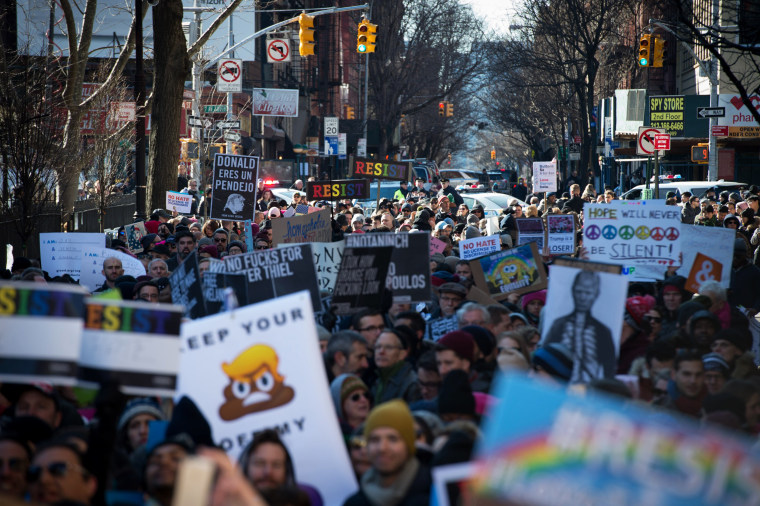 After the election, said Breen, her children came home from school crying and scared.
"The first thing my daughter said to me after the election was, 'Mommy are they going to send you to Africa?' My son was saying, 'He's going to kill us.' And I don't know where they heard that," Breen told NBC News.
Now, Breen and her husband ban talk of politics from the dinner table, and don't let their kids watch the news. But forcing breaks and turning away from current events is a tactic that Breen doesn't just use to protect her children — she said it's part of taking care of herself, too.
"Too many people are letting this take over their lives," said Breen. "Self-care is so crucial. If you aren't being good to yourself, you can't help anyone else."