/ Source: Associated Press
NASHVILLE, Tenn. — State investigators have found a nude photo and partially nude photo of a woman that they believe were taken with the work cellphone of Nashville Mayor Megan Barry's former lead bodyguard, with whom she has admitted having an extramarital affair, according to court documents filed Thursday.
In affidavits by the Tennessee Bureau of Investigation, the agency says there's probable cause to show Sgt. Rob Forrest shot those two photos while his timesheet says he was working and that the two were engaging in their affair while he was on duty. The photos were discovered in Forrest's work email, the filings state. There were 260 deleted chats between Forrest's phone and Barry's phone number as well as 35 deleted call logs, the affidavit states.
The bureau stopped short of identifying who was in the photos. But in the affidavit, an agent says he believes a black purse in one nude photo is the same purse found in a different photo of Barry found on Forrest's phone. The two photos were taken a day apart, the affidavit states.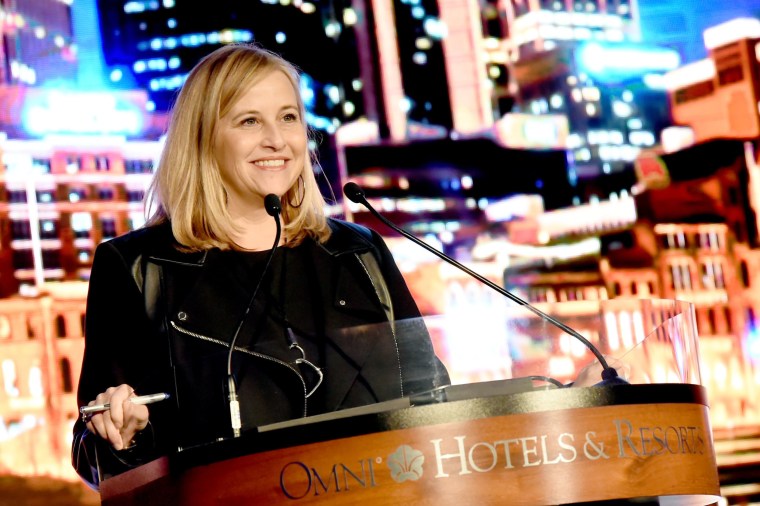 The nude and partially nude photos were shot last May and October, on days that Barry's travel schedule shows she was on separate Washington trips.
Barry said if those were photos of her, she hasn't seen them and they were taken without her knowledge or permission and are a complete invasion of her privacy. She said the allegations of photos of her are "very troubling and infuriating if true."
Barry revealed the affair last month and apologized for her actions, but has contended that nothing illegal happened and no policies were violated.
The multilevel investigation into the mayor's affair comes as the national outcry to call out sexual misconduct has led to high-profile resignations from prominent elected officials and executives. Barry, who has been viewed as a rising Democrat, has said she doesn't want the affair to muddy the "Me Too" women's movement, since her affair was about middle-aged, consenting adults who had feelings for each other.
Barry's office reiterated that she's not resigning. She also said those affidavits should have been sealed until the conclusion of the bureau's investigation into her affair, but were released in an attempt to politically damage or embarrass her.
"Nothing in the affidavits released today ... indicates that I have committed any actions that violate the law," Barry said in a statement Thursday. "If any violations of the law occurred, they were in violating my personal rights."
The affidavits also sought possession of Barry's cellphone, which was obtained and turned over to a third party for analysis Thursday after Barry's attorney refused multiple times to provide the passcode to access it, according to the filings.
Barry's office responded that, when the bureau sought to search her personal phone on Feb. 15, her attorney, Jerry Martin, requested a limited search to avoid encroaching on items irrelevant to the investigation, such as Barry's conversations with friends and family. Instead, on Feb. 16, a warrant was served to retrieve the phone, according to Barry's office.
"It is unclear who made the decision to pursue this course of action, though (District Attorney) General (Glenn) Funk is the person directing the investigation," Barry's office said.
Funk spokesman Steve Hayslip said the office's understanding is that the bureau is following standard operating procedures. He said no one from Funk's office would comment until the investigation is finished.
Forrest's attorney, David Louis Raybin, declined comment.
Forrest said on Jan. 17 that he would retire Jan. 31 after 31-plus years with Metro Nashville Police. He spent 14 years of that tenure supervising the mayor's security detail over three administrations.
Metro Nashville Police records show that Forrest's overtime more than doubled from $35,747 in the 2014-15 budget year to $75,462 in 2016-17. Barry was elected in September 2015. Barry said the affair began in spring 2016, the affidavit states.
Barry has not said when the affair ended, only that it's over.
This story has been edited to clarify that investigators believe photos were taken on Forrest's phone, not found on his phone.