The amusement park industry assures the public that its parks and rides across America are safe and well inspected but a recent death at the Ohio State Fair has left people wondering whether those claims have actually been nailed down.
On Wednesday, in a scenario ripped from a child's nightmares, seats detached from a spinning pendulum ride called the Fire Ball, killing one person and injuring seven others.
Ohio Gov. John Kasich insisted the state would "move on" but he also shut down all the rides at the fair until they could be inspected again.
And an examination of similar incidents around the country shows that injuries on rides occur with startling frequency.
The U.S. Consumer Product Safety Commission estimated that 30,900 injuries caused by amusement park attractions were seen by hospital emergency departments in 2016 alone. Those injured are out of millions of people who visit carnivals, fairs and festivals each year, the Outdoor Amusement Business Association, which represents much of the mobile amusement industry, estimates.
Since 2010, the CPSC reports that there have been 22 fatalities caused by thrill rides, including Wednesday's death in Ohio.
Inspections are intended to help cut down on the number of accidents and injuries, but that's not always the case.
The Associated Press reported that Ohio Chief Inspector of Amusement Ride Safety Michael Vartorella said the Fire Ball was inspected thoroughly three or four times before the fair opened on Wednesday — the same day the state issued a permit for the ride.
Rides are checked while they are being setup in order to ensure they meet manufacturer specifications, Ohio Department of Agriculture Director David Daniels told the Associated Press. The Fire Ball and other rides were also checked and given passing marks on some three dozen items, including checks for cracks, the brakes, proper assembly and installation.
Related: Kasich Urges Ohioans to Return to State Fair One Day After Fatal Accident
One of those injured Wednesday, Abdihakim Hussein, told NBC affiliate WCMH that he was struck by debris from the ride.
"My whole life flashed in front of me because I didn't know. It kept going, too, once it broke off," he said.
Amusement of America, operator of the ride, also insisted that the Fire Ball had undergone a thorough inspection.
"Our family owned company is committed to working with state and local experts in trying to determine the cause of this tragic accident," the company said in a statement on Thursday. "The ride was inspected by our staff as well as independent inspectors prior to opening at the Ohio State Fair."
The Outdoor Amusement Business Association defended the Fire Ball's operators, as well.
"This incident took place despite multiple independent inspections of the ride and only a full and complete investigation can identify the issues or issues that led to this tragedy," the business association, which claims 60 percent of ride injuries are caused by guests behaving inappropriately, said in a separate statement on Thursday.
But inspections aren't always foolproof.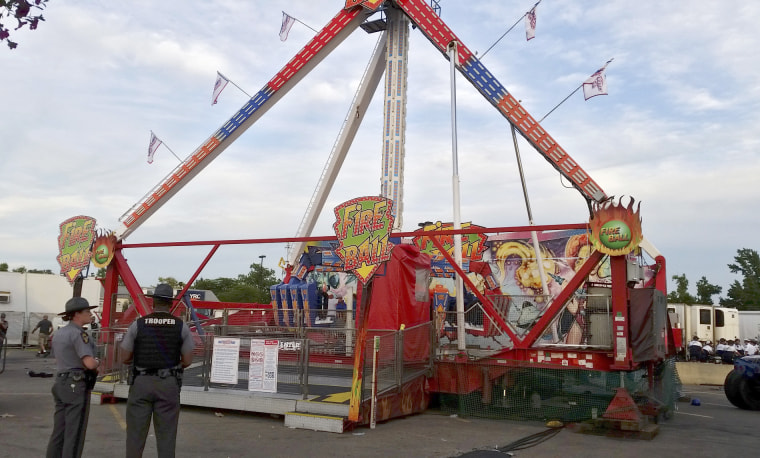 Paul Malchesky represented the family of Greyson Yoe, who was electrocuted and killed by a ride at a county fair in Ohio in 2003. He said that inspectors, ride operators, owners and subcontractors can all be held liable in incidents like these, and in his case multiple individuals faced criminal prosecution.
"All those rides have a lot of moveable, breakable parts," Malchesky told NBC News. "They're put up and taken down on a fairly regular basis, and moved around — and things loosen up, things break, things are missed in the inspection."
Amusement park consultant and inspector Ken Martin examined another Fire Ball ride earlier this year. He said the number of inspections in Ohio signaled a "catastrophic failure" had occurred.
"The state looked at it, the carnival looked at it, the independent ride inspectors looked at it. How can three people be wrong?" he asked, noting that the amusement park industry obviously does not make rides "to injure or kill people."
Related: Lawmaker's Family Reaches Settlement with Water Park Over Son's Death
Dozens of people witnessed the incident, and they will likely be interviewed by multiple investigators, including the local police, the Ohio Dept. of Agriculture, and an investigator from the U.S. Consumer Product Safety Commission. The latter will examine what role the Fire Ball's mechanics played in the incident and could call for the ride to be removed from service all over the country.
In the meantime, numerous fairs and carnivals, from the California State Fair in Sacramento to the Monmouth County Fair in New Jersey, announced that they had decided to stop operating similar rides.
Martin described the Fire Ball to NBC News as "full of steel and iron," adding that it necessitates multiple trailers to transport it. But the problems aren't just with the rides, it is with how they are regulated.
"No two states have the same regulation," he explained. "There is no method of gathering information on incidents or injuries that exists nationwide. Some states do it, some states don't — and the majority don't."
In some states, like Ohio, the Department of Agriculture oversees amusement park rides. Just across the border in Pennsylvania, it's overseen by the state's Department of Labor. In Delaware, the state fire marshal calls the shots, while in Georgia it is up to the Office of the Insurance and Safety Commissioner. Six states — Mississippi, Alabama, Nevada, Wyoming, Utah and South Dakota — do not conduct any oversight, according to the International Association of Amusement Parks and Attractions.
Martin believes that consistency nationwide and shared inspection and data collection standards would decrease the number of incidents.
"We've got to do a better job," Martin added. "We're protecting our kids and grandkids, and we can't do it with a patchwork of regulations. We have to be singing from the same song, the same verse, the same beat."