STRASBURG, Pa. — Is it divine intervention or a case of "God helps those who help themselves"?
A convent of elderly nuns supported by a group of local activists are all that stand in the way of a billion dollar pipeline company drilling through almost 200 miles of Pennsylvania countryside.
The Adorers of the Blood of Christ own a plot of land in Lancaster County, Pennsylvania, that includes a nursing home, their convent and a field of corn plowed by a local farmer.
But now the sisters have erected an outdoor chapel among the cornstalks: Wood pews and an arbor, adjacent to a city park and a subdivision.
The chapel and a corresponding religious-freedom lawsuit are intended to stop the natural gas-pumping Atlantic Sunrise pipeline, an addition to Williams Partners' Transco pipeline system currently under construction.
"It's not a traditional chapel, but it's a marker. It's a place that says, 'This is sacred,' as was the mountaintop with Moses and the burning bush," explained Sister Sara Dwyer, noting that 300 people attended the chapel's dedication last month.
"It's just a place for us to be able to come, to be calm, to be focused, to be intentional about our resistance and our willingness to go very, very public with that resistance in a prayerful, nonviolent way," she added.
And it's also going to be key in the local resistance to the pipeline, although the elderly nuns will likely attempt to maintain the property through stayed and dutiful prayer.
"Our hope would be to have a continuous prayer vigil that's held there, however many people we could get at anyone given time … and basically hold that site in prayer and keep construction from happening," said Mark Clutterbuck, one of the core organizers of Lancaster Against Pipelines [LAP], a group that has trained hundreds of locals about protest best practices since it formed in 2014.
Direct action isn't new to the Adorers. They widely advertise their storied support for women's issues, the environment and immigrants — increasingly controversial positions under a new Republican White House. Five of the sisters were executed in 1992 while working as missionaries in Liberia. More recently the nuns joined locals and protested a hydroelectric dam in Brazil and a mine in Guatemala.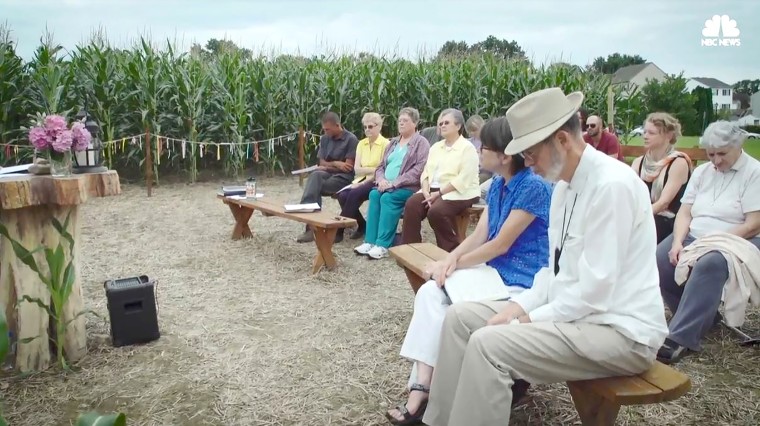 That environmental activism is based within their deep and unwavering religious beliefs, grounded in the Book of Genesis and the Book of Psalms and eulogized via their 2005 land ethic.
Nevertheless, the Federal Energy Regulatory Commission [FERC], gave its approval to the pipeline in February and a federal judge granted immediate possession of the land to the pipeline company on Aug. 23 via a temporary easement.
"The Adorers have failed to establish how Transco's possession of the right of way on their land will in any way affect their ability to practice their faith and spread their message," Judge Jeffrey Schmehl wrote, adding that U.S. Marshals would have the ability to arrest or detain the nuns if they interfered with the construction.
But the entire Adorers' organization and the individual sisters also complained in a July lawsuit that FERC and Williams Partners violated their rights under the Religious Freedom and Restoration Act because they are being forced to allow the pipeline to pass through their property, which breaks from their land ethic and deeply held religious beliefs. The case is pending in U.S. District Court in Reading.
"It places a substantial burden on the Adorers' and Sisters' exercise of religion by taking land owned by the Adorers that the Sisters seek to protect and preserve as part of their faith and, instead, uses it in a manner and for a purpose that actually places the earth at serious risk," the suit said.
While there is an exception to the law, Williams and FERC have to prove that the pipeline is of "compelling government interest" — rather than private interest — as well as demonstrate that it is the simplest method of furthering that interest.
But Williams said it already demonstrated that when it brought the project to FERC in 2014.
"We think that the FERC order demonstrated clearly that this project is important and needed and we certainly stand by that," company spokesman Chris Stockton said.
The nuns and Lancaster Against Pipelines claim there is no government need for the Atlantic Sunshine pipeline and that existing pipe already moves enough natural gas across the state.
Williams argues that this existing pipe is insufficient and outdated, as it was built in the 1950s.
But the nuns environmental roots run deep. The sisters are excited about Pope Francis's encyclical letter, "Laudato Si: On Care for Our Common Home," which called for Christians to be environmentally conscientious and deeply cited in their legal suit.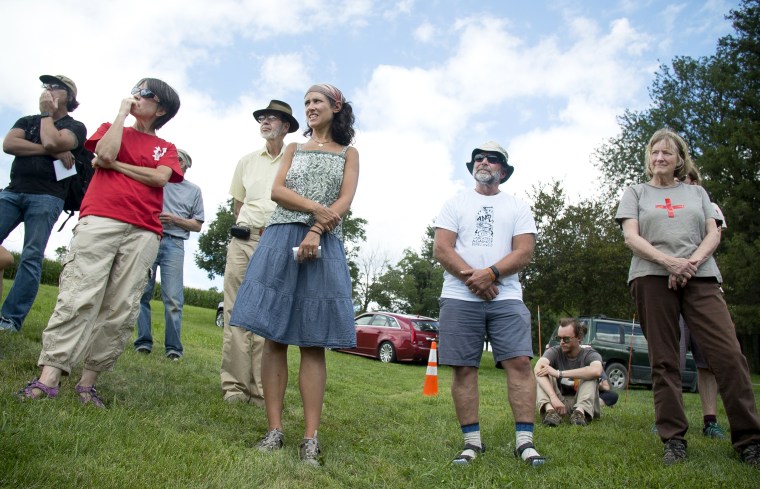 "Living our vocation to be protectors of God's handiwork is essential to a life of virtue; it is not an optional or a secondary aspect of our Christian experience," the pope wrote in the encyclical letter.
The nuns' lawyer, J. Dwight Yoder, contends that the Supreme Court recently decided similarly in Burwell v. Hobby Lobby Stores, Inc., which found that an organization can be exempt from regulation because of its owners' religious beliefs.
"In this case, the Adorers hold land, they have a land-use ethic, they follow the teachings of Pope Francis that make it clear that the earth is sacred, it's God's creation and they need to take steps to protect and preserve it," Yoder explained. "And that applies specifically to the land that they own and how they use it and how it's not used."
But Williams isn't giving up. They've continued to assert that the pipeline will create 2,300 jobs for the state, bring more than a billion dollars of wages, revenue and investment to the region and move a larger amount of natural gas more quickly to the eastern seaboard throughout Williams' entire Transco system.
Much of those jobs, however, are temporary.
"There's a permanent impact but it certainly is not going to be as significant as the immediate jobs related to construction," Stockton admitted, though he noted Williams already employs people in the state to maintain their current pipeline infrastructure.
But Williams says they need the nuns' land for the entire pipeline project to work, and argues that the Adorers missed an opportunity to provide feedback. They claim they modified 60 percent of the route based on feedback they received from various stakeholders, including landowners.
Now, there's nowhere to move, as a large development sits on one side of the sisters' land and their retirement community is on the other. And so Williams continue with their attempts to gain an easement through eminent domain — without the nuns consent.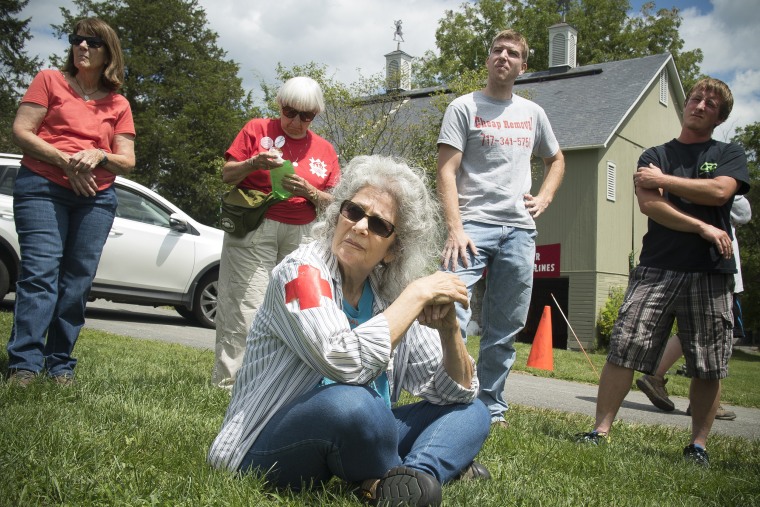 The LAP protesters, meanwhile, maintain their battle in the public eye, staging a walk out of a meeting earlier this week. Still, they hit one recent setback earlier this month. The group maintained a constant presence of resistance via a weekend encampment on a piece of property the Atlantic Sunshine ran through. But in early August the once-sympathetic landowners sold the entire farm to Williams for a reported $2.8 million.
"They gave me an offer I couldn't refuse," Susan Cappiello told NBC News while she was walking her dog near her Lancaster home.
"I have the most to lose," she added.
Williams shared via a statement that they bought the land because of the demonstrators, stating it was concerned for their safety as well as the security of their employees.
"By reaching a mutually beneficial sales agreement with the property owner, Williams can ensure that the location of its planned horizontal directional drill is kept secure and that Williams employees, contractors, and protestors, remain safe during the extensive HDD mobilization and construction process," company spokesman Stockton said.
Stockton later emphasized to NBC News that Williams needed the property to use as a staging area for horizontal drilling, particularly for when they bore under the Susquehanna River.
Despite the setback, LAP continues to organize and — unlike some past pipeline protests — these don't appear to be lifelong environmentalists itching for a battle. This group bills itself as locals who are concerned about their land and their families.
Their protest is part of that display: inexperience seemingly an asset as much as it is a liability.
"Most important … is that the actions look like who we are," said John Telesco, a local contractor who built the arbor and pews for the chapel and helps organize LAP.
"We're just community members," he added. "We don't want people putting masks on ... we don't want to look like we're the criminals and we're hiding from anything."