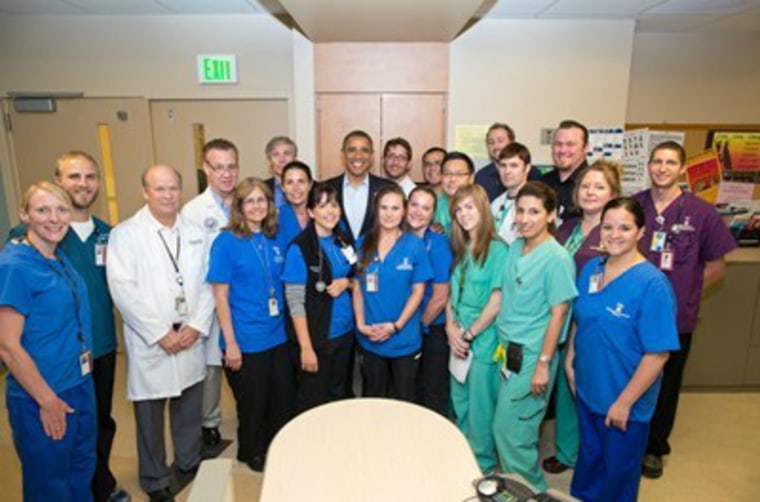 Nurse Jennifer Gallagher, who helped treat victims of the Aurora theater shooting in Colorado, has drowned while on a family vacation in Iowa.
Gallagher, 46, of Denver, went swimming in West Lake Okoboji the night of Aug. 6 and her body was found the next day, according to the Sheriff's Office in Dickinson County, Iowa.
Gallagher, an Ireland native, worked at the University of Colorado Hospital for 13 years and cared especially for a shooting victim treated in the hospital's neurological intensive care unit, which she helped open. She was among staffers who met with President Barack Obama during his visit two days after the July 20 shooting rampage that killed 12 and wounded 58 at the Century Aurora 16 theater.
The hospital's nursing chief officer, Carolyn Sanders, said Gallagher was a "beloved nurse" who was well known for her ability to connect with people and develop caring relationships with her patients.
Watch US News videos on NBCNews.com
Her husband of seven years, Greg Pinson, told  the Evening Herald newspaper of Dublin that his wife "loved saving lives" and was a "wonderful mother" to their son Jack, 5.
"We're struggling to cope without her," Pinson told the Herald.
He said he and Jack had gone to sleep when Gallagher and her friend took a boat out on the lake to go swimming.
See NBCNews.com coverage of the Aurora shootings
"She wasn't a very strong swimmer and I suppose she just wasn't able to stay afloat. The hardest thing is I may never know what really happened to Jenny," Pinson said.
The County Meath native moved to United States in the 1990s to go to nursing school, the Herald said. 
This article includes reporting by The Associated Press.
Stay informed with the latest headlines; sign up for our newsletter
More content from NBCNews.com: