Ten former colleagues of an Ohio physician accused earlier this year of murdering 25 of his hospital patients with excessive doses of pain medicine are standing by him, alleging in a lawsuit filed Thursday that the hospital wrongfully terminated and defamed them.
The lawsuit by the former colleagues — nine nurses and a pharmacist once employed by Mount Carmel Health System in Columbus — says that hospital executives were ignorant about the appropriate standards of care and that the pain medicine was needed to help patients in their last minutes of life in intensive care.
Their claims stand in stark contrast to what hospital officials say led them to fire Dr. William Husel a year ago, saying he abused his position as a night-shift doctor in the intensive care unit, or ICU, and ordered "significantly excessive and potentially fatal" doses of drugs for critical care patients.
The suit comes as 25 Mount Carmel nurses could lose their licenses for their roles in administering the doses, with hearings beginning in February before the Ohio Board of Nursing. The hospital system had reported 48 nurses and pharmacists to state licensing boards as part of an investigation into the deaths of 35 patients.
The Franklin County Prosecutor's Office, however, is charging only Husel, 44, who has pleaded not guilty.
The 10 former employees, some of whom face licensing hearings, deny that Husel betrayed their trust or coerced them, and they say hospital executives "panicked" over how the public and government regulators might react to such high doses.
"This preposterous (but headline-grabbing) false narrative of an evil rogue doctor and his complicit staff ultimately destroyed the lives and livelihoods of dozens of dedicated nurses and pharmacists, and convinced the public, the Franklin County prosecutor, and the State Attorney General that something terrible had been going on," according to the lawsuit, which was filed in Franklin County Common Pleas Court. "But nothing could be further from the truth."
The ex-colleagues contend that Husel, who had additional certification in anesthesiology, had been working within the hospital's "flexible and discretion-permitting policies" that allowed doctors and staff to administer "high but appropriate doses of fentanyl" to patients who were being removed from life support. They maintain that no one was trying to hasten those patients' deaths with pain medication or to euthanize them, which is illegal in Ohio.
"The compassionate very-end-of-life care that the 35 patients received had a single goal: to allow them to die with dignity and without pain in accordance with their families' wishes," said Robert S. Landy, a lawyer whose New York-based firm, Ford O'Brien LLP, is representing the former employees. The suit, which seeks monetary damages, names Mount Carmel and its parent company, Trinity Health Corp. of Michigan, as defendants, along with former Mount Carmel Chief Executive Ed Lamb.
Mount Carmel Health System said in a statement to NBC News that the "claim has no merit" and that it "thoroughly investigated these events and stand by our decisions."
"Mount Carmel's focus continues to be on caring for our community," it said.
Ford O'Brien is also representing Husel in a separate suit related to whether Trinity Health's insurance carrier must cover his legal costs in his criminal case.
The Franklin County Prosecutor's Office and the office of Ohio Attorney General Dave Yost did not immediately return requests for comment.
In July, a sweeping internal review by hospital officials led to the firing of almost two dozen employees, including nurses, physicians and members of the pharmacy management team. Lamb also stepped down, saying it would take time to "restore our patients' and community's trust."
Three former Mount Carmel nurses spoke with NBC News about their interactions with Husel, and for the first time, they gave a glimpse into the inner workings of an ICU that became the focal point of a criminal investigation.
"It's so far-fetched that anyone could think this was criminal," said Brandi Wells, who had been a Mount Carmel nurse since 2003 but became part of the ICU investigation and was fired in July.
When Mount Carmel, one of the largest hospital systems in central Ohio, hired Husel in 2013, hospital doctors were commonly ordering a synthetic opioid known as fentanyl to relieve acute pain.
The nurses in the ICU said that such opioids were generally a "last resort" to alleviate discomfort and that it was their job to make sure the patients were as comfortable as possible.
Becky McNeil, a former clinical educator at Mount Carmel who began her career as a registered nurse in the ICU in 2000, said patients who were being kept alive by ventilators and other life support measures were evaluated differently. If life support was being withdrawn, she said, those patients might require higher doses of fentanyl than would patients who didn't have minutes left to live.
And just because someone was uncommunicative or unconscious, she added, didn't mean they weren't in pain and didn't require relief.
"You can see people tense up, or they may have an increased heart rate," McNeil said of those patients.
Mount Carmel said the accusations against Husel were brought to its attention in October 2018, when it received a "formal report" regarding the doctor. Details about who submitted the report were not made public. At that point, 21 patients had died under Husel's care whose deaths would become part of the larger investigation.
Husel also became the subject of two more reports, and he was removed from patient care on Nov. 21, 2018.
The hospital system said Husel ordered extreme and potentially fatal drug doses for 29 patients; hospital officials said five of them were administered the medicine when their conditions could have improved. The 10 former employees denied in their lawsuit that those five deaths could have been avoided, saying the patients all suffered from multiple organ failure and had "reached the point where further treatment was futile."
Six other patients also received high doses under Husel's care, hospital officials said in their timeline of events, but they do not believe the doses led to their deaths.
The high-dose cases under investigation include those of an 80-year-old woman who suffered cardiac arrest four days before she was administered 1,000 micrograms of fentanyl in the ICU 23 minutes before she died, a 37-year-old woman suffering from liver ailments as she battled ovarian cancer who was administered 1,000 micrograms of fentanyl 14 minutes before she died and an 82-year-old woman suffering from stomach pain and pneumonia and was put on a ventilator before she was administered 2,000 micrograms of fentanyl five minutes before she died.
The cases in which Husel was charged with murder involved the ordering of at least 500 micrograms of fentanyl. Prosecutors have said such amounts are larger than normal, which points to intent, although no motive has been provided. Observers within the medical community have also questioned the need for such high doses.
Dr. Lewis Nelson, a professor and chairman of the Department of Emergency Medicine at Rutgers New Jersey Medical School in Newark, said that in general, he might give the sickest person in the ICU 100 or 200 micrograms of fentanyl over an hour.
"It would be very atypical to give 2,000," Nelson said in an interview. "Maybe in an operating room, and even there that is high."
Most hospitals don't limit how much fentanyl can be provided because individual patients and their medical needs are different, although there are "informal parameters" that nurses and pharmacists are aware of when it comes to such powerful drugs as fentanyl, Nelson said.
About 35 families filed wrongful-death lawsuits against Husel, the hospital and other staff, with several of the families settling for a total of about $13.5 million; more than 20 complaints are pending. Nearly all of the patients were on ventilators, and the health system said patients' families had "requested that all life-saving measures be stopped."
But some of the families have said in their lawsuits that they were not consulted about the painkillers, and David Shroyer, a lawyer in Columbus who is representing some of them, told NBC News that his medical experts "have all said these are extreme, high doses and never should have been given under these circumstances."
"We're alleging that the nurses and pharmacists should have been questioning the amounts," Shroyer said, adding that the suits were in the discovery phase to determine what policies were in place at the time and whether they were insufficient.
The lawsuit filed by the former Mount Carmel employees says that there was no ceiling for fentanyl doses related to the removal of a patient's breathing tube and other life support measures and that the policy at the time allowed doctors to give what they believed was necessary.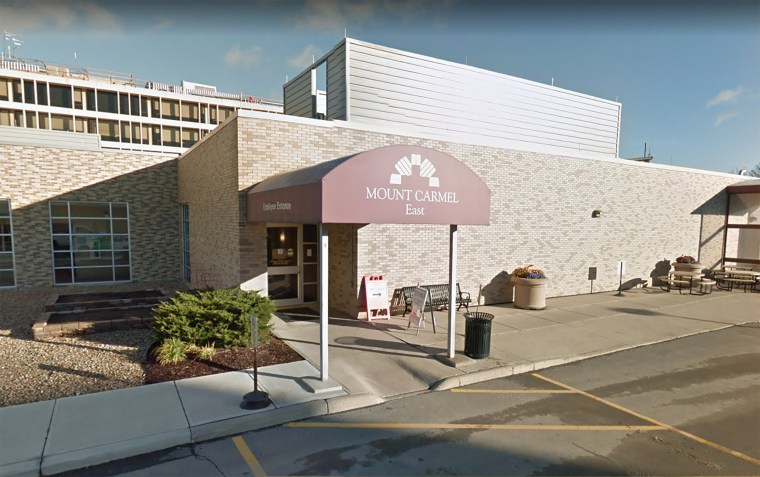 The dosing decisions also were "fully consistent with the recommendations of the published medical literature on the topic, none of which warned of a risk inherent in the use of too much medication, but which did warn of the risks in using too little," according to the suit.
The suit cites studies that say the amount of palliative pain medication given in the ICU has no effect on whether patients survive once their ventilators are removed.
Those who worked in the ICU with Husel say that while they were not privy to all of the cases in question, they are confident in their colleagues' decisions.
"No one broke policy," Wells said. "Everything was done for the patient, for their comfort, to prevent agony at the end of life."
The State Medical Board of Ohio suspended Husel's license to practice in January based on the hospital's allegations. His trial is scheduled to begin in June — a legal battle that is certain to set up a debate over when end-of-life comfort care using opioids crosses the line into murder.
His defense team, which includes high-profile lawyer Jose Baez, who has represented Casey Anthony and Aaron Hernandez, submitted a witness list this month of more than 150 people, from patients' relatives to former Mount Carmel employees. It's unclear whether any of the former employees in the latest suit are among them.
Baez declined to address the defense's strategy over the summer and called the charges against Husel "baffling."
Beth Macioce-Quinn, who began her nursing career at Mount Carmel in 1995, spearheaded a petition supporting Husel that was signed by 36 employees, including her fellow ICU nurses, after he was fired.
"I have unfortunately witnessed some undignified deaths in our unit, with patients gasping for air as their family members look on in horror," she wrote in the letter. "I truly believe that it is, and always has been, Dr. Husel's good intent to honor the dignity and wishes of our patients and their family members in regards to palliative care and palliative withdrawal of care."
Macioce-Quinn told NBC News that "it's ludicrous to think you're going to convince 38 health care workers to collude to end anyone's life prematurely."
In the weeks after Husel was fired and the criminal investigation was ramped up, Mount Carmel released new medication guidelines that had employees in the ICU run through a checklist for sedating patients, stopped allowing doctors to give verbal orders and required pharmacists to review all medication orders, with only certain exceptions.
In February, state health inspectors said that the hospital had "failed to ensure that a system was in place to monitor and prevent large doses of medications" and that in at least 24 of the cases involving Husel that they reviewed, someone had triggered a system override to obtain fentanyl from the hospital's automated medication dispensing machines.
In announcing policy changes in February, hospital officials called the events "heartbreaking, unacceptable and inconsistent with the values and care processes of Mount Carmel."
"As we work to understand how this happened, we continue to implement meaningful changes to ensure they never happen again," they said.
Download the NBC News app for breaking news
During his five years at Mount Carmel, Husel had once been named the hospital's physician of the year, the nurses said. McNeil, who was a clinical educator at the hospital system, said she was so impressed by Husel's demeanor that she used him as an example in training.
The nurses who worked the night shift with Husel also recalled instances when they questioned medication orders made by Husel, who they said would reconsider and make changes they were comfortable with.
"He was a man who was invested in good care," McNeil said. "He was willing to talk with patients. And he didn't just bark an order to nurses or expect them to kowtow and do it."
While it's unclear whether her sentiment is shared by most others who worked with Husel, at least one former Mount Carmel nurse told The Columbus Dispatch in January that she heard doctors express concern among staff members over the doses Husel was ordering and that she and other nurses had made an informal complaint on the same issue.
The nurse, who spoke anonymously out of fear of retaliation and harm to her career, also told the newspaper that she would not be comfortable with administering a fentanyl dose to a patient as high as 1,000 micrograms, because "I know I'd kill them."
But the nurses in the lawsuit against Mount Carmel said it was important for them to speak out now — precisely because, they say, they've been "vilified" by the hospital and their long careers have been tarnished.
"It's almost like you have the scarlet letter on when people ask you where you did your work," Macioce-Quinn said.
The nurses said in their lawsuit that if they wanted to remain at Mount Carmel, they had to keep silent about their support for Husel and their concerns about policy changes; otherwise, they would be fired in retaliation. Other nurses resigned because of the pressure, they said. The nurses in the lawsuit contend that they had exemplary employment reviews up until they were let go; Mount Carmel did not respond to a request about their employment histories.
Wells, who worked at Mount Carmel for 16 years before she was fired, said her attempts to find a new job soured because employers were wary about her connection to the hospital. She added that she's most disappointed that people in the Columbus area might no longer trust doctors or nurses who she believes are doing good work. But she has no regrets rallying around Husel.
"I defended him," she said, "because it was the right thing to do."