Thousands of nurses at two of New York City's largest hospitals went on strike Monday morning after a weekend of negotiations over pay and staffing failed to produce a deal for a new contract.
More than 7,000 nurses at the Montefiore Medical Center in the Bronx and at Mount Sinai Hospital in Manhattan were expected to participate in the walkout, the New York State Nurses Association, the largest union representing registered nurses in the state, said in a news release Monday.
Nurses at two facilities within Mount Sinai's health care system tentatively agreed to contracts Sunday, according to an announcement from the union, but negotiations continued at its flagship hospital.
"Nurses don't want to strike," the union said in a statement late Sunday. "Bosses have pushed us to strike by refusing to seriously consider our proposals to address the desperate crisis of unsafe staffing that harms our patients."
Montefiore and Mount Sinai were among a number of hospitals with contracts with the union that expired. The New York State Nurses Association had threatened to strike at all of the affected hospitals at the same time, but other hospitals reached agreements with the union ahead of the deadline.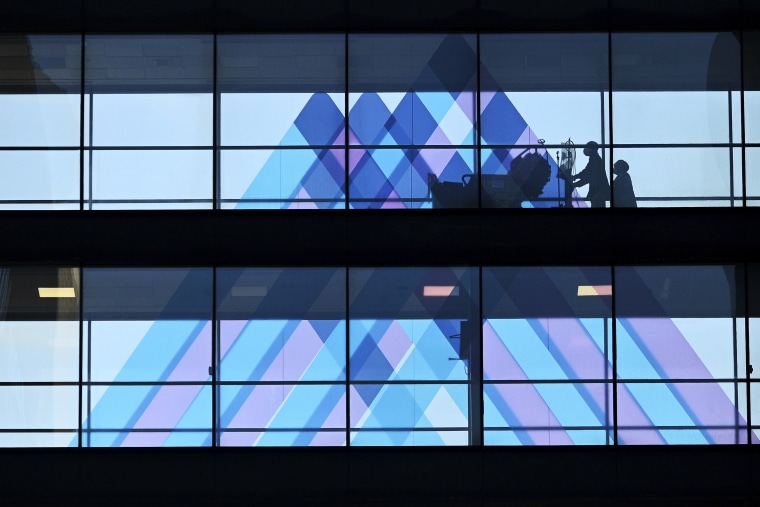 New York Gov. Kathy Hochul urged the two outstanding hospitals and the union to take their dispute to binding arbitration in a statement Sunday.
"Strikes have been averted at New York Presbyterian, Richmond University Medical Center, Maimonides Medical Center and Flushing Hospital Medical Center," she said. "Yet there remain outstanding issues at Montefiore and Mount Sinai and I am now calling for binding arbitration so that all parties can swiftly reach a resolution."
The governor said that in the meantime, the New York State Department of Health would continue to enforce staffing requirements at both hospitals "to maintain the delivery of essential health care services to the community and protect patient health and safety."
In its statement Sunday, the union said Hochul "should listen to the frontline Covid nurse heroes and respect our federally-protected labor and collective bargaining rights."
Mount Sinai said in a statement Monday that the union had "refused to accept the exact same 19.1 percent increased wage offer agreed to by eight other hospitals, including two other Mount Sinai Health System campuses."
"NYSNA continues its reckless behavior, rejecting Governor Hochul's proposal for binding arbitration," Mount Sinai said in a statement Monday. "The Governor's proposal would have provided a path to avoid this strike, which sadly is forcing nurses at The Mount Sinai Hospital to leave their patients' bedsides," it said.
Montefiore's administration had previously said in a statement that it was willing to let an arbitrator settle the contract "as a means to reaching an equitable outcome," according to The Associated Press.
In an updated statement Monday morning, Montefiore said that despite its offer "of a 19.1% compounded wage increase — the same offer agreed to at the wealthiest of our peer institutions — and a commitment to create over 170 new nursing positions, and despite a call from Governor Hochul for arbitration, NYSNA's leadership has decided to walk away from the bedsides of their patients."
"This is a sad day for New York City," it said.
The New York State Nurses Association did not immediately respond to overnight requests for comment.