More than 100 days after New York City was shuttered by the coronavirus, which devastated the once-thriving metropolis with more than 21,000 deaths, the city faces a new challenging yet hopeful moment in the fight against the pandemic: phase two of reopening.
Starting Monday, New Yorkers can once again begin dining outdoors, barbershops and hair salons can tend to overgrown hair, children kept indoors in cramped apartments can run around on playgrounds. About 150,000 to 300,000 people will be returning to work, according to city estimates, while many others will continue to work from home or still face unemployment.
At New Generation barbershop in Sunnyside, Queens, men in masks sat outside in the nearly 90-degree heat on red chairs 6 feet apart for long-awaited haircuts.
Inside, owner Steven Muratov was buzzing the sides of a customer's head on one side of the shop, while on the other side, two empty chairs away, another customer was getting a cut. Meanwhile, three men in masks sat in socially distanced chairs in a waiting area.
"Closing was sad and very upsetting. To come to work today, thank God. It's a breakthrough," Muratov, 51, said while cutting the man's hair.
Muratov said that customers had been calling him throughout the pandemic but that interest had been "crazy" since the reopening was announced. Two more customers called to set up appointments as he spoke.
He said he had a cousin who became very sick with the coronavirus, suffering with a month of fevers up to 104 and 105 degrees.
"It was, of course, very scary for us, but thank God he survived," he said. "I'm very happy to come back to work. I hope we can get to normal pretty soon and forget about that problem completely, I wish."
Full coverage of the coronavirus outbreak
Still, it was critical for people to abide by hygiene rules, observe social distancing protocols and wear masks to avoid a new spike in cases. He and his employees took an online course on safety protocols, and they were disinfecting chairs between customers, requiring masks and social distancing and practicing other frequent hygiene measures, he said.
"We've got to keep ourselves and our customers safe," he said. "I wouldn't want to be the one that starts a second wave."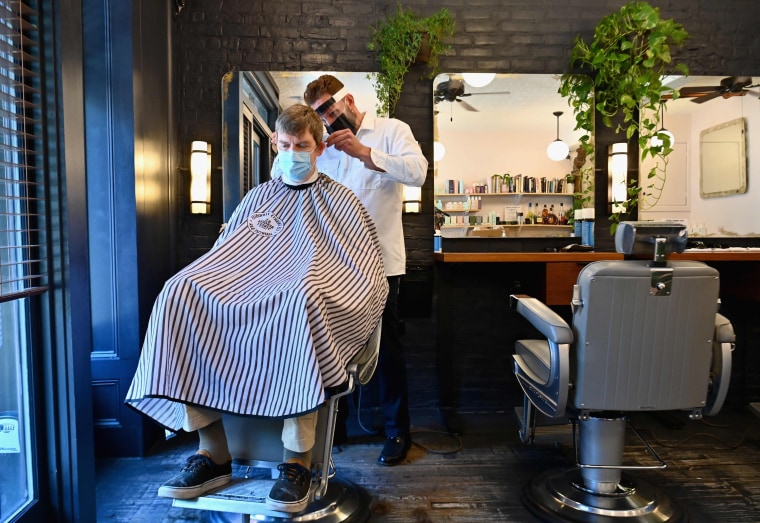 At The Skillman restaurant, patrons sat at spaced-out tables outside the establishment Monday afternoon. Owner John Fitzpatrick said the restaurant had provided meals for essential workers at public hospitals in the city during the crisis, as well as to-go and delivery service.
But opening up for outside dining represented a bit of a sense of normalcy, he said.
"People are excited to go out and eat again in a place in a neighborhood that they know," said Fitzpatrick, 53.
The restaurant was taking precautions, such as not handing out menus, spacing out tables, enforcing rules on masks and using recyclable and disposable trays and plates, he said.
"Seeing all the rest of the businesses in the neighborhood back open is encouraging, because I think a lot of people have talked about 'is that place going to reopen again?'" he said.
"It adds to the normalcy that you can go get a haircut at the same place you went to before," he said.
Outside Aubergine Cafe, customers were enjoying food and drinks in between empty tables. Outside the establishment read a sign that said in chalk "We <3 you but please wear a face covering or mask when you visit us." Owner Gary O'Neill said that while phase two was hopeful, businesses were still figuring it out.
"Every time a shutter is up and a small business is in some type of operation, that's a good sign. We're moving in the right direction," said O'Neill, 49. "It's still wait and see. Here we are now, we're opening up a little bit, people are wearing the masks, they're doing the social distancing.
"But where are we going to be in October, November, even for all of us that are open?" he asked. "It's fantastic, but it's not going to get easier. It's going to get harder as we move through the rest of the year."
Jonathan Cordeiro, owner of The Alcove restaurant, said he made the difficult choice to stick to delivery and to-go and not to opt for outdoor seating for economic and safety reasons.
"This is all new to us. It's probably one of the most difficult decisions, because, obviously, we want to get back to that style of service, but the challenge is the numbers," he said.
Cordeiro, 38, decided to close his business for two months when the city shut down because of all of the unknowns about the coronavirus.
"We decided it was the best move for everyone, for all the staff, for the community, because no one knew, and still we don't know what's going on," he said.
He said that while it was encouraging to see more businesses able to open up in phase two, it was very important for everyone to continue following the safety guidelines.
"It's amazing. We want to see signs of normalcy again but that everyone does it as carefully as possible with everyone in mind," he said. "It's not about making a dollar at the detriment of safety. Safety is paramount."
Download the NBC News app for full coverage and alerts about the coronavirus outbreak
Queens was one of the earliest and hardest-hit boroughs, especially parts of central Queens. Elmhurst Hospital was one of the first facilities to become overwhelmed, with doctors in March desperately trying to get more ventilators and speaking out about patients waiting 60 hours for a bed.
Overall, the city has recorded nearly 18,000 known coronavirus deaths, with 4,682 probable deaths.
But now the city's positive test rate has been at around 1 percent, down significantly from a peak in April of 60 percent. And there were just 10 coronavirus deaths in the state on Sunday, Gov. Andrew Cuomo said Monday, a stark contrast from a tragic week in early April when nearly 800 people died per day.
New York Mayor Bill De Blasio said Monday was a "historic day" and a "huge step forward, the biggest step forward, as we fight back from the coronavirus crisis and we once again become everything that New York City is and can be."
Phase two in the city, once the center of the pandemic, comes two weeks after the first phase of reopening, which included construction, manufacturing and curbside pickup for retail.
New York began reopening in mid-May after reaching seven metrics, including benchmarks for COVID-19 hospitalizations, deaths, hospital capacity and the number of contact tracers a region has available, among others.
New daily cases are on the decline in states that were hit hard in the spring, such as New York and New Jersey in the Northeast. But case counts are soaring in certain states in the Southern and Western United States.
In Alabama, North Carolina and Puerto Rico, the numbers of new cases in the last four weeks are up by more than 80 percent compared to the four weeks before. In Montana, daily cases are up by more than 300 percent.