On the front lines of the coronavirus crisis that has swept through New York City, a medical resident in Brooklyn decided to write about dealing with a historic pandemic at what is an early and critical time in the career of a doctor.
"Throughout these last couple of weeks I've hit a whole range of emotions," the resident, who works at several hospitals in Brooklyn, wrote in text shared with NBC News. "There have been multiple days where I'd come home and just feel … defeated."
"As this is going on, it feels like no matter what you do, what treatment you give, you are slowly watching someone die," the resident wrote in the passage.
Medical residents in New York City described their fears and hopes to NBC News and said they never imagined they would have to bear witness to so much death this early in their careers. As of Tuesday evening, there were more than 111,000 known coronavirus cases in the city, with more than 6,800 confirmed deaths.
"I never in a million years thought that I would ever be in this situation," Daniela Tello, another medical resident in Brooklyn, said. "I wake up every day and I feel like I'm living a nightmare."
She described a sense of pride at being able to help save lives, but also described frantic searches from even the most experienced doctors for effective treatments as the medical community races against time with the virus.
"We're literally going to work every day, all day and then we go home and all we do is read, read, read," looking for any new research on the virus, she said. "We feel very helpless."
Tello said other residents described feeling two main emotions: fear and insecurity.
"We as doctors take an oath, we can't run away," she said. "We have to wake up every morning and we have to face the fears and the insecurities."
Download the NBC News app for full coverage of the coronavirus outbreak
The other Brooklyn resident, who spoke on the condition of anonymity for fear of retaliation, described writing about the experience as a form of relief while continuing to treat coronavirus patients in overwhelmed hospitals and being forced to isolate from loved ones for fear of infecting them.
The resident also described a sense of pride in being able to help people and gratitude for providing support in such an unprecedented crisis, but hoped it would be "a once in a lifetime thing."
"I feel just like I've flushed my memory of everything except COVID," the resident said.
In another part of the passage, the resident wrote, "Every day I start to feel less and less like a physician because I'm so lost."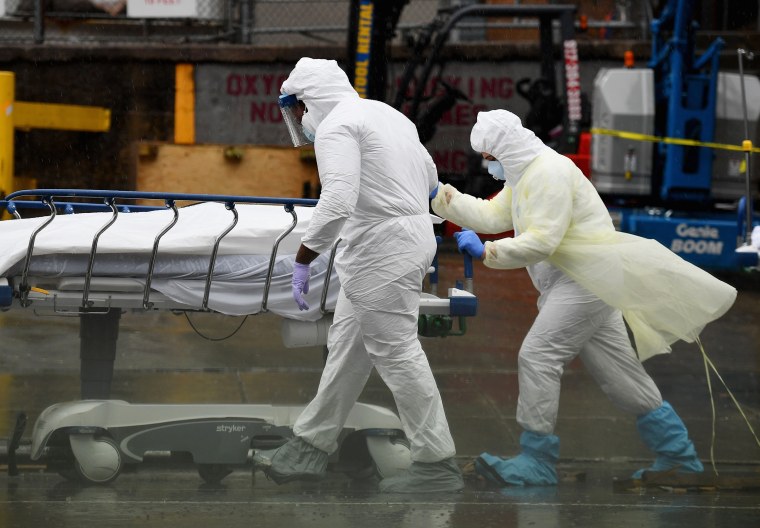 They described the emotional toll of having to tell so many families their loved ones would not survive.
"The amount of times I've almost broken down or have broken down crying because I've had to listen to loved ones bawling over the phone because just this morning their significant other was fine on room air … and now they passed away," the resident wrote. "And on top of it having to tell them they can't even come to the hospital to see them because the risk of exposure is too high."
Dr. Calvin Sun, an emergency and attending physician who works per diem at a majority of hospital systems throughout New York City, said he was most concerned about residents "out there who are not being spoken to in a language they need for mental health access because what we are going through is PTSD." He was referring to post-traumatic stress disorder.
Sun said medical professionals at all experience levels were trying to find the best treatment for the disease in real time.
"Residents look to us as attendings for guidance and we're just faking it to make it really," he said. "None of us have been through anything like this before."
Sun lamented that so many medical professionals had already fallen ill to the virus, which he said included residents who have died.
Those residents were "people in training that we were supposed to protect," he said. "That's like burying our own children."
Sun said he urged residents to find someone in the medical field who "speaks your language you need to hear to be able to process what you're going through right now."
"You are not alone, keep your head up," he said.
The pandemic has led to calls for an all-hands-on-deck approach in the city, with New York Gov. Andrew Cuomo saying Saturday he would be signing an executive order to allow medical students set to graduate this spring "to begin practicing now."
"These are extraordinary times and New York needs the help," he wrote on Twitter.
Several medical schools in the state had already announced they were planning on graduating their fourth-year students early to expedite their ability to serve a key need in the ongoing battle against the virus.
Another resident in New York City, who spoke on the condition of anonymity, said the medical community was coming together to help support each other and find ways to get more personal protective equipment for their colleagues.
While there was a huge sense of camaraderie among the residents treating the coronavirus, there was also a profound sense of isolation because of needing to be physically distant from colleagues and loves ones due to the danger they were all exposed to, the resident said.
The resident said everyone had the same questions on their mind: How long will this last? How long will we be treating so many coronavirus patients?
"To say this was definitely unexpected is an understatement," the resident said. "It's just day by day, kind of, hour by hour, minute by minute."