The New York City area was drenched with nearly nonstop torrential rain over the weekend that flooded streets, inundated basements and led to an evacuation of a Bronx building.
The dayslong deluge started Friday evening and continued through late Sunday with flood advisories in effect in New York City and its neighboring areas.
The downpour saw drivers stranded at submerged intersections, firefighters rescue people from flooded cars and residents try to pump water out of their overflowing basements.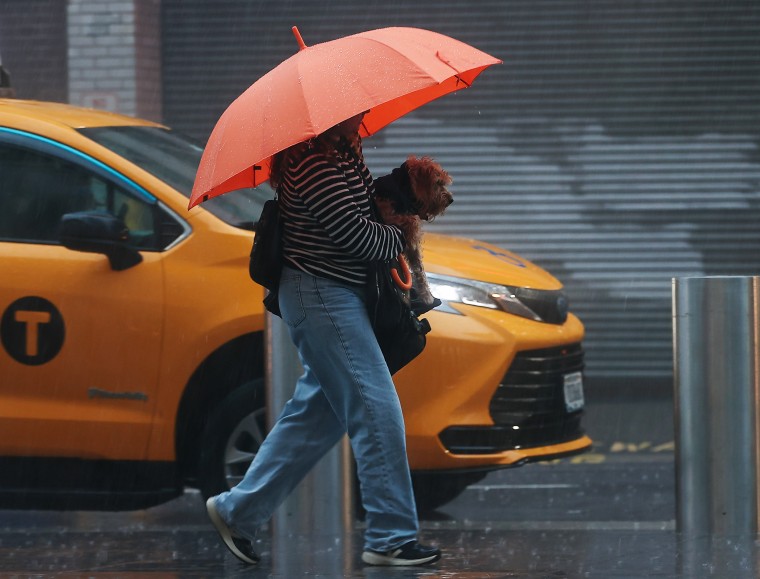 Central Park recorded 5.11 inches of rain from Friday through Sunday; meanwhile, a whopping 5.93 inches was reported at LaGuardia Airport and 5.72 inches at Newark Liberty International Airport in New Jersey.
In the Bronx borough, a seven-story apartment building was vacated Sunday evening after a retaining wall collapsed, fire officials said.
The New York City Fire Department reported that a rear retaining wall of the building in the 2000 block of Valentine Avenue collapsed in the intense rain just before 6 p.m. The entire building was forced to evacuate, and no one was injured. Residents in multiple buildings on the nearby Ryer Street were also evacuated as a precaution. 
Mayor Eric Adams tweeted that he was en route to the Bronx on Sunday night to "check on a partial wall collapse at an apartment building on Valentine Avenue due to the heavy rain this weekend." 
New York City's emergency notification system had sent out alerts over the weekend warning of "rapid, life-threatening flooding to basements" and urging residents to move to higher ground.
The heavy rain was moving out of New England on Monday morning but flood watches remained for parts of New Hampshire and Maine.
Several East Coast cities saw daily record rainfall Sunday, including 3 inches recorded in Augusta, Maine; 2.69 inches in Mount Pocono, Pennsylvania; and 2.4 inches in Georgetown, Delaware.  
The rain was much needed as parts of the mid-Atlantic and the Northeast are under moderate drought conditions. Showers will be scattered through Wednesday as drier weather will return later in the week.