NYPD Commissioner James O'Neill said firing officer Daniel Pantaleo was a "difficult decision" but the right one to make after reviewing evidence in Eric Garner's death during a 2014 arrest.
Pantaleo was seen on video taken by a bystander putting Garner in a chokehold — a move prohibited by the New York City Police Department — after he was stopped in Staten Island for allegedly selling loose, untaxed cigarettes.
Garner, 43, said he could not breathe 11 times during his arrest before going into cardiac arrest. He died at the hospital July 17, 2014.
On Monday, O'Neill announced that he was going to enforce an administrative judge's recommendation and terminate Pantaleo.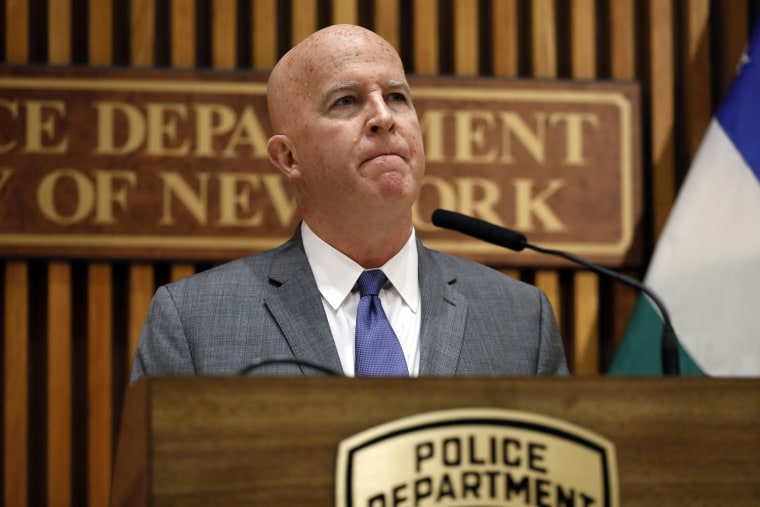 "It was a difficult decision," O'Neill said during an interview on "CBS This Morning" that aired Thursday. "Danny Pantaleo was right where we told him to be. The lieutenant sent him there."
"After I looked at all the evidence, that was the decision that I made and I think that was the one that had to be made," he said about firing Pantaleo.
Garner's death sparked national protests and the phrase "I can't breathe" became a rallying cry for police reform.
Pantaleo, who had been with the NYPD since 2006, was placed on desk duty following the death. Earlier this month, he was suspended as per the department's policy following the administrative judge's suggestion for firing.
An attorney for Pantaleo said he plans to fight his termination under New York civil code Article 78, which allows him to challenge rulings by a government agency.
O'Neill said on "CBS This Morning" that Pantaleo is well within his right to sue in an attempt to get his job back.
The move to fire the officer was met with both praise and outrage. During a news conference following Monday's announcement, one of Garner's daughters thanked the commissioner "for doing the right thing."
"You finally made the decision that should've been made five years ago," Emerald Snipes Garner said.
Patrick J. Lynch, president of the city's Patrolmen's Benevolent Association, said in a statement that O'Neill had permanently lost the confidence of his officers. At a news conference Monday, he called for union members to participate in a no-confidence vote on O'Neill and New York City Mayor Bill de Blasio.
O'Neill said that it was "difficult" to hear Lynch's response but he has "all the confidence in the world in the men and women of the NYPD" and thinks they will continue to do their jobs.
"The PBA has been very vocal in their criticism of me, which is fine," he said. "This is what Patty does — he thinks this is the proper way to represent his membership. But my job is to protect everybody in the city."