The New York Police Department decried "packs of youths running as fast as they can" fanning out across the city Monday night and looting stores, while New York Gov. Andrew Cuomo criticized cops for not doing enough to stop it.
The commercial Midtown and Union Square neighborhoods in Manhattan and working-class Fordham Road in the Bronx were hit particularly hard late Monday and early Tuesday in ongoing civil unrest following last week's death of George Floyd in Minneapolis. The Upper East Side also saw looting of some high-end stores.
A NYPD spokesperson told NBC News that about 700 arrests were made as a result of protests, looting, and the smashing of windows and destruction of property Monday night. The chaos followed a day of peaceful demonstrations across the city.
In the hours leading up to and past Monday's 11 p.m. curfew, announced by Mayor Bill de Blasio, roving groups of people lit street fires, smashed windows, and looted stores, police said.
"There are packs of youths running as fast as they can, smashing windows as fast as they can, and police are trying to catch them as soon as possible," an NYPD spokesperson told NBC News.
Cuomo, however, criticized police for being ineffective at reining in the destruction.
"The police in NYC were not effective at doing their job last night," Cuomo said. "They have to do a better job."
In response to a question about what he would like to see police doing, Cuomo said, "Do your job. Do what you've done in the past. Have you stopped looting in the past? Have you stopped rioting in the past? Do that again. Whatever you're doing differently now, stop doing it."
Cuomo noted that the city has 38,000 police officers and that he saw a lot of looting and not enough police presence in videos from Monday.
"There was rampant looting across the city last night that they did not stop, and that was their job," Cuomo added.
He also said the public must make the distinction between "legitimate protesters" and looters. "The protesters are separate from the looters," Cuomo said.
De Blasio also spoke out Tuesday about the events of Monday night, saying, "We saw stuff last night that we will not accept and we can fight back and we will fight back."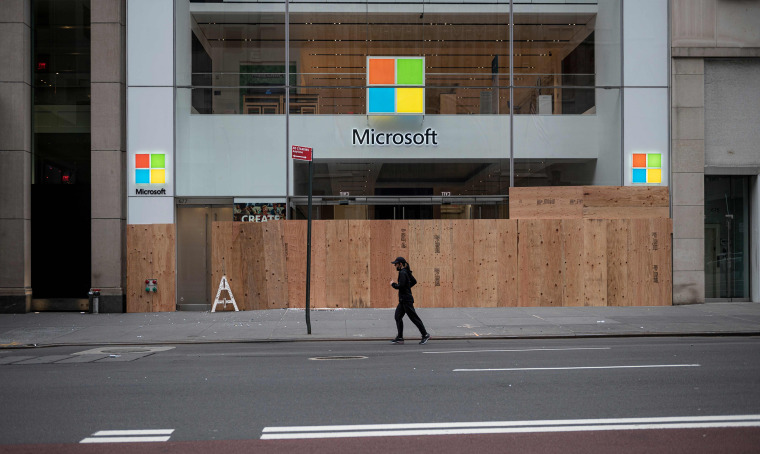 Looters — some of them apparently organized — have mixed in with peaceful protests
There had been peaceful protests in Midtown Manhattan before a handful of people broke off near 30 Rockefeller Plaza and smashed windows at the Nintendo and Michael Kors stores.
Vandals were later seen tearing off protective plywood and metal gates to loot Macy's, Best Buy, Foot Looker and Duane Reade stores in Manhattan.
High-end merchants Longchamp, Chanel and Hermes were also targeted by looters on the Upper East Side.
And several stores along Fordham Road, a main thoroughfare of the Bronx, were also hit, piling on more misery to neighborhoods already hit hard by the coronavirus pandemic, City Councilman Fernando Cabrera said.
"Fordham Road is the lifeblood of the West Bronx, providing jobs as well as essential goods and services," Cabrera said. "We are already suffering physically, socially and emotionally from the COVID-19 pandemic. We can't afford to lose our economic engine."
New York City's curfew will begin even earlier on Tuesday evening. It's set to start at 8 p.m.
Law enforcement officials told NBC News the threat has been evolving over the past few days. Protests against police brutality, societal inequities and racism have largely been peaceful and have been trending even more so in that direction. Police say splinter groups breaking off for looting and violence are the problem.
Police say they're seeing groups of organized looters with resupply stations for bricks and bottles, bicycle scouts and encrypted communications. Police sources have told NBC News they saw anarchist group activity reaching a crescendo Saturday and Sunday but that now criminal gangs and criminal organizations are the larger threat. They said groups of young people are working with scooter scouts and cars with out of state license plates and that they are moving quickly and effortlessly through the city.
It's unclear what sort of anarchist group activity police have seen and which criminal gangs or organizations are involved in the looting.
It's also not yet clear what the NYPD's strategy is to confront the threat. Police Commissioner Dermot Shea did not offer any insight on new tactics at a Tuesday morning press conference and neither did de Blasio. NBC News has reached out to the NYPD for comment on this information.
Police clashed with protesters during weekend demonstrations in the city
The death of Floyd, a black man suspected of passing a suspicious $20 bill at a grocery store in Minneapolis, led to the firing and arrest of Minneapolis police Officer Derek Chauvin and set off protests across the nation, including in New York.
Floyd was held facedown on the pavement with Chauvin's knee apparently digging into his neck for nearly nine minutes as Floyd pleaded: "I can't breathe."
Floyd's family has been troubled by the violence that has emerged at some protests in major cities, family attorney Benjamin Crump said.
"Let's take a breath for George," he said. "Take a breath for peace. Let's take a breath for justice, and let's take a breath to heal our country."
But Crump also acknowledged in an interview with the "TODAY" show Tuesday morning what caused protesters to take to the streets in the first place.
"These protests and these riots ... were not started by the protesters," Crump said. "It was started by police brutality and a racist criminal justice system. The only way to put out these fires is to have police accountability and equal justice."
One incident in particular led to outrage over the weekend — near Barclays Center arena in Brooklyn on Saturday, protesters blocked an NYPD vehicle, which then accelerated into the crowd; one person jumped on the hood. After law enforcement officials saw viral video of the incident, some tried to explain it by saying the officers decided to push the barrier into the crowd instead of confronting the protesters outside the car.
After midnight near the Brooklyn Academy of Music, near the downtown section of the borough, protesters threw glass at police, who responded with tear gas and some arrests.
Nella Mueier, a black Brooklyn resident, told NBC News that she joined the protests for the first time on Saturday.
She held a sign that said, "Good cops speak up" and said she came out because too many black men and women had been killed by police.
"I know there have to be some good ones out here but they should be out here with us protesting against what we're seeing," she said. "We need them to keep our communities safe, but we don't feel safe because they don't see us as human beings."
She continued, "A lot of people are out here for different reasons. There's a lot of anger and frustration. There's a lot of people wanting to stand in solidarity."