A New York City police officer was arrested Friday after she allegedly attempted to pay an undercover agent posing as a hitman $7,000 in gold coins to kill her ex-husband and a child, police and prosecutors said.
The FBI and NYPD internal affairs officers took Valerie Cincinelli into custody and later appeared in front of a federal judge in Central Islip, New York.
She was ordered held without bail.
Cincinelli was trying to get her current boyfriend to hire a hitman to kill her ex-husband, a police official told NBC New York. But in court, the government said Cincinelli had two targets in mind — an adult male and juvenile female, who prosecutors did not identify.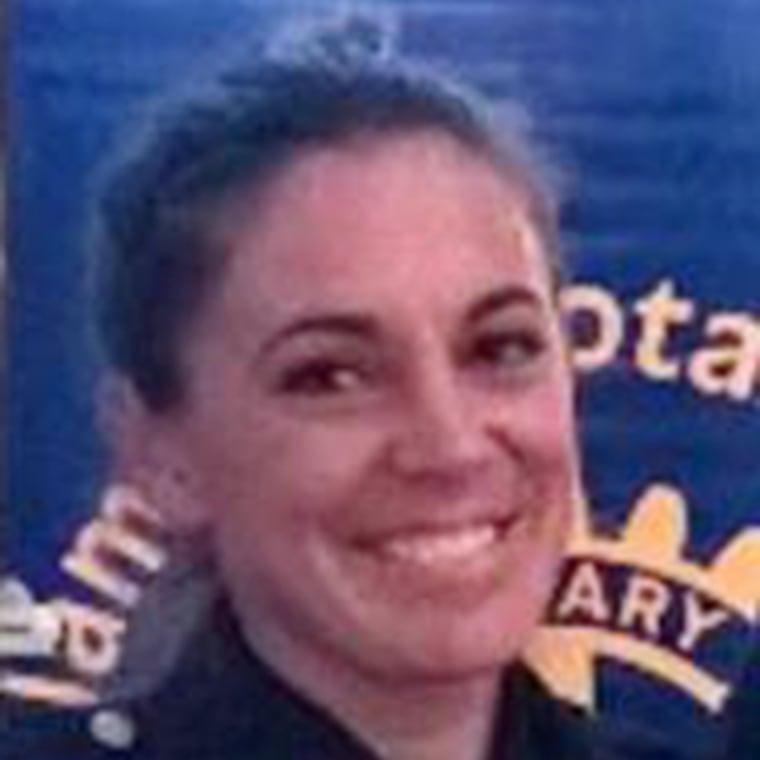 An FBI agent posed as a potential hitman for hire after a confidential source reported Cincinelli's plot to the agency, according to a detention memo.
Cincinelli then gave $7,000 in gold coins to the confidential informant as payment for the murder arrangement. The source recorded a conversation with Cincinelli in which she discussed what her alibi would be when police questioned her over her former husband's death, the memo stated.
NBC New York identified the confidential source noted in the detention memo as Cincinelli's boyfriend.
The agent posing as the hitman sent Cincinelli a photo of her ex-husband appearing to be dead in his car. Local police, working with the FBI, then showed up at her home to inform her that her former husband had been murdered, according to the memo.
Cincinelli has two children, aged 5 and 10.
And in a dramatic twist to an otherwise routine pre-trial hearing, Magistrate Judge Anne Y. Shields granted a prosecution request to get Cincinelli's help to unlock her own cell phone using facial recognition.
The government claimed most of the crime's planning took place in calls and text messages made on Cincinelli's phone.
Prosecutors placed the phone in front of Cincinelli's face twice, but it did not unlock.
Cincinelli works out of the 106th Precinct in the borough of Queens, which serves the neighborhoods of Ozone Park, South Ozone Park, Lindenwood, Howard Beach, and Old Howard Beach.
Cincinelli was honored as the precinct's officer of the month, according to a tweet by the 106th Precinct on June 1, 2017.
She had been on modified duty since 2017 for a previous unrelated domestic incident, the police official said.
Cincinelli's lawyer had no comment to NBC New York, but her father told reporters outside his home Friday night that his daughter is innocent.
"I haven't seen anything, and until I do I really shouldn't be saying anything," Lou Cincinelli said at his Long Island home, according to the station. "But I guarantee you my daughter is innocent of this."