The New York Police Department will immediately begin disciplinary proceedings against the officers involved in the chokehold death of Eric Garner, the man who was caught on video gasping for air and saying, "I can't breathe," NYPD sources told WNBC.
The disciplinary proceedings will involve Daniel Pantaleo, the officer who was seen on video clutching Garner's neck, and Kizzy Adonis, a sergeant.
Garner, 43, who was asthmatic, died on Staten Island on July 17, 2014, during an arrest for allegedly selling untaxed, loose cigarettes. Chokeholds are prohibited by the New York Police Department.
His death sparked national outcry, and "I can't breathe" — a phrase Garner repeated 11 times — became a rallying cry for police reform.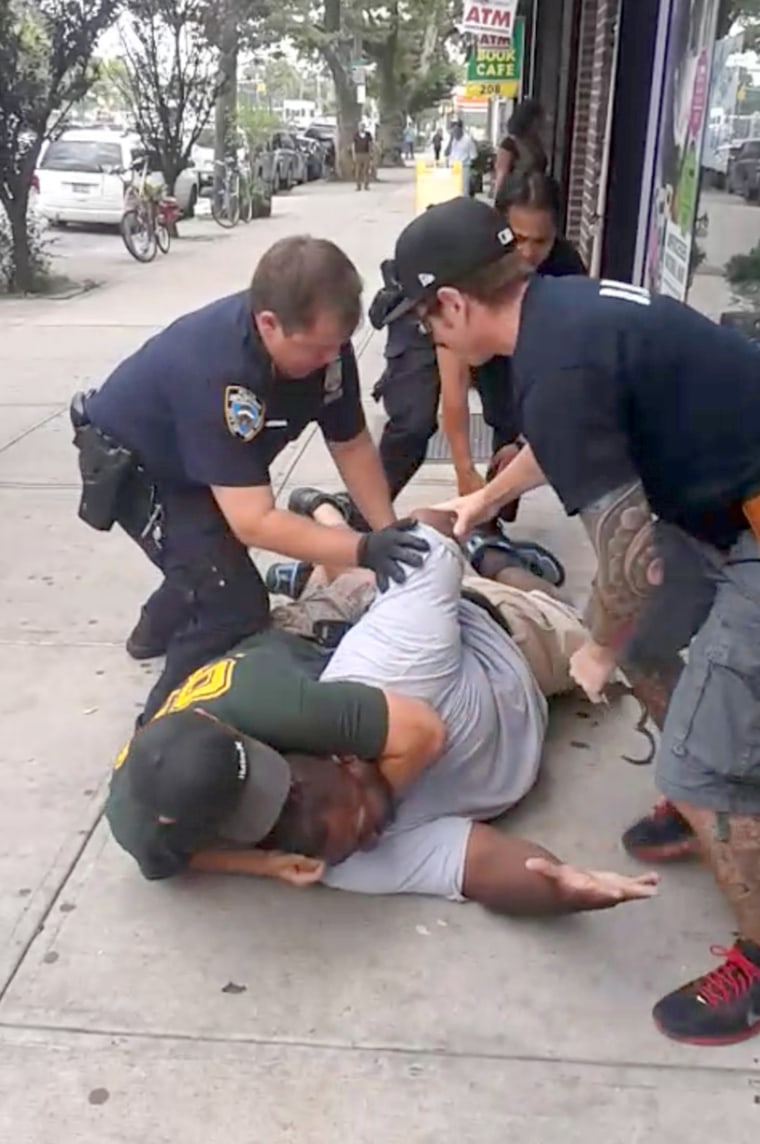 A medical examiner ruled his death a homicide, pointing to the chokehold as the cause. A grand jury declined to indict Pantaleo, although the city of New York reached a $5.9 million settlement with the Garner family in 2015 for a wrongful-death lawsuit.
The Justice Department has been investigating Garner's death.
But in a letter to the Justice Department on Monday, the NYPD said it would no longer pause internal disciplinary proceedings if the federal government had not said by Aug. 31 whether it plans to file criminal charges.
"Understandably, members of the public in general and the Garner family in particular have grown impatient with the fact that NYPD has not proceeded with our disciplinary proceedings and they have difficult comprehending a decision to defer to a federal criminal investigation that seems to have no end in sight," the police department's deputy commissioner for legal matters, Lawrence Byrne, said in the letter.
He added that the police department had "come to the conclusion that given the extraordinary passage of time since the incident without a final decision on the U.S. DOJ's criminal investigation, any further delay in moving ahead with our own disciplinary proceedings can no longer be justified."
In a statement to NBC News, a Justice Department spokesman said: "As officials at the Department of Justice informed Mr. Byrne this spring, the New York Police Department may move forward with their disciplinary proceedings as they deem appropriate."
"Mr. Byrne's letter does not have any bearing on the decision-making timeline at the Justice Department, and the Department cannot comment further at this time," the spokesman said.
The Civilian Complaint Review Board, an outside oversight agency that probes police wrongdoing, said in a statement that its prosecution unit "has been ready to prosecute Officer Pantaleo, and we have commenced the process of filing charges."