A veteran New York City police officer and his fiancée were arrested and charged with the murder of the man's 8-year-old son, who froze to death in an unheated garage, authorities said Friday.
Michael Valva, 40, and Angela Pollina, 42, who both lived in the Long Island community of Center Moriches, were charged with second-degree murder in the death of Thomas Valva, Suffolk County police said.
The pair pleaded not guilty late Friday. Valva was held without bail.
The youngster was kept in an unheated garage the night before his death when overnight temperatures outside dipped to 19 degrees, Suffolk County Police Commissioner Geraldine Hart told reporters on Friday.
The boy's body temperature was just 76 degrees when doctors tried to revive him, Hart added.
"The medical examiner has ruled it a homicide with a major contributing factor of hypothermia," Hart said. "We believe certainly that Thomas was kept in the garage overnight preceding his death."
Suffolk County police responded to the couple's home, on Bittersweet Lane, on Jan. 17, answering a report that a little boy had fallen in the driveway and lost consciousness.
They found Valva performing CPR on Thomas in the basement at about 9:40 a.m. before the boy was rushed to Long Island Community Hospital and pronounced dead there, officials said.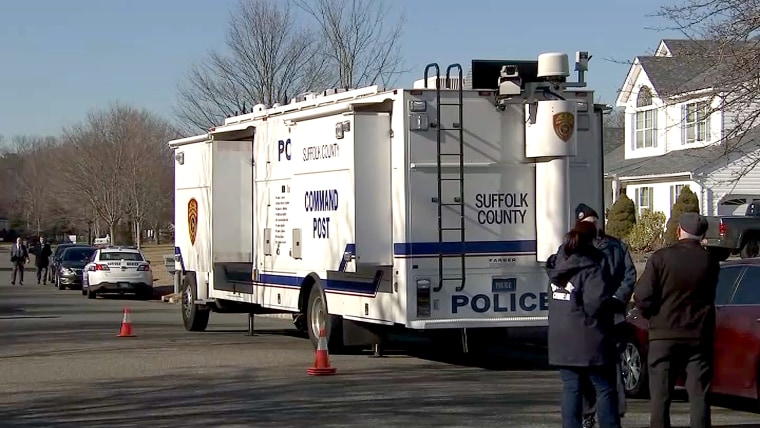 Michael Valva's story — that his son was trying to catch a school bus, fell and lost consciousness — soon came apart, according to Hart.
"As with any unattended death, homicide detectives conducted an investigation which revealed inconsistencies in the timing and the nature of the child's injuries as reported by his father," Hart said.
"We have determined Thomas was never in the driveway that morning and he suffered head and facial injuries that were not consistent with the father's account."
Police found the couple had an extensive home security system and kept close tabs on all of the children in their blended family — Valva's sons, ages 6, 10 and 8-year-old Thomas, and Pollina's three daughters, 6 and 11-year-old twins, police said.
Investigators said that this footage helped them find that Valva's surviving sons were punished with "food deprivation and exposure to extremely frigid temperatures," according to Hart.
"We are still investigating the extent of the abuse and if it extended to all of the children," Hart said.
Social workers took away all the surviving children on Jan. 17, police said.
Suffolk County Department of Social Services Commissioner Frances Pierre said in a statement late Friday that child neglect was alleged in the household in 2018, triggering a one-year child supervision program.
"Orders of Protection for the parents to refrain from harmful behaviors towards the children and mandated participation in a Positive Parenting Program had been put in place," she said.
After the supervision program expired "CPS investigated additional complaints" connected to the family last year, Pierre said.
The department has launched a formal review of its handling of the children's case file, she said.
Valva has been with the New York Police Department since 2005 and was last assigned to the department's transit force, officials said.
Calling the allegations against the father "disturbing," NYPD Commissioner Dermot Shea said Friday the suspect has been suspended without pay pending "the outcome of the case."
"I just really want justice for my son. He deserves it. This should never have happened," the boys' mother and Michael Valva's ex-wife, Justyna Valva, told NBC New York.
"I just keep praying for this case to be fully resolved and my little angel Thomas to rest peacefully in heaven," she said.
Justyna Valva told police Thomas suffered from autism and Michael Valva had trouble controlling his anger.
"I just wish I had more time with him on this Earth," she said of her son. "I just wished somebody helped him."
"Both of them maintain their innocence 100 percent. We'll see how the facts bear out," Tuohy told NBC News on Friday afternoon.