Authorities are looking into whether the Wednesday night stabbing of an NYPD officer in Brooklyn was a terror-inspired attack, law enforcement sources said Thursday.
One officer was stabbed in the neck and two others were shot during the confrontation in the Flatbush neighborhood. All three officers are expected to recover, Police Commissioner Dermot Shea said at an early Thursday press conference. The suspect was shot eight times and is in critical condition at a hospital.
Three senior law enforcement sources identified the suspect as Dzenan Camovic, 20, an immigrant from the Balkan region. One senior source said Camovic had recently shared anti-police sentiments on his social media feeds.
Camovic had not been on police radar, the sources said, but is associated with "individuals of concern." Terrorism, however, is just one theory for what happened, they said, and nothing has been ruled in or out.
"What we know at this point in time is that it appears to be a completely cowardly, despicable, unprovoked attack on a defenseless police officer," said Shea during the press conference, "and thank God we're not planning a funeral right now."
The assault happened during the seventh night of citywide and nationwide protests following the death of George Floyd in police custody in Minneapolis last week.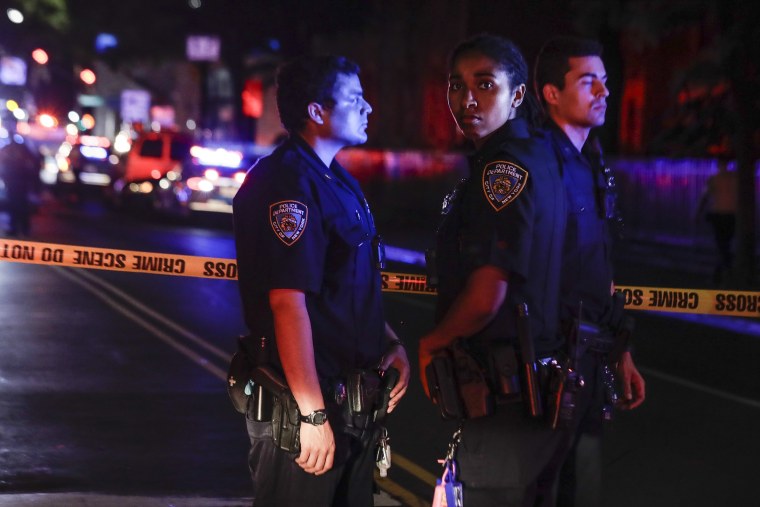 The stabbing happened at around 11:45 p.m. Two officers were assigned to an anti-looting post. Surveillance video shows a man "walk up to the officers casually, take out a knife and stab one of the officers in the neck," Shea said.
About a block away, a police sergeant and officer heard gunfire, responded and found the suspect with what investigators believe was a gun from one of the officers, Shea said, adding that the information was preliminary.
Multiple body camera video shows "an extremely chaotic, rapid situation that is dark" and police were still establishing what exactly occurred, but 22 shell casings have been found and it is thought a number of officers fired, he said.
The two injured police officers were shot in the left hand, police officials said. The knife wound missed an artery and that officer is stable at the hospital, Shea said.