New York police will step up patrols in high-profile Jewish neighborhoods in the wake of recent anti-Semitic attacks in and around America's largest city, officials said Friday.
More officers will be seen in the Brooklyn neighborhoods of Borough Park, Crown Heights and Williamsburg, New York City Mayor Bill de Blasio announced.
"Hate doesn't have a home in our city," de Blasio said in a tweeted statement.
Houses of worship and other buildings associated with the Jewish faith will get extra attention from patrol officers.
"In addition to heightened visibility, there will be increased visits to houses of worship and other critical areas in the community," according to de Blasio, who called incidents of anti-Semitism "an attack on the values of our city — and we will confront it head-on."
In the most recent incident, a 34-year-old mother was hit in the head Thursday as a woman yelled anti-Semitic slurs against the victim and her 4-year-old son, police told NBC New York.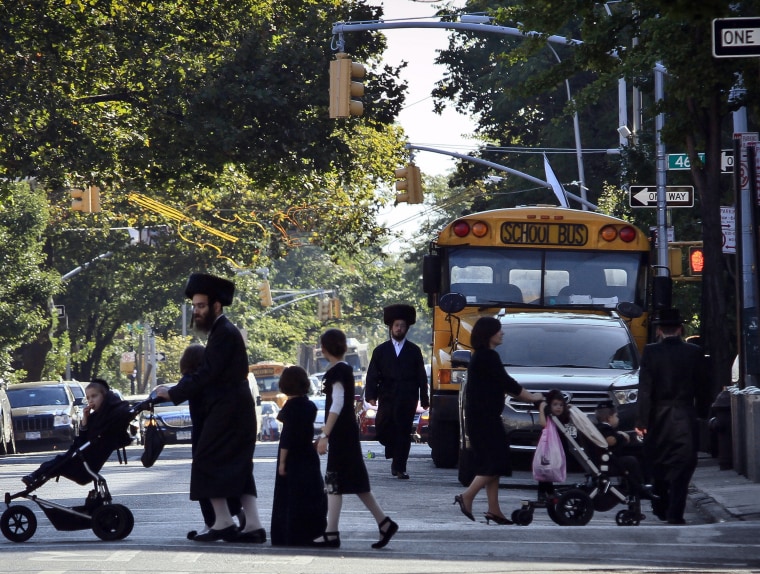 The victim and her son were walking out of a Dunkin' Donuts in the Gravesend neighborhood of Brooklyn when a woman approached them and hit the mother over the head with her bag. The unidentified victim called 911 and a good Samaritan followed the attacker, leading officers to arrest the suspect.
Early Tuesday morning in Crown Heights, a 25-year-old Jewish man was walking on the sidewalk when he saw a large group of people walking toward him, with some of them yelling "f--- you Jew," police said. One of the people in the group threw a frozen drink at him before they fled.
And then Monday in Manhattan, Miami resident Steven Jorge, 28, made anti-Semitic remarks and punched a 65-year-old man in the face with a closed fist, authorities said.
Jorge, booked with assault as a hate crime, kicked the man while he was on the ground, police said.
"This horrific and cowardly act of anti-Semitism is repugnant to our values, and it's even more despicable that it occurred over the holidays," New York Gov. Andrew Cuomo said in a statement, as he directed a state hate crimes task force to investigate the assault.
"We have absolutely zero tolerance for bigotry and hate, and we will continue to call it out whenever and wherever it rears its ugly head."
The attacks came two weeks after a deadly shooting rampage, across the river in New Jersey, that ended at a kosher market in Jersey City. The firefight and standoff with police ended with six dead — the two killers, a police officer and three people who had been inside the JC Kosher Supermarket.